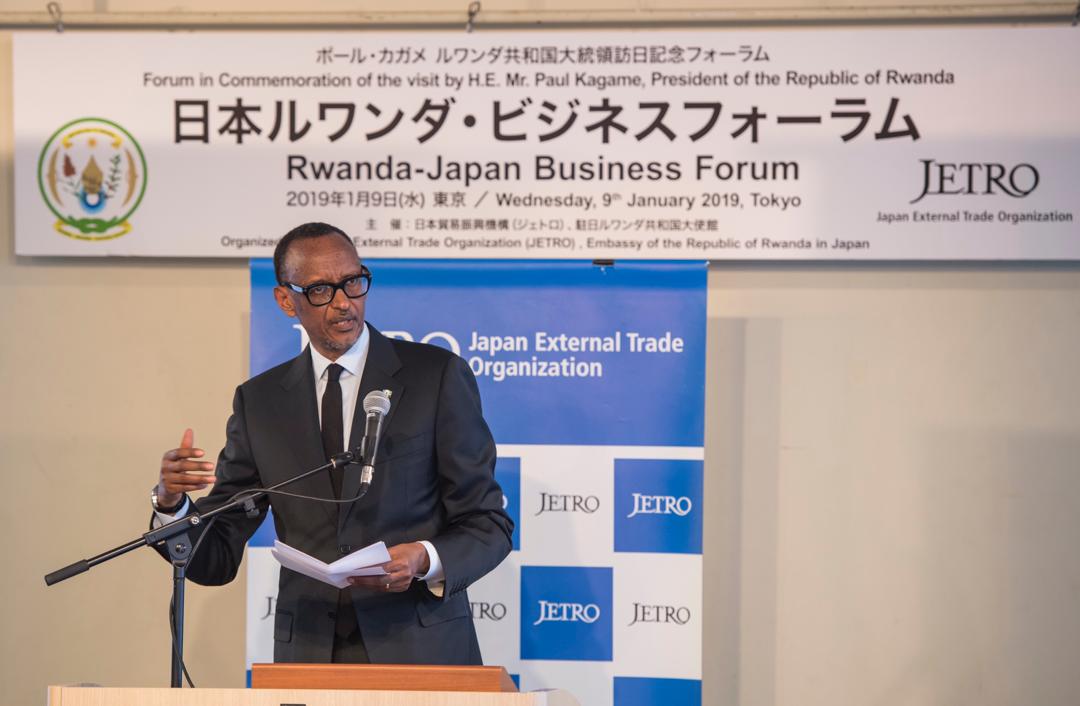 President Paul Kagame has said that Africa needs to move out of being a stock for only raw materials and people, by adding more value to its resources.
"Africa cannot just be a source of raw things. In fact, we have become even a source of raw people. We need to add value. We can do that with partnerships we can forge between Africa and Japan, Rwanda and Japan but we have to always be guided by this understanding," said President Kagame to Japanese investors on Wednesday.
The president who is on a two-day working visit to the Asian country with First Lady Jeannette Kagame, spoke to investors at Rwanda-Japan Business Forum organized by the Japan External Trade Organisation (JETRO) in collaboration with Rwandan Embassy in Japan.
For more than a decade, Rwanda's economy has exhibited a steady 8% annual growth, while investments also continue to register significant increase.
Going by the 2018 figures released by Rwanda development Board (RDB) – the country's investments caretaker, in the last 8 years, investments in Rwanda jumped from $398 million in 2010 to slightly over $2.006 billion in 2018.
Addressing the forum, President Kagame told investors that: "Much has been said about the excellent cooperation between Rwanda and Japan, and the good investment prospects in Rwanda including from those who are actually doing work in Rwanda. My job is simple and but also important: To welcome you and encourage you to do more business in and with Rwanda."
As of 2017, Rwanda's trade with Japan amounted to $57 million, while Japan's investments in Rwanda total $ 21,485 million and has created 178 jobs.
The President said that Rwanda has identified a number of things that are indispensable for the country to continue to grow and develop to where Japan and other developed countries are today.
"So in other words, we are trying to catch up, and we are being helped by these developed countries and people with whom we work. Doing business, the kind of different investments that we have to make together are very critical," Kagame told investors.
During the forum, RDB officials made a presentation to investors on Rwanda's huge business opportunities.
However, according to President Kagame, "this doesn't mean that everything is where we want it to be. We have to do more every time and that's why when people kept saying that we have to pay attention, to listen to businesses from Japan, I completely agree with them."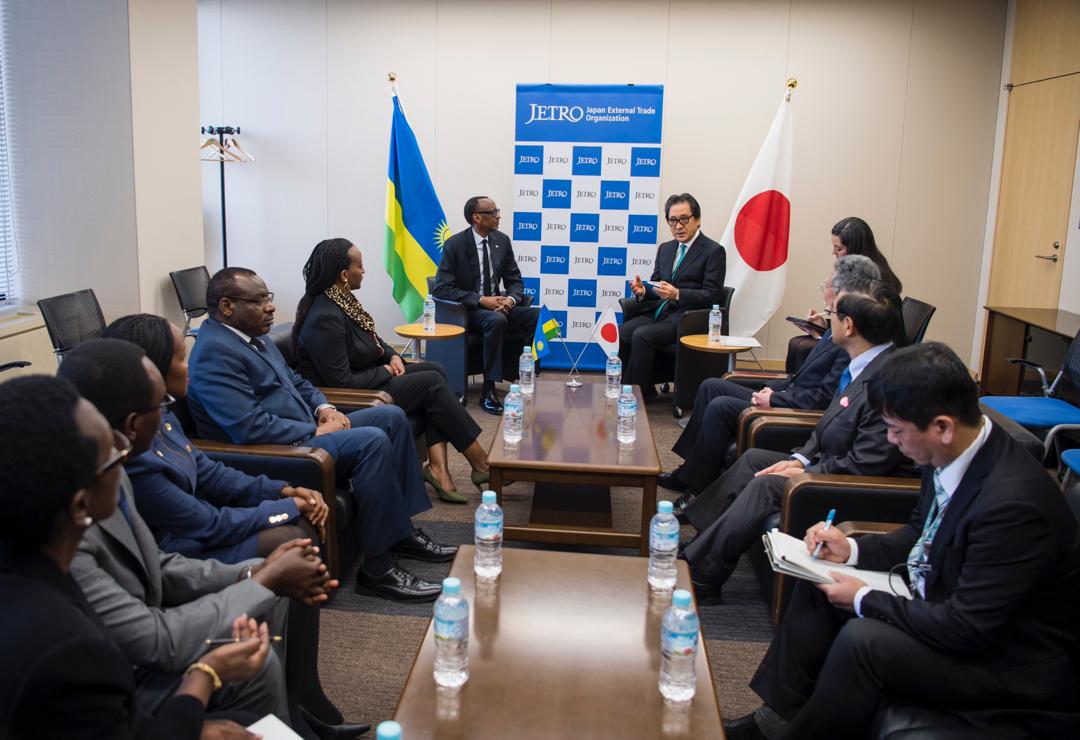 This year, Rwanda was ranked the 29th easiest place to do business in the world and the 2nd easiest place to do business in Africa by World Bank's Doing Business report.
Despite this significant achievement, however, Kagame said that Rwanda maintains no room for 'complacency'.
"We can't be complacent that we are doing enough even when studies, experience, and data have shown that we are making tremendous progress. That's a good story but it always tells us that we have to do more," the President said.
To achieve this, Kagame added, "We have a set of problems and challenges to be addressed but we also have people who can provide different kinds of solutions to address those challenges. The question is how best can we make these loose ends connect directly, quickly, and move forward."
For Japanese investors willing to come and extend their businesses to Rwanda, Kagame assured them that "the Government of Rwanda will continue to do our best, to provide a conducive and supportive environment for successful ventures."
One of the areas of investment Kagame attracted Japanese investors to look up to is the Kigali innovation city.
"There was mention of the Kigali Innovation City as a flagship of Rwanda's vision for an economy based on knowledge and innovation. We are keen to attract Japanese firms as partners in this endeavor. They have the experience that matches our ambitions," he said.
President Kagame told Japanese investors that the story of Rwanda is no far similar to that of Africa, and hailed Japanese investors for turning focus on the continent as whole.
According to President Kagame, "Japanese businesses already have a foothold in some of the African countries and from there they step forward to do business with us. It can always happen the other way round depending on what is being looked at."
By doing so, Kagame said, "I wanted to emphasise how inextricably linked we are, Rwanda-Africa, Africa-Rwanda, and later on, both with Japan and therefore that provides a much wider framework in which we can operate and also greater opportunities as such."
For Rwanda and Africa to realise this, the president mentioned the Africa Continental Free Trade Area (AfCFTA) that was signed in Rwanda's capital Kigali in March last year.
The agreement, Kagame told investors, was signed "because we are looking at an Africa that can increasingly integrate and also make borders irrelevant in as far as doing business is concerned which is going to be attractive for people from outside our continent."
According to President Kagame, Africa's middle class is increasing year in, year out with increasing urbanization in Africa moving faster than probably other continents.
"Africa has different kinds of resources starting with our own people and the natural resources that we have.
Between the natural resources and the people, the innovation and technology there is no problem that is not going to be addressed to provide us with the solutions we want. Africa and Rwanda have simply no other choice but to keep adding value to what we are doing," the President said.