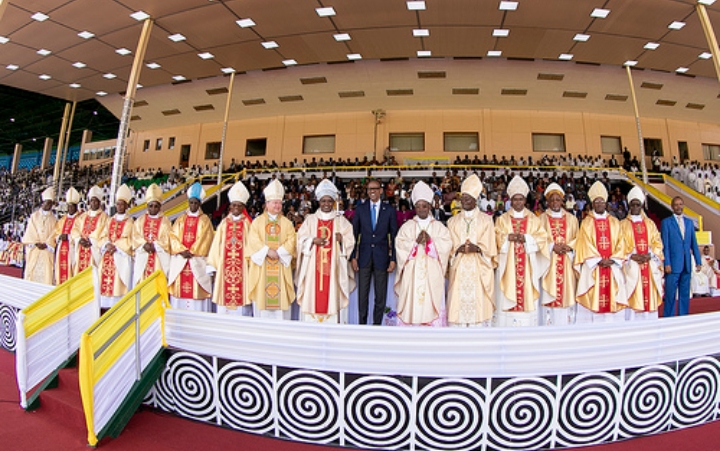 The Catholic Church and Rwandan government have pledged to add to the City of Kigali another structural icon to its growing number of skyscrapers.
This was revealed during the consecration of His Grace Antoine Kambanda, as the new Archbishop of Kigali Archdiocese at a ceremony held this Sunday at Amahoro Stadium and attended by President Paul Kagame.
"Our wish as the church is to build a cathedral that is worth the respect of God in this community and archdiocese but also represent what the city of Kigali is today," Kambanda said after presiding over a one hour mass service.
Kambanda's wish and idea was picked up by president Kagame, the guest of honor who in his speech recognized and acknowledged the growing relationship between Rwanda and the Vatican 25 years after the genocide.
"Let me be the one to add that we (government) shall work together to build a good and if all goes well, we can construct it at a new place similarly. This will however come from the wish of the church and funding consensus to construct it without delay," Kagame said, sending the crowds into cheers.
Kagame also recognized the contribution of Catholic Church in providing education and health service and reminded Rwandans that there is a good intension to partner with the church as a basis for national development and growth which is based on unity.
"This is not ordinary especially if we see what happens elsewhere. The steps we have taken should make other religions also learn from this so as to develop and grow stronger… We cannot get to God when people are not well-off which we can do by helping others to achieve it," Kagame said.
Kambanda's installation as Arch bishop of Kigali diocese comes almost two years after Kagame and the First Lady in person met and discussed with Pope Francis on the future of the church- of which Kagame said the talks would see many new good things.
The new catholic leader, Kambanda started his religious journey in Kigali and was ordained in the same archdiocese of Kigali which he served until his ordination as bishop in Kibungo diocese.
Kambanda becomes the third archbishop of Kigali replacing his predecessor Archbishop Thadée Ntihinyurwa who has been serving from March 1996–November 2018) until his retirement last year, after taking over from Bishop Vincent Nsengiyumva (1976–1994).
In his remarks Kambanda praised Kagame for his leadership and intent to build the relationship between Rwanda and the Vatican in his visit in 2017 in Rome and promised full collaboration with government to develop the country.
In this partnership, he said, the focus will be on developing family life and grooming youth as basis for nation building to spread our gospel so that it enables children to know God and Christian values at a time when the society is destroyed by foreign cultures.
"I will work for the people of Rwanda to love and serve their country so that we leave a good legacy for the young generation and this will be by putting the goal of Jesus of giving life and life to the fullest," Kambanda pledged.
His predecessor, Bishop Ntihinyurwa also said that as he goes into retirement, he has lived a full Christian life and served the church with commitment, which he would like to see passed on to the community of Christians.
He thanked the community and God who helped him diligently in all ways and asked them to remain steadfast.