The containers full of urine at Sovu plant. The urine is mixed with other organic waste to make good fertilizer
A new factory has started production of fertilizer from a combination of domestic waste.
A biomass digester operating in Huye district and Musanze district respectively is recycling the waste into organic fertilizers earning the farmers revenue in two ways.
First farmers supply the waste and earn money and secondly, they get the fertilizers at a cheaper price to improve their agricultural harvest.
A kilogram of the fertilizer sells at Rwf80 compared to some Rwf500 for chemical fertilizers.
The plant – BIDEC receives supply from livestock, small livestock, and poultry waste among others, on top of human and cow urine.
"We are receiving unlimited supply because the more we get, the more we produce," Dismass Habumugisha, the plant owner told KT Press.
In Huye, said Habumugisha, the two months old plant produces 40 tons of fertilizers per month while it produces 15 tons in Musanze district.
"Our plant in Sovu – Huye sector of Huye district gets relatively much waste from University of Rwanda. We collect kitchen waste, papers, among others. This gives us enough stock," he said.
The neighboring communities have also an opportunity to sell.
"We sell a 20-liter urine container at Rwf1000 which is a good deal for us. Remember, we used to toss the waste in the past. It was of no use," said Emmanuel Uwitije, a resident of Sovu.
Uwitije said he has sold 40 containers of urine in the last two months since the plant started in Huye district, thus taking home Rwf20,000 every month.
"The plant is now helping us raise school fees for our children. They are giving value to the waste that was useless in the past," he says
Habumugisha who invested Rwf15 million to plant his project said that though he does not have high technology to produce for the increasing demand in farming input, his fertilizer "are far different from the chemical fertilizers which have select nutrients."
He said, "If for example, you use NPK at one farming stage, you will need another type of fertilizer at a different stage of the plants while ours has a combination of all nutrients that a plant may need at either stage."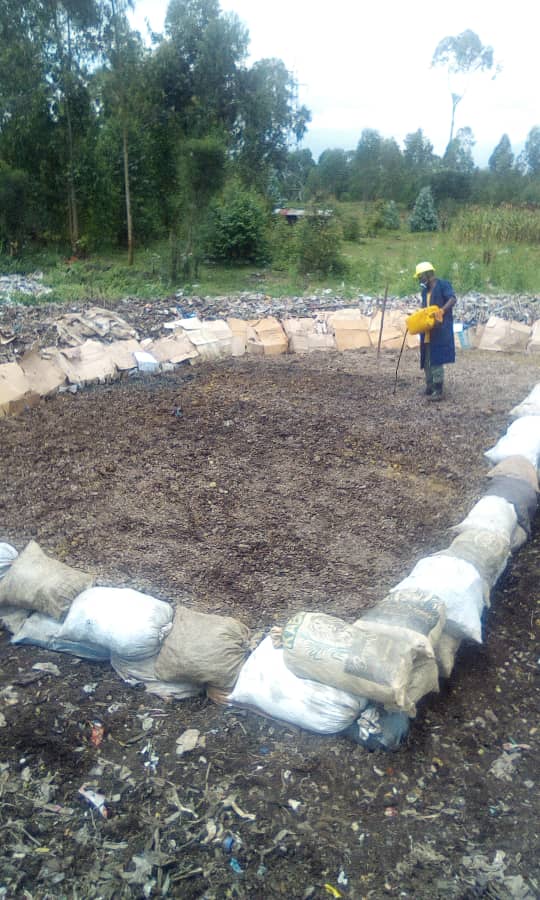 At this stage, he is taking samples that will be tested by Rwanda standard board (RSB) to confirm the quality.
A soil expert who spoke on condition of anonymity told KT Press, that the organic soil input is far better than the chemical fertilizers.
"You may find some weaknesses in his production but organic fertilizers have that credit of conserving our land while chemical fertilizers are a terrible soil destruction agent," said the expert.