African countries' resolve to fund own projects and initiatives is already yielding good results, six months after inauguration of the African Union (AU) peacekeeping fund.
The fund has so far collected $112million, figures that were announced by Ambassador Hadiza Mustapha; Advisor to the Chairperson of African Union Commission on Peace, Security during 2019 national security symposium which concluded on May 15 in Musanze district.
The African Union peace fund plan was launched November 2018, at the 11th Extraordinary AU Summit targeting to reach $400 million by the year 2021, and possibly end decades of Africa's dependence on external sources to maintain its own peace and security.
By the launch date, AU member States contributions stood at $60.5 million, the highest level since the initial fund's creation in 1993, against the AU target of silencing the guns by 2020.
"For the first time we have really funded this (peace) fund and what we are trying to do is to get a structure and a full fiduciary system which will make us able to fund our own peace operations," Mustapha said.
UN put under cross examination
Despite the African Union country members doing their best to organize peace keeping operations, the United Nations which is supposed to show a model is behaving differently.
Symposium participants turned 'fire' on Ambassador Jean-Pierre François Lacroix, the UN Under-Secretary-General who was on the panel to discuss Protection of Civilians in Peace Keeping Operations.
Challenges associated with mandates, states' sovereignty and peace keeping forces' capabilities were issues that were brought to the official's attention.
Participants said that UN's bureaucracy, failure to implement their civilian protection mandate, funding and capacity, is partly the reason that led to the 1994 genocide against Tutsi in Rwanda and continued conflicts in Mali among other African countries.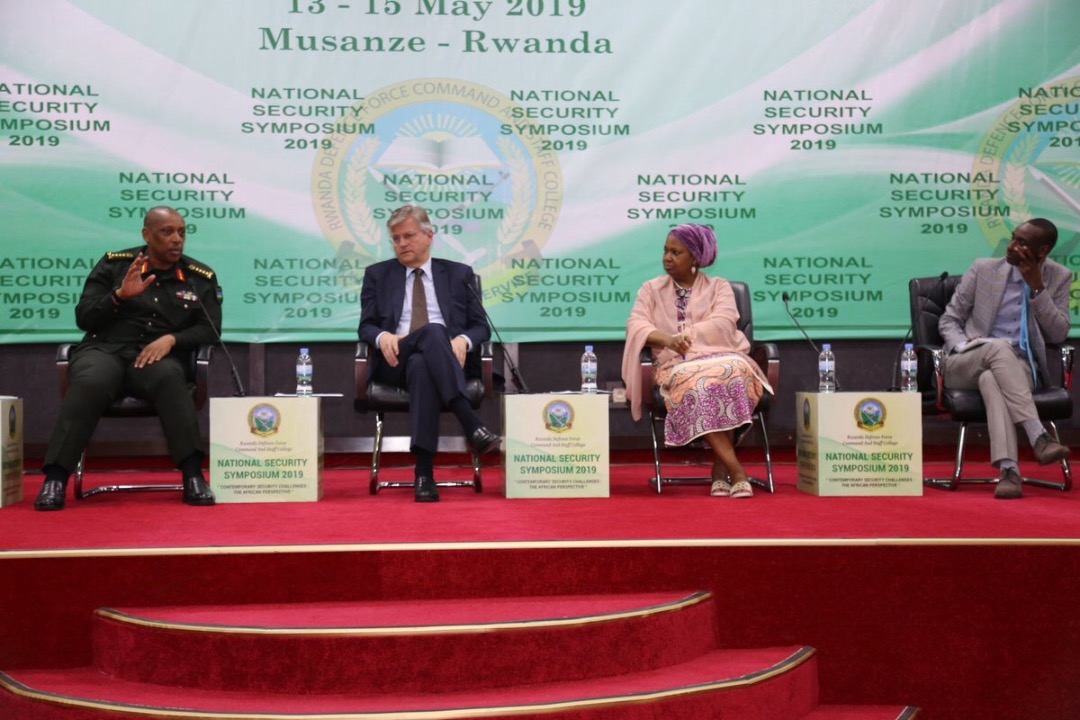 For example, Rwanda's Chief of Defence Staff, General Patrick Nyamvumba, who served as commander of the UN forces in Sudan (UNMIS), said that in his experience it takes one to sacrifice the diligence to serve at the UN and personal relations with UN Head office to get a Protection of Civilians (POC) rescue mission done.
Nyamvumba said that one of the challenges with actually all UN missions is indeed you have this robust mandate as a force commander but getting the resources to execute this mandate are controlled by somebody else.
"At times you have to rely on good personal relationships. To me, we cannot be structured based on how good you relate to a person. It should be in black and white," Nyamvumba said.
He gave an example of how after going through bureaucracy of getting a helicopter to rescue one of the peacekeeper in danger, one of the United Nations Department of Safety and Security officers continued asking if the Nepalese forces were allowed.
"One thing I learnt at the UN; is that if you don't exercise personal restraint, you could end up losing your mind…This is a rescue mission and someone is asking if they need to go with arms!?" Gen Nyamvumba reimagined.
In response to several questions on why the UN conducts business under bureaucratic conditions and councils taking long to implement their mandate, Amb. Lacroix consented that the UN Council is divided on decision making even when they see the importance of its mandate and intervention.
Lacroix said that in normal peacekeeping operation this is something the UN is working on its priority and focus on seeking better intervention methods especially when sending troops, they ensure better preparedness, information and capacity in place, except for counter terrorism cases which have to be state driven.