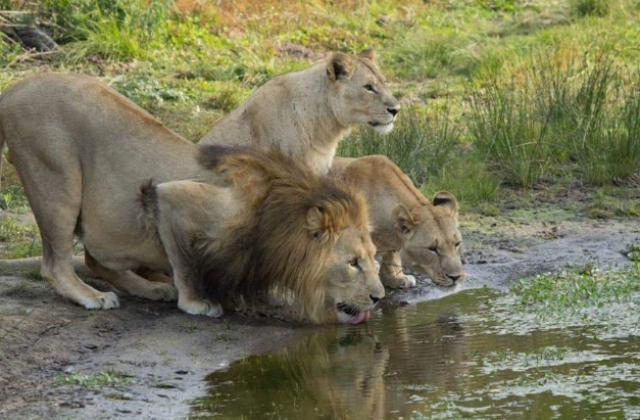 Between 1990 to 1994, Akagaera National Park went silent.
Not even heavy roars from the world's BIG cats – the lions, could be heard any more. They had sensed the worst danger ever.
Only disturbing gunshots and heavy ammunition had become the story of the day.
This time, not only human beings were under attack, but also animals including lions in their peaceful haven of Akagera National Park in the country's Eastern Region.
They sensed danger through their use of body language, sound, smell, touch and even chemical and electrical way of communication.
These were all made happen by the 1994 genocide against Tutsi – a heinous genocide in the history of mankind that claimed over one million lives and countless animals in the National Parks across Rwanda.
This time, not even surrounding communities who, hitherto to the genocide, enjoyed these loudest sounds from the park, could hear them anymore.
Lion's roar is the loudest sound of all animals, according to available research findings.
The roar is so loud because its vocal folds form a square shape. This shape essentially stabilizes the vocal cords, enabling them to better respond to the passing air. That way, lions can produce loud roars without exerting too much pressure on their lungs, according to conservationists.
Each sound, they say, has a different meaning. The most famous of these calls is the roar – one of the loudest calls in the animal kingdom which can be heard from up to 8km away.
Don't panic. Lions roar not to scare other animals, or to express any intent to attack the neighbouring community.
They, rather, do so to tell other lions where they are, to show how big they are and to warn lions from other prides to keep away from their home territory, according to researchers.
But in Rwanda, all these loudest sounds went silent in early 1990s.
To bring them back, government came up with a huge responsibility – to restore these lost kings in the Akagera Park, among other animals.
As a result, in 2010, African Parks – a South Africa-based non-governmental organization (NGO) focused on conservation, inked a deal with Rwanda government to manage Akagera National Park in partnership with the Rwanda Development Board (RDB), shifting the park's trajectory from one of oblivion to prosperity and hope.
Update on the Lions' population
In their latest updates on the population growth of the lions and new milestones made so far, African Park and RDB say that; since reintroduction of lions in 2015, the population has since tripled.
"Just 4 years ago, 7 wild lions were reintroduced to Akagera Park in Rwanda after a 20-year absence. Today, we are pleased to share that the population has since tripled!," African Park said its latest updates.
This, African Park says, has been successful – thanks to years of preparation, through effective law enforcement and management.
As of 2015 since lions were reintroduced, the population had already doubled in the first year with the birth of eleven cubs, before two additional males were translocated from South Africa to Akagera in 2017 to increase the population's genetic diversity.
The same year (2017) also saw the historic return of 18 Eastern black rhinoceros after a 10-year absence, thanks to the support from the Howard G. Buffett Foundation.
In June this year, Akagera National Park received new members – the five Eastern Black Rhinos.
The endangered Rhinos were flown in from different Zoos across Europe.
The $2M revenues generated
With an overhauled law enforcement and significantly reduced poaching to an all time low for the park, Akagera National Park management, in its latest updates, indicates that the new faces in the park have attracted tourists – leaving behind a pay cheque that has never been deposited before.
According to latest updates, tourism revenue has increased by more than 900 percent from $200,000 in 2010 to $2M in 2018 – making Akagera 75% self-financing.
The revenues came from over 44,000 tourists who visited the park in 2018 alone, half of whom were Rwandan nationals.
To further attract more visitors, says the Park managers, several high-end infrastructures have been established.
The latest are Ruzizi Tented Lodge and Karenge Bush Camp; the award-winning lodging options for visitors which helps support the park.
Overlooking Lake Ihema, Ruzizi camp's nine tents are spaced widely apart on either side of a thatched reception and dining area, setting back from the lake shore and hidden among swaying palms and fruiting fig trees.
With a maximum of 20 guests, the lodge is an intimate retreat, according to management of the park.
On the other part of the park is Karenge Bush Camp – a seasonal camp, set up bi-annually for 3 months at a time. When it is taken down there should be no lasting presence of its existence.
The camp offers six tents, with a maximum of 12 guests.
The park offers several prices for day visitors including $7.5 for Rwandan nationals, $35 for Rwandan residents while International visitors pay $50 to enjoy the park.
On top of the fees for visitors, a Rwandan registered vehicle pays Rwf10,000 while a Rwandan registered bus pays Rwf20,000.
Other fees apply for non-East African Community registered vehicles, according to Akagera Park management.
Meanwhile, as KT Press recently reported during the arrival of Eastern Black Rhinos, the population of other animals in the park has significantly increased.