The Senate of Rwanda has announced the death of Senator Bishagara Kagoyire Therese on July 8,2019 aged 67 years old.
Senator Bishagara Kagoyire passed away at the John Hopkins Hospital, Baltimore – Maryland in United States of America where she had gone for treatment according to an announcement that was signed by Senate President Bernard Makuza.
Late Bishagara was born on 25 December 1952.
She entered the senate of Rwanda as a representative of the Western Province of Rwanda since October 2011 but, prior to this, she served the country in different capacities in the wake of the 1994 Genocide against Tutsi.
Important Functions :
– Team Research in PNLS /CNLS HIV/AIDS Center (1995-1996);
– Director of Kigali Health Institute (1996-2004);
– Part Time Lecturer in NUR (1999-2003);
– National Program Manager JHPIEGO /MCHIP International NGO an affiliate to Johns Hopkins University (USAID) (2008-2011);
– Resident Advisor Features group International /Measure Evaluation /USAID (2006-2007) ;
– Technical Advisor PSI -Features for VIH prevention (2005-2006);
– Technical Advisor in SAVE THE CHILDREN -UK 2006;
– President of Profemmes Twese -Hamwe and COCAFEM /Great Lakes (2007-2011);
– Board of Rwanda Local Development Support Funds (2007-2011);
– Board Member of ASSETIF (Association d'Execution des travaux d'interet public) (2008-2011);
– Board Member of ULK (2007-2011);
– Founder Member and Board Member of FAWE Rwanda Chapter (1997 to date);
– Board Member of White Ribbon Alliance for Saving lives of Women and Children(2008-2011);
– October 2011 until today : Member of Senate ,Rwanda Parliament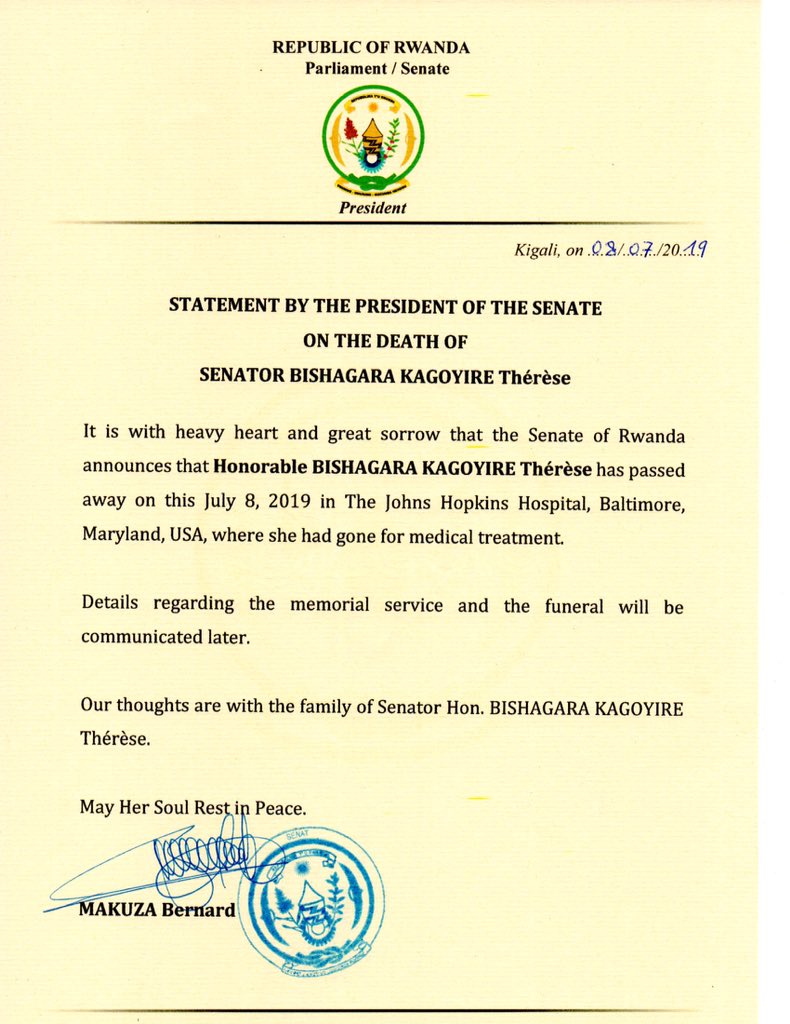 Late Bishagara holds a Bachelor's degree in Molecular Biology Sciences.
"Our thoughts are with the family of Honorable Sanator Bishagara Kagoyire Therese," writes the Senate President who also announced that more details on memorial services and funerals will be communicated later on.