The murder of Louis Baziga, who was the head of the Rwandan community in Mozambique on Monday has opened a can of worms on the divisions in the Rwandan diaspora in Mozambique, with initial reports pointing to anti-Rwanda government elements in the Southern African country for orchestrating the assassination.
Reliable sources in Mozambique say Baziga, who was shot in Matola area of the capital Maputo, was targeted by elements that were not happy with his decision to return home to support different government programmes and also head the diaspora in Mozambique.
A source in Mozambique said that Baziga, who was a prominent businessman, had abandoned his refugee status seven years ago and responded to the Government of Rwanda programmes to welcome back refugees in an initiative called "come and see, go and tell", which was aimed at encouraging Rwandan refugees to return home.
"From what we have learned, there have been rivalries in the Rwandan community here, with one group backing the Rwandan government and supporting its programmes while the other group is anti-government and is engaged in anti-Rwandan government activities," a Journalist investigating the case told KT Press on Monday.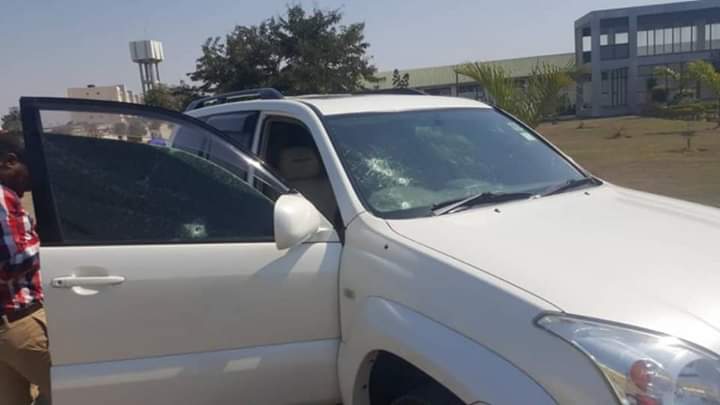 The seasoned investigative journalist further told KT Press that more findings indicate that there are active Anti-Rwanda groups in Mozambique disguised as refugees, who engage in subversive activities and target anybody who is pro-government.
"From what we have discovered, majority of these people include those who fled Rwanda after the 1994 Genocide against the Tutsi, some of whom were perpetrators, while others are affiliated to groups such as Rwanda National Congress and the Democratic Forces for the Liberation of Rwanda (FDLR)," the scribe investigating the case said.
The source further said that these elements in Mozambique have been fighting groups which back the Rwandan government and actively participate in government programmes.
Rwanda's Ambassador to Mozambique, Claude Nikobisanzwe told KT Press that the scenario is very possible, considering that there had been an attempt on Baziga's life before and had also received several death threats.
"As we speak, I am from visiting his family. Some people here were indeed not happy with Baziga's decision to denounce his refugee status and return home and regularise his citizenship. He got a passport not only for himself but for his entire family,"
"Some elements were against that decision which he took seven years ago. By the time of his death, he had normalised his status back home and was about to acquire permanent residence as a Rwandan in Mozambique," Nikobisanzwe said.
A statement signed by Eng Daniel Murenzi, the Chairman of Rwanda Diaspora global network, said that they were deeply saddened by the murder of Baziga.
Mozambican authorities are yet to reveal any details of investigations on who could be behind the murder but sources say Baziga was trailed by a vehicle as he drove in the road connecting Matola and Bike suburbs of Maputo as he headed to the garage, with the assailants blocking him and spraying his Toyota Prado with bullets.
The businessman's body was transferred to Hospital Provincial da Matola for post-mortem and further investigations.
Bury me home
Ambassador Nikobisanzwe told KT Press that Baziga, who had for some time known that his life was in danger, had said that if he ever dies, his remains should be taken back to Rwanda for a final resting place.
"I have talked to his family. He left behind a directive that he should be buried in Rwanda, only Rwanda. Plans are underway to have his body repatriated back to Rwanda for burial in the next few days," the envoy said.
Sources say that Mr Baziga, had defied odds, despite threats on his life, continuing to engage in different diaspora activities, mobilising the Rwandan community in Mozambique to support different government programmes.
However, reports indicate that Mozambique remains an active base of Anti-Rwandan terrorist groups, mainly RNC and FDLR elements who are part of 4000 members of the Rwandan community.
Last year in April, dozens of RNC members brandishing RNC placards were seen at Estádio do Zimpeto in Maputo at a CAF Confederations Cup game involving Rwanda's Rayon Sport FC and Mozambican outfit Costa do Sol.
Other reports also point to family feuds which are connected to previous attempts on his life. Three Rwandan men identified as Diomède Tuganeyezu, Benjamin Ndagijimana and Revocat Karemangingo were charged in courts for threatening Baziga's life over a disagreement on a church they owned.
Baziga, who owned supermarkets and a pharmacy, had confided in some friends that his life was in imminent danger.
A Rwandan who lives in Mozambique, speaking on condition of anonymity, told KT Press that the Rwandan diaspora in Mozambique is deeply divided to the extent that you need to know who to hang out with or talk to. Efforts to get a comment from Mozambican authorities by press time were futile.
Rwanda maintains close relations with Mozambique with President Paul Kagame and President Filipe Nyusi committing to strengthen bilateral ties last month during the latter's state visit to Rwanda.
President Nyusi pledged to support the over 4, 000 Rwandans who live in Mozambique, majority of whom were affected by the cessation clause, to obtain documents to live and work in Mozambique.