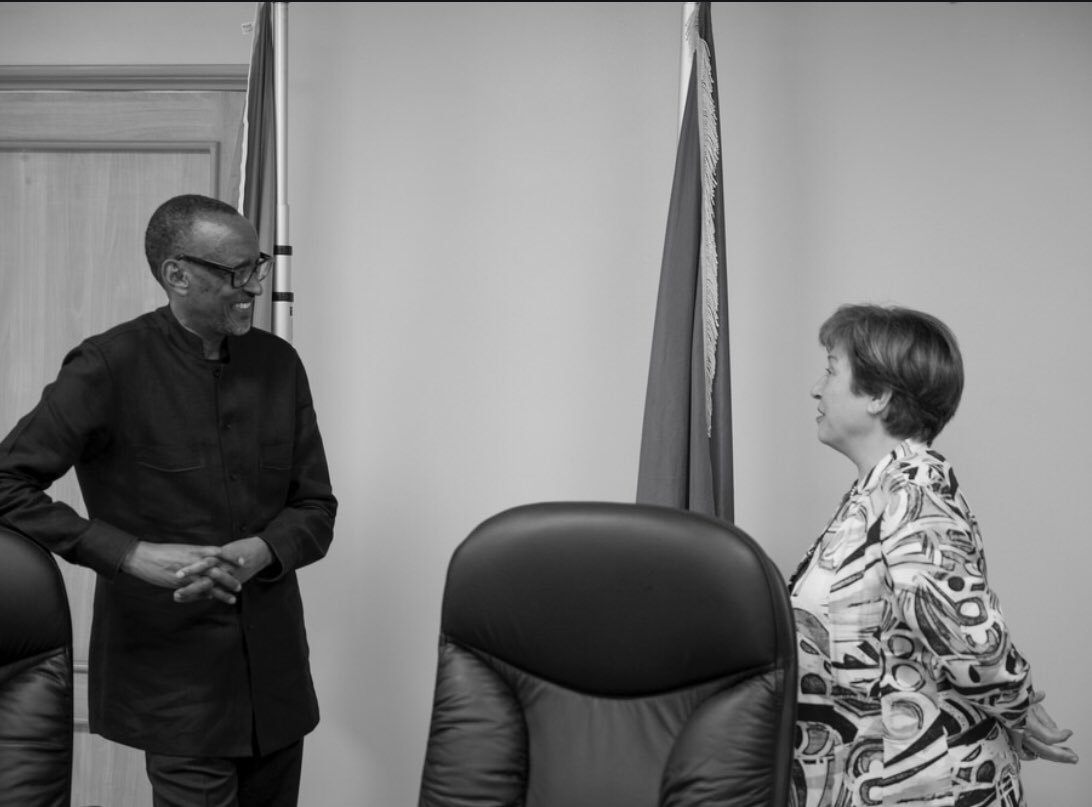 Rwanda's President Paul Kagame has thrown his weight behind World Bank chief executive Kristalina Georgieva of Bulgaria to replace outgoing Christine Lagarde at the helm of the International Monetary Fund (IMF).
President Kagame made his position known on the race for the IMF top post yesterday through a tweet, expressing his support for the Bulgarian who has been nominated by the European Union to head the Bretton Woods Institution.
"Congratulations to Kristalina Georgieva on the nomination as a candidate for the role of Managing Director of the IMF. [I] can't think of a more suitable candidate. You have my country's & my own support. Wishing you the best @KGeorgieva," President Kagame tweeted last night.
Georgieva got the backing of EU finance ministers, fending off competition from Jeroen Dijsselbloem, the former Dutch Minister of Finance and Eurogroup chief.
Georgieva's nomination came after days of negotiations and two rounds of voting after failure to arrive at a consensus, according to reports.
It is reported that EU Ministers chose to go to the vote after negotiations failed to zero down on a consensus candidate out of 5 shortlisted candidates who included Olli Rehn, the Governor of Bank of Finland, Mário Centeno, the Portuguese Minister of Finance, Nadia Calviño, the Spanish Minister of Economy and Business, among other candidates.
Georgieva, 65, is expected to take over from Lagarde, who heads to the European Commercial Bank (ECB). Prior to joining the World Bank in 2017, the Bulgarian politician had served as the European commissioner for international cooperation.
While her nomination is likely to trigger a change in the IMF rules including one which states that the MD should be younger than 65 at the time of appointment, it is unlikely that age will stand in her way. She has received the backing of Germany and Russia.
Georgieva, who has been described as a 'brilliant diplomat' was last in Rwanda in November last year on an official World Bank visit.
During her visit, she, together with the Prime Minister Dr. Edourd Ngirente, launched the "Future Drivers Of Growth Study" –a joint study between the government and World Bank to guide Rwanda's ambitions to achieve living standards of high income countries by 2050.
She described the report as an important milestone that would help Rwanda achieve her Vision 2050 targets.
During her visit, Georgieva also met with President Kagame and discussed the country's progress and partnerships in different sectors.
"Was a pleasure meeting with Kristalina Georgieva. I enjoyed our productive meeting on doing business, strengthening our cooperation even further in Human Capital development, trade, infrastructure, energy, urbanization, agriculture. We appreciate Rwanda's outstanding partnership with World Bank!" President Kagame tweeted at the time.
"We also had discussion on geopolitics and importance and challenges of regional integration," Kagame added at the time.