Ten years ago Emanuel Nyirinshuti left Nyamasheke district, western province–his home area to search for green pastures in Kigali city.
After spending a week in Kigali unemployed, his uncle found him a casual labor job at a construction site in Kicukiro district.
Later on, a quick learner, Nyirinshuti shared with his uncle his dream of becoming a painter.
In the same period, a Kenyan national rented a house near his uncle's, and little did he know, he was God's angel that was coming to help him fulfill his dream.
The neighbor was contracted to paint one of the four star hotels in Rwanda – Hôtel des Mille Collines.
He pleaded to the Kenyan to allow him to learn onnthe job at this construction site, and this opportunity was accorded him.
"Sincerely speaking, I took this as a golden opportunity," Nyirinshuti told KT Press.
"At 6:00 am, I woke up and waited at their door, we went together. They started with mixing red, green, green and light blue to get white, to paint Hôtel des Mille Collines."
"My work was learning and shifting ladders, paint buckets, brushes as they painted," Nyirinshuti said.
"After two months, the contract was over, and my good teacher left the country."
In May 2010, Nyirinshuti started small, getting small deals to paint neighbors' houses and whoever saw his touch would recommend him to their neighbor until he gained popularity.
His name later on got known among construction companies and in May 2014, he was hired among thirty casual laborers by a contractor who had got a tender to paint the Rwanda Central Bank (BNR) building.
This refurbishing was preparing the bank's celebration of its golden jubilee.
"In two months BNR was already shining in cream colour, a mixture of brown and white color," Nyirinshuti said.
"I earned Rwf300, 000 which I invested right away in land; I bought two hectares of land back home in Nyamasheke district."
The year 2014 was productive for Nyirinshuti. After the two months at central bank, another contractor hired him among 17 casual laborers to repaint the five star Serena Hotel. At the end of three months, he had his Rwf 200,000 on his account.
Fresh from Serena Hotel, the recently introduced Marriott Hotel also wanted laborers for the finishing. He proceeded to the new job after another recommendation.
From this job, Nyirinshuti has learnt quite a lot; the painting professional requires someone to be a honest citizen, trustworthy and kind.
For example, he said, when we paint, we get access to all rooms in the house which requires a lot of discipline because some belongings in the house are at times tempting.
"Painters reach every corner of the house or hotel. No one can hire you, when your indiscipline, a thief or lazy," Nyirinshuti said.
On Friday October 18, Nyirinshuti secured a certificate of recognition in colour mixing and painting from Amaco paint– a local paints manufacturing company.
Nyirinshuti was among a total of 150 trainees who completed one week long training held in Kicukiro district–Kigali city.
Funded by the Swedish government through International Labour Organization (ILO), the training aims at promoting people working in informal sector in Rwanda, mostly in construction, garments and tailoring.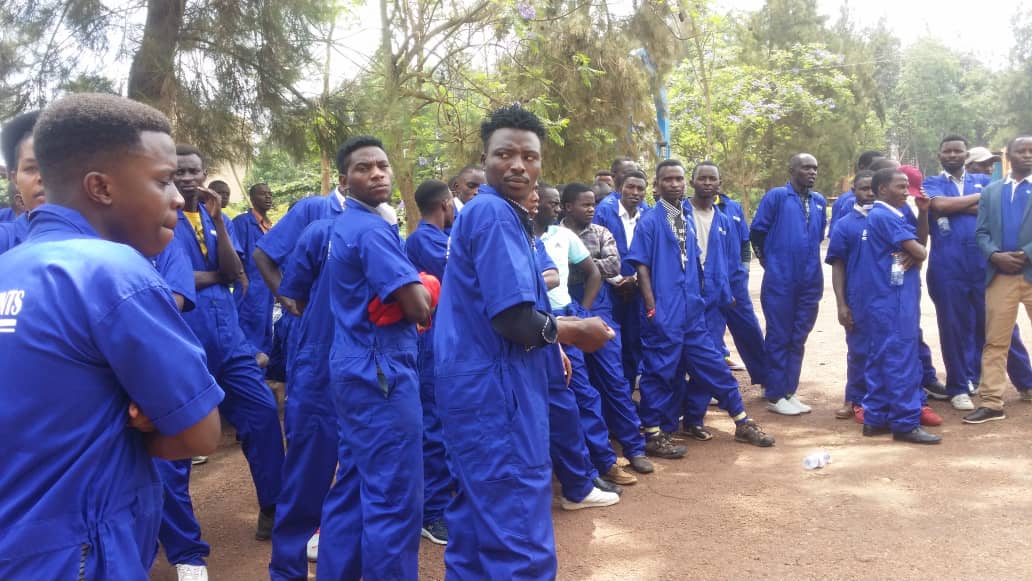 Among the total of 150, 131 men and 19 women graduated in mixing and painting.
ILO invested $4million with the target of training 3000 people already working in construction, tailoring and garments–in four years.
Alexander Twahirwa, head of labour market governance in ILO said: "before training them, we assess their skills in painting and paint mixing. They were all skilled. But they needed more skills in negotiating with clients and making budget proposals."
"Too much money in the proposal may scare the client, but again when the budget is too low, it may cause losses. So we teach them balancing budget proposals and more advanced skills of painting."
The trainees are trained by paint mixing experts from Integrated Polytechnic Regional Centres (IPRCs).
The association of painters in Rwanda has so far over 300 members.