On a rainy Sunday morning in Rwamagana district Eastern Rwanda, residents in social category one and two commonly known as 'Ibyiciro byubudehe' could not hide smiles on their faces as they welcomed Chinese community and government officials.
Chinese diplomats in Rwanda led by their ambassador, Rao Hongwei and local government officials paid a visit to the vulnerable residents (one and two) in Rwamagana, with a huge gift.
The gift worth about Rwf28Million includes 1000 bags of cement to construct their houses, 100 plastic chairs, 3 modern sewing machines, over 100 school bags for children, among several other gifts.
In Rwanda, there are four social categories that inform decisions of government policies in terms of social protection, with first and second categories designated as poorest people.
According to district officials, Rwamagana district has the population of 372,201, living in 90,459 families.
Among the total population, 10.1% are vulnerable families living in the social category one and 40% in category two who will benefit from Chinese gifts.
Other 49.7% are families in social class three and 0.2% in category four.
This year, the government announced review of social categories, after several people complaining to have been placed in wrong categories.
In a bid to improve living conditions, Chinese embassy also committed partnership with Rwamagana district on the move to graduate vulnerable residents to social category three.
The gifts were handed over to the government officials including Fred Mufulukye, governor of eastern province and Radjab Mbonyumuvunyi, mayor of Rwamagana.
According to Mbonyumuvunyi, these gifts including cement will be used to build houses for vulnerable communities who have been living in dilapidated houses.
"Building for vulnerable residents is a government priority. This gift is an additional power to make sure that our people are decently accommodated," he said.
"We have a plan of building 474 houses for vulnerable houses, next year. The district will also contribute iron sheets and other needs," Mbonyumuvunyi said.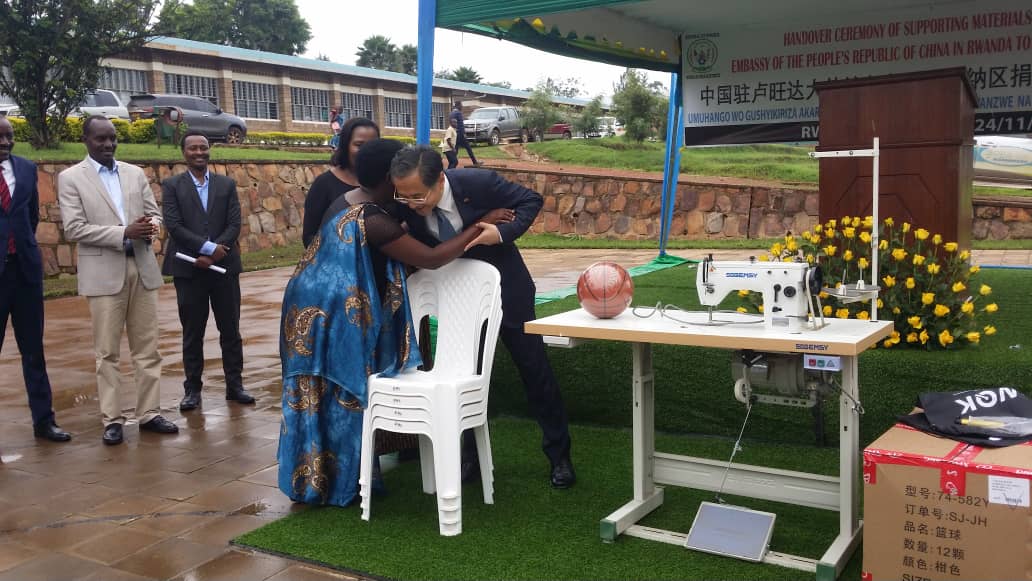 The gifts aim at sustainably improving livelihood. The Chinese embassy in Rwanda has also donated modern sewing machines to these vulnerable communities who are grouped in cooperatives.
Nyiramana Alphonsine , president of  Tuzamurane cooperative of sewing said; "This is a big contribution; modern sewing machines will help us produce in large quantity. The remaining part is now teaching all the members how to use them."
She also said: "We shall be able to sell as many products as possible, depending on purchasing power."
According to Nyiramana, the new modern sewing machines that use electricity are more effective when it comes to increase of production.