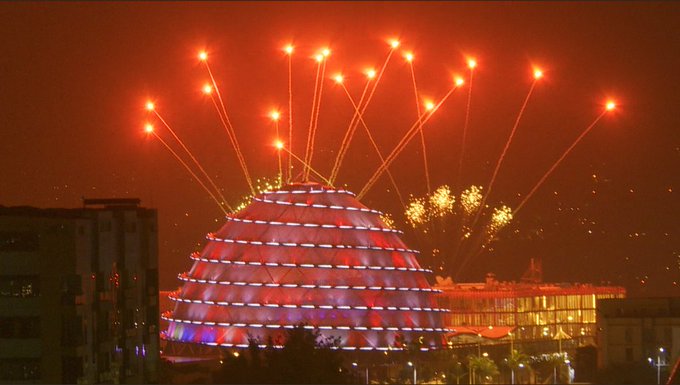 For the second year, Rwandans will not witness the usual fireworks blasts which had become a custom of ushering in the New Year.
Celebrating entry into the New Year with fireworks gives Kigali residents a treat of seeing and hearing dazzling fireworks blasts from around key locations in the city, especially the Kigali Convention Center.
Other locations where fireworks have been displayed include the Nyamirambo based Regional Stadium, Remera  Amahoro Stadium and Bumbogo Hill.
With COVID-19 now in its second year, officials have declared that there won't be any fireworks in any part of the country as earlier planned.
"In a bid to tight measures and avoid spread of COVID-19 virus, the City of Kigali has suspended all activities related to fireworks ushering the New Year during this festive season,"Pudence Rubingisa, the Mayor of Kigali City said in part of a communique released yesterday.
This announcement comes as numbers of the COVID-19 Omicron virus cases around the City of Kigali and across the country, increase in Rwanda and around the globe.
The ban follows recent government measures to reduce the time of business activities from Midnight to 9pm and lockdown curfew time from 10pm during the festive season.
Government also announced a ban on public concerts and celebration as a measures to avoid further infections.
The Ministry of Interior also yesterday released a cancellation notice informing Show Time Agency ( who had permission from the Justice Ministry to display the fireworks).
The minister of Interior, Alfred Gasana said in the communique that the ministry apologizes for any inconveniences caused but also stated that the cancelation was in adherence to government to fight against COVID-19
This year's cancellation of fireworks will also affect five star hotels which were last year 2020, allowed to display fireworks provided that they respect COVID-19 preventive measures in place.
Globally, traditional fireworks in key world cities like Paris and New York among others are expected to take place but also with minimal physical participation as last year.