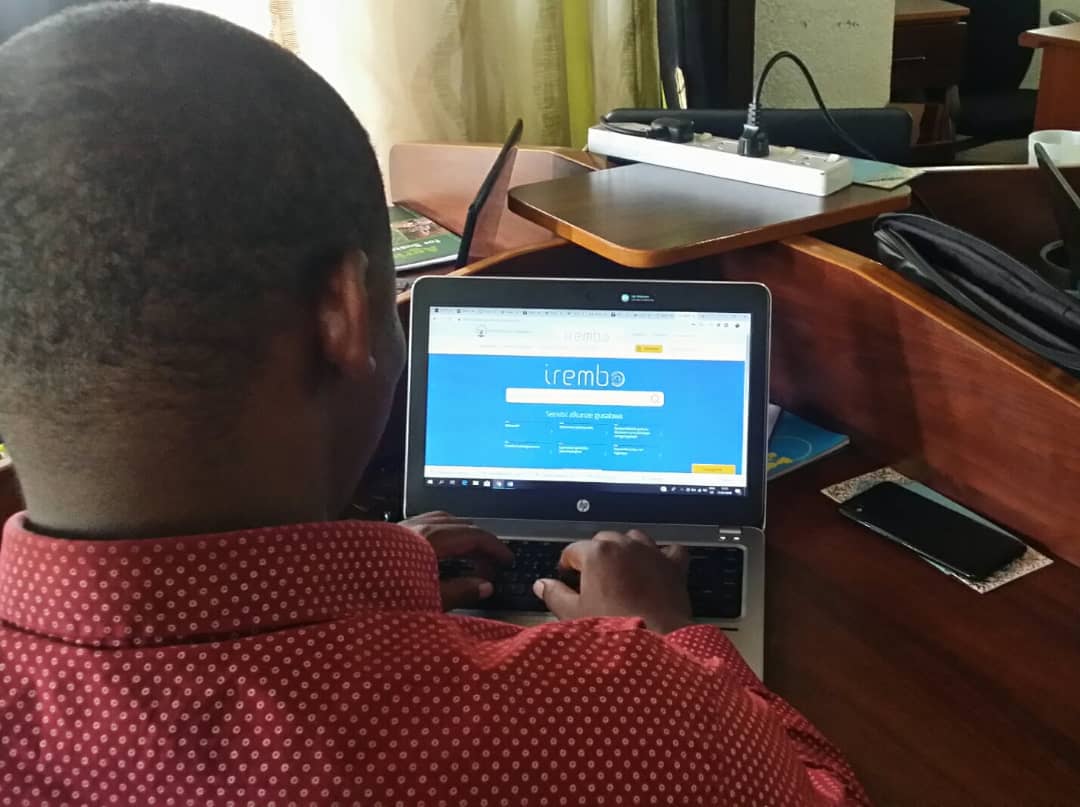 Irembo platform
"Please go and apply through Irembo to get your document", a local government employee advised an elderly woman at Kimironko Sector on a hot Monday morning.
"But I don't know how to use the computer, my son", replied Drocella Uwingeneye, 72. Fortunately, Uwingeneye's predicament didn't last long. A few metres away from the local government office, agents were ready to help her use Irembo services. In a matter of minutes, she had been served and was informed that she would receive a phone notification after her document is processed.
"These are changes we have to adjust to regardless of our age," noted Uwingeneye, who cut a lonely figure at the sector office, which used to be teeming with people before the introduction of Irembo.
Since 2015, Rwanda has embarked on a journey to speed up digital transformation all over the country and fast track service delivery. As a result, most government services are now available online, where citizens can easily access them without having to travel long distances or brave long queues to be served.
As Rwanda hosts the the 8th edition of the International Telecommunications Union (ITU) World Telecommunications Development Conference (WTDC), which opened in Kigali on Monday, KT Press looked back at key services Rwanda moved online to improve service delivery.
For nearly a decade, the government has been promoting digital inclusion at all levels of the country through a partnership with Irembo Ltd, a Rwandan based tech company. Together, they rolled out the eGovernment platform known as "IremboGov."
A gamechanger
Numbers show that IremboGov has significantly eased access to services for citizens. "Today, over 100 public services are accessible on IremboGov and provided by over 19 government ministries and agencies. In addition, since its launch, the platform has administered an increasing number of successful service applications: from 1 million in 2017 to 7 million by 2019 and 10 million by 2020", according to Ivan Magwene, Communications Manager at IremboGov.
"Today, about 200,000 to 300,000 service requests are successfully processed monthly through the platform, up from 100,000 in 2017,"  Magwene told KT Press.
He added that as a one-stop portal, IremboGov increased transparency in how services are administered and paid for, offering both a detailed and big-picture lens on all public-service transactions in a way not previously captured through analogue and cash-dependent channels.
"For users, the benefits of IremboGov are clear. The most pronounced among them is consistent, convenient access to government services at any time."
As a result, IremboGov reduced costs for the government by decreasing administrative expenditures. Thanks to IremboGov, operational costs associated with the administration and delivery of public services have fallen sharply.
Furthermore, the platform became a game-changer because it is accessible both within and beyond Rwanda's borders, allowing people not in Rwanda to apply for or pay for a service.
Similarly, international tourists visiting Rwanda can submit a visa application online. Rwandans travelling overseas or from the diaspora can apply for a local driver's license or marriage certificates from outside the country.
Justice-on-the-go
In 2016, Rwanda rolled out the Integrated Electronic Case Management System (IECMS), an electronic case management system which integrated five institutions of the justice sector in Rwanda.
They included the Judiciary, Ministry of Justice, National Public Prosecution Authority (NPPA), Rwanda Correctional Services (RCS) and what used to be the Criminal Investigation Department (CID), which later became the Rwanda Investigation Bureau (RIB).
The IECMS provides an interface between the Judiciary and Litigants, who can file cases electronically and follow up on cases without going to courts physically.
Harrison Mutabazi, the Judiciary Spokesperson, says that since 2016, all cases, civil or criminal, are logged through the IECMS.
"We have not had any litigants coming with papers since 2016. The IECMS was initiated to improve judicial service delivery by reducing delays and transaction costs associated with judicial cases processing through the whole justice chain from the inception of the case to its final adjudication," Mutabazi told KT Press.
"It allows you to file and track case files from wherever you there. We have people following up their cases from countries as far as China and Canada, and who only come when they have to appear before the Judge," he said, adding that in civil matters, they don't even need to travel to Rwanda and send their lawyers.
Transforming service delivery
Mutabazi said that the IECMS has completely turned around service delivery in the Justice sector, offering timely, quality and accessible legal services at a reduced cost for citizens since its establishment. "Imagine the time, energy and money someone from Rusizi would have to spend if they had to travel to Kigali 5 times or more to attend court," he said.
Mutabazi added that the IECMS also reduced paper usage in the justice sector, which directly benefited the environment and meant no more document loss or damage.
"The system also directly contributed to the decline in corruption cases in the justice sector because there is no person-to-person contact. It made it easy for heads of institutions to follow up and monitor what is going on, increasing transparency," Mutabazi said.
The IECMS is complemented by the eCyamunara platform, the digital bidding platform launched by the Government of Rwanda in August 2020 to make the enforcement of court orders more efficient and transparent.
Since its launch, the portal has streamlined processes involved in enforcing orders and curtailing malpractices occasioned by human interaction. Additionally, the platform allows potential bidders outside the country to participate in auctions.
e-Recruitment: the way to go
The digitalization of public services has also transformed the way the government hires employees, which has been done entirely online since February 2016.
Fanfan Rwanyindo, Minister of Public Service and Labour told KT Press that the whole process of examining, interviewing, shortlisting and hiring public sector employees had now moved online.
"Today, all applications are done online. Candidates who think the process was unfair can appeal online through the public service commission," he added.
Minister Rwanyindo gave the example of a recent recruitment campaign by the Ministry of Education, which led to the hiring of over 10 000 teachers, that was conducted entirely online.
"These days, we don't need examiners because the system is automated. By the time you leave the examination room, you know your marks. It has also cut down unfair practices in shortlisting. It is all done by the system. You either meet the requirements or not," Rwanyindo added.
She said that removing human involvement in the recruitment process has eliminated corruption and nepotism, adding that they are currently working on improving the examining process to randomize the questions given by the system and avoid leaks.
 Nipping graft in the bud
All over the world, government tendering and procurement procedures are tainted with corruption and embezzlement due to the vast amounts of money involved.
In response to this challenge, the Government of Rwanda rolled out an eProcurement service named 'Umucyo', which in Kinyarwanda means 'Transparency', in April 2016. Umucyo was first piloted in 9 procuring entities and was later expanded to all government procuring entities during the 2017/2018 financial year.
According to Joyeuse Uwingeneye, the Director-General of Rwanda Public Procurement Authority (RRPA), e-Procurement has promoted better governance in public procurement by increasing transparency and eliminating opportunities for fraud and corruption compared to paper-based procurement processes.
"Tender opportunities are available on the online platform where procuring entities and suppliers meet without physical contacts. As a result, the cost and time associated with the preparation of tender documents and submission of bids have been drastically reduced, and the system has ensured the security of information and documents in public procurement proceedings," Uwingeneye told KT Press.
She added the use of Umucyo in procurement processes has resulted in an e-Procurement ecosystem that is ideally suited to address the Government procurement strategy of digitizing public procurement for effective and efficient government service delivery to all citizens and businesses.
Uwigeneye added that an independent study assessing the quality and efficiency of the service delivery and service maturity of e-Procurement in 2021 showed that the Rwanda Procurement ecosystem outperformed economies of similar scale.
According to available figures, Umucyo has so far registered 221 Procuring entities and 11,304 Suppliers, while users of the system from procuring entities are so far 2313.
The statistics below show procurement files handled by eProcurement, Umucyo system from the financial year 2016/2017 when it was launched, to date.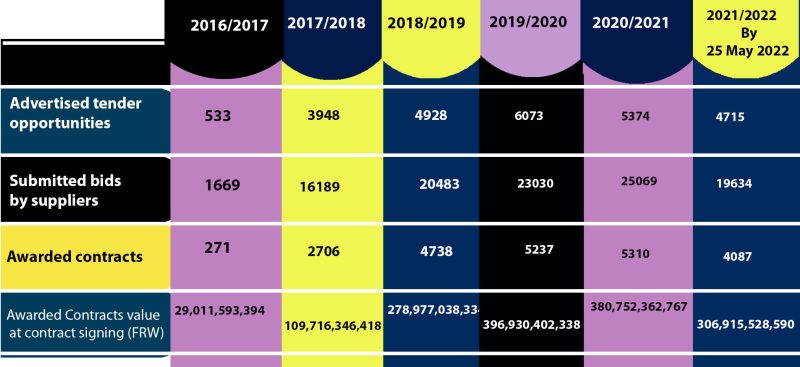 According to Uwingeneye, the Umucyo system has also accumulated terabytes of structured files.