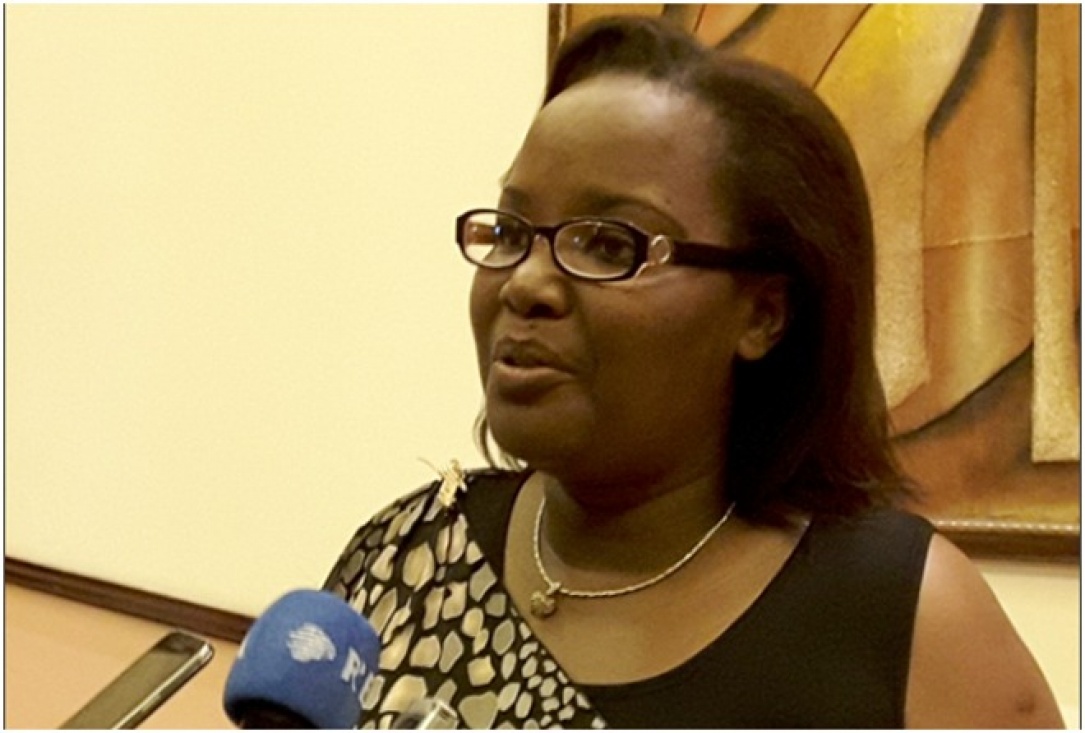 Rwanda's Minister of Agriculture and Animal Resources Dr. Geraldine Mukeshimana has apologised for poorly managing a major continental event hosted in Kigali.
On Monday, about 1000 agriculture experts from across Africa arrived in Kigali for the 7th Africa Agriculture  Science Week and general assembly for Forum for Agriculture research in Africa under the theme "Apply Science, Impact Livelihoods."
However, delegates have not been impressed by how they were handled upon arrival and poor service in hotels they were hosted. This is contrary to Rwanda's handling of previous events.
Dr. Mukeshimana on Wednesday evening arrived at Camp Kigali conference centre in traditional dress (mushanana) to join the delegates for dinner. As delegates were served at their tables, the emcee invited the minister to speak.
She majestically walked forward and was handed a microphone. She turned to face the delegates who had suddenly gone silent patiently waiting to hear from the minister.
Looking composed but seemingly anxious  the minister said "If anything happened that was not good, I apologize, that is not Rwanda a country that welcomes guests."
She said that on behalf of the government she takes the responsibility of the messes that happened  and extends the apology, "I really take the whole responsibility and ownership and apologize."
The delegates cheered and clapped their hands after the minister's surprising apology.
Several delegates that talked to KT Press complained that since they arrived there was inadequate food, refreshments like water during the meetings. They also said meeting halls were poorly and inadequately arranged.
Every delegate had paid U$ 50 dollars as participation fee for the Assembly.
Some delegates say they missed food and breakfast as one was required queue up (cafeteria)  for about an hour to be served while in some instances food and tea were  inadequate.
"To get food you had to be physically fit," a delegate from Ghana who requested anonymity said, " it required a lot of energy to endure the line. The problem was that they had one table where all of us had to serve food from," she added.
The mess  began with registration process on Monday where  delegates who did not get  accreditation on time, attended the opening ceremony by Prime Minister Anastase Murekezi without  badges.
In further confusion, participants could not locate some of the meetings that they were supposed to attend. From the second day, the assembly run under sideline meetings in different halls at the conference centre.
The mess at the Agriculture  Science week coincides with President Paul Kagame's criticism against another poorly organised world Economic Forum-WEF in May which he said delegates also complained they were not given enough food.
In attempt to explain why this whole mess swallowed up an important conference, the minister said the confusion started when the forum's organizing committee decided to take up all responsibilities for conference arrangements, registration, protocol services, catering and met challenges as they were not used to the environment.
"They didn't want us to get involved so much maybe they thought we could boss them, but when we started realising problems we intervened as a ministry," she added.
However, a member of the forum's communication team who preferred not to be mentioned said that the ministry staff were not cooperative and were not able to execute responsibilities given to them.
"For example, we were supposed to work with them on handling media, get logistics required to engage with delegates and  helping in arranging  the  sideline meetings, it was not done," she told KT press.
The June 13 -16th week was organized by the forum for Agriculture research in Africa –FARA secretariat in Ghana hosted by government of Rwanda through the ministry of Agriculture and Animal resources and discussed strategies on how to apply science, technology and innovation in agriculture.