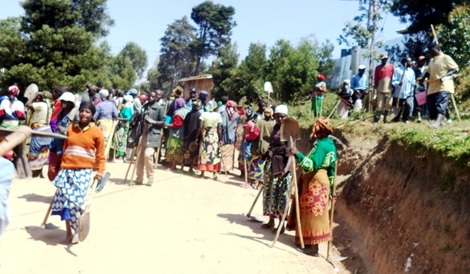 An anonymous killer in Rutsiro district, Western part of Rwanda, on July 15 ensured there was none around him/her and wrote a testimony.
The killer poured his/her heart on a piece of paper and placed the letter at the entrance of the mayor's office.
He apologized for the wrong doings during the Genocide against Tutsi that killed over a million Tutsi 21 years ago.
"Dear mayor, fellow Rwandans, I killed quite many people during the Genocide against Tutsi, but I never had courage to apologise," read part of the anonymous letter, written in capital letters.
"I was mostly discouraged by those that we shared the same animosity; they always told me if I dare to divulge that secret, it would cost me life," reads the letter.
"My heart cannot give me peace, and I have decided to use this letter to appease my heart."
The anonymous murderer made a step further and did what many killers failed to do. He mentioned several sites where they dumped Tutsi victims they slaughtered between April and July 1994.
Some of these sites include the front side of the mayor's office and the nearby toilets that were being used by former commune Rutsiro where thousands Tutsi had gathered expecting protection by then district leader, burgomaster Raphael Benimana.
The burgomaster was involved in killing Tutsi neighbours and then escaped to Democratic Republic of Congo (DRC). He died upon repatriation before he faced justice.
On July 16, 2015 Rutsiro residents gathered to the places the letter mentioned, and exhumed 54 bodies, which will have to be accorded descent burial like other hundred thousand bodies exhumed across the country.
"We are still encouraging community to tell us the whereabouts of our beloved parents, brothers and sisters that perished during the Genocide," Naphtali Ahishakiye, Executive Secretary of Ibuka, an umbrella of genocide survivor associations told KT Press.
Ahishakiye said that, about 700,000 bodies were given descent burial both at district and national memorials.
At Gihango genocide memorial located in Rutsiro, 5000 Tutsi bodies lay to rest. Ibuka believes that people are still keeping information about victims' bodies.
Whenever any information is shared, communities meet at the place and help exhume the bodies.
Ahishakiye says in Rusizi, Western province where a storied building of former district mayor was removed after it was reported that it was built over bodies.
Meanwhile, the anonymous killer has promised to reveal more sites.
Read full letter below