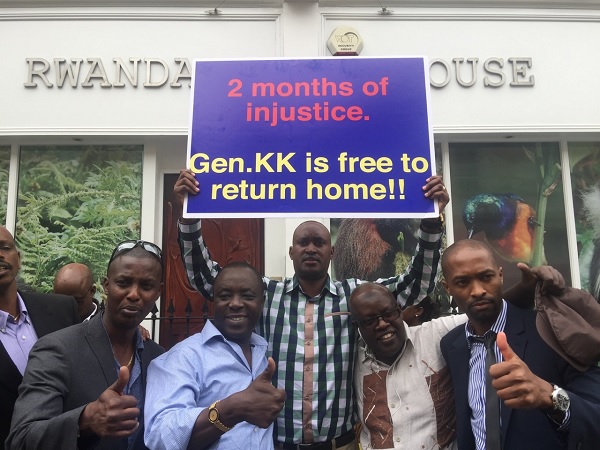 Rwanda's spy chief, Gen. Karenzi Karake is now a free man.
By press time, Gen. Karake was cruising in a plane back home.
Yesterday, a few hours after his release, President Paul Kagame expressed his gratitude for the legal team led by Cherie Blair, wife of Britain's former prime minister Tony Blair, for their unwavering solidarity and support.
He said, "Many thanks to the tireless legal team ,friends and the unbreakable Rwandan spirit….!!!"
Kagame was also quick to says, as usual, that, "Truth is really very stubborn…it just chooses it's moment!"
Justice Minister and Attorney General, Johnston Busingye, who has been under extreme pressure for seven weeks to secure the general's release, said that at last, "the case is dismissed and with costs."
The case has ended, but the matter has not ended. Busingye said that, "we will be compensated for a needless prosecution."
Cherie Blair issued a statement yesterday saying that the general has been "freed unconditionally."
Gen. Karake was arrested by the Metropolitan Police at London Heathrow Airport on June 20, as he was returning home following an Arrest Warrant based on an indictment issued by a Spanish judge in 2008.
The Spanish indictment alleged that Gen. Karake and 39 other top Rwandan leaders were members of a "criminal terrorist organisation called the Rwanda Patriotic Front (RPF), the current ruling party.
A statement from Omnia Strategy, Mrs Blair's legal firm said that the Spanish authorities have  finally and conclusively conceded that the general has "committed no offence that could be prosecuted in both England and Spain."
Foreign Affairs Minister, Louise Mushikiwabo said she was "delighted! Gen. KK [was] coming home!" "This was an unnecessary and abusive process…"
When the news of his release was announced, it spread like wild fire on social networks. Even village folks across the country, who had massively protested his arrest, started celebrating and calling friends to inform the about the news.
When the president of the senate, Hon Bernard Makuza, who was presiding over a sitting that was discussing the results from the countrywide consultations on presidential term limits,  announced the news to the house, the chamber exploded with excitement.
Excitement in Rwanda was the relief from what Minister Mushikiwabo called, "Humiliating Africans" and "twisting Rwanda's recent tragic history."
For the ordinary Rwandans, the release means giving back the general's respect who was incarcerated in one of the UK's highest security prisons equated him to notorious criminals.
According to a government statement issued late night,  "today the General is finally free to return to his family, friends and countrymen in Rwanda and to resume his important duties."