Rwanda is now one of the world's top most business reformers and leads in Sub-Sahara region according to the World Bank's Doing Business report for 2016.
The report places Rwanda at the 7th position overall global reformer, out of 189 countries surveyed.
According to the report, Rwanda also ranks 62nd globally in ease of doing business while Mauritius ranks 32nd.
Rwanda leads all the East African countries followed by Kenya in ease of doing business, while Uganda and Tanzania respectively came on the 122 and 139 global positions. Burundi follows others but on 152nd position globally.
The report says that, in countries where rapid reforms were made in doing business since 2004, Rwanda leads in Sub-Saharan Africa, while Georgia takes over Europe; Colombia in Latin America and the Caribbean; the Arab Republic of Egypt in the Middle East and North Africa; China in East Asia and the Pacific and India in South Asia, among others.
Globally, the report indicates that Georgia improved the most in areas measured by Doing Business over the past 12 years, followed closely by Rwanda.
The report published Tuesday indicates Rwanda's rapid reform is mainly based on the country's policies in facilitating doing business and investments.
For instance, the report indicates that ten years ago, transferring property in Rwanda took more than a year but has been reduced to one month, as a result of the establishment of web-based land administration information system.
Rwanda has also removed a burden of new companies opening up accounts for value added tax (VAT) payments.
In dealing with construction permits, new building codes and urban planning regulations were established.
Meanwhile, Rwanda made use of its electronic filing and payment system compulsory in 2015. The time required for a business to prepare, file and pay taxes fell by 10 hours, from 119 hours a year to 109.
According to Rwanda Development Board (RDB), the country's economic performance has been impressing in recent years.
According to last year's doing business report, Rwanda was ranked 46th out of 189 countries globally, representing a strong performance compared to previous years.
The performance made Rwanda the best performing country in the East and Central Africa and 3rd easiest place to do business in Africa after Mauritius (1) which ranked 28th globally and South Africa (2) which ranked 43rd globally.
Launched in 2002, Doing Business report looks at domestic small and medium-size companies and measures the regulations applying to them through their life cycle.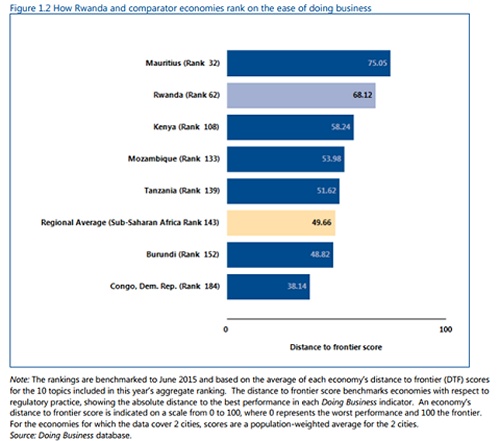 Business Reforms in Rwanda… http://www.doingbusiness.org/data/exploreeconomies/~/media/giawb/doing%20business/documents/profiles/country/RWA.pdf?ver=3