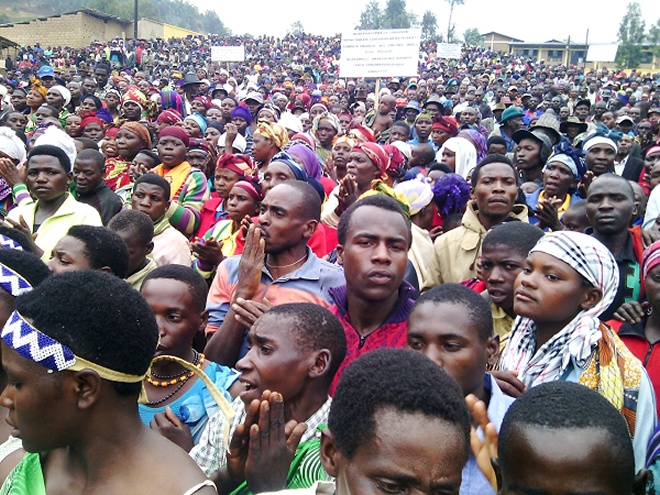 Rwandans are one step away from a referendum after 96% of MPs Monday evening voted in favour of a bill seeking to amend the current constitution.
Out of the 74 MPs, one abstained and two other votes were declared null and void.
Despite being triggered by a popular public demand to abolish presidential term limits, the country's parliament unanimously passed a bill that fulfills the demands of the public and also scraps off or amends some provisions.
The voted bill will be submitted to the senate. Once the senate approves it as is, a referendum will be held without fail.
In a fully-packed Rwandan parliament, which included hundreds of citizens, MPs decided it is the will and the power of Rwandans to decide.
Over 4 million Rwandans petitioned lawmakers to review the constitution which prohibits an incumbent from holding the biggest office in the country for more than two 7-years terms.
President Paul Kagame enjoys mass popularity which many supporters demanded the constitution be untied to provide leeway for him to rerun if he agrees.
Indeed, Kagame's constitutional non renewable two-terms in office will expire in 2017.
Long-serving MP, Desire Nyandwi, told the lower chamber of deputies that; "The referendum should be conducted. I base my point on a personal experience from the 2-weeks consultations with the community. It clearly showed what Rwandans want."
In August 10, parliament released its findings from the national-wide consultation exercise with millions of Rwandans who petitioned for the amendment of the constitution.
The findings prompted the senate to confirm a seven-member commission of legal experts last month, which was tasked with offering technical assistance to legislators to execute the amendment.
Some of the sections that were mostly discussed include determining age limit for a presidential candidate, nationality of the candidate, the decision by the elected president to turn down request and support from the mass; increase of women representative in parliament from 30% to 50%, among others.
On citizenship of a presidential candidate and age limit, MP Ruku Rwabyoma said; "I think we have smart young Rwandans who are patriotic enough to lead this country even at below that age."
He argued that dual citizenship to anyone with the capacity to lead the country be legally allowed. "Limiting to one nationality would be classifying Rwandans."
On the issue of gender, the 2003 constitution determines 30% of women seats in parliament. However, for MP Euthalie Nyirabega, "Composition of MPs should be 50% men and 50% women to ensure gender balance."
The senate is not likely to overturn the massively voted bill, considering the fact even the Supreme Court last week ruled in fovour of the amendment in a controversial court case by the Democratic Green Party of Rwanda that sued against the amendment.
Both the date for the senate's approval and the consequential referendum were not discussed.