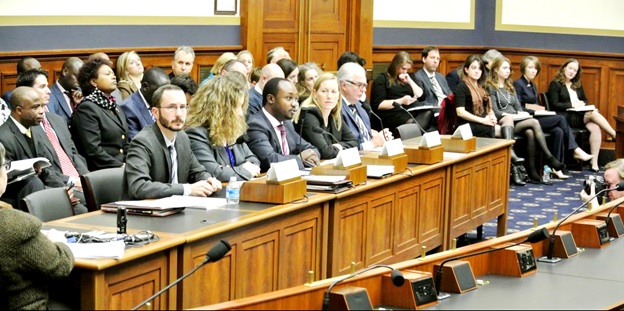 Rwanda has protested against the U.S. sanctioned conflict minerals program that prevents exit of minerals from ten countries neighbouring the DR Congo, a region considered as a conflict zone.
Evode Imena, Minister of State in Charge of Mining was on Tuesday presenting Rwanda's status report on mining while appearing before the Financial Services Monetary Policy and Trade Subcommittee in US senate.
Rwanda is being unfairly treated by the Dodd-Frank Act, which is being applied as a 'one-size-fits-all' approach that requires conflict minerals reporting not only in DR Congo, but all adjoining countries as well.
"The ten countries covered by this law certainly have some things in common, but they are dissimilar in many significant ways. From economic development to border control, these countries are at all different levels of achievement," Imena told members of the Subcommittee.
US President Barack Obama, five years ago signed into law the Dodd-Frank Act which requires public companies to disclose whether they source conflict minerals (tin, tungsten, tantalum, and gold) from DRCongo  and its nine neighboring countries.
The US government is concerned that several industries are using these minerals to produce countless products ranging from cell phones to apparel.
Minister Imena said that putting countries in one group is not only an impediment to efficient implementation of the regulations, but the approach "fails to recognize efforts made and challenges faced by individual countries."
Critics of the Dodd-Frank say the policy treats 233 million Africans living in 10 distinct countries as one, yet they are different.
A report by iTSCi program, an initiative that deals with traceability, tracking and due diligence of 'conflict minerals', says that Rwanda had by May 2015, produced 840 metric tons of minerals from its 815 mining sites.
This quantity alone makes Rwanda the largest exporter of major minerals in the region.
"Rwanda has taken extensive steps and made great strides in improving accountability and transparency in the mineral supply chain," Imena told the Subcommittee adding that Rwanda has the best mineral traceability system in the region.
"Despite all that has been accomplished, our efforts to improve are hampered by the fact that Rwanda was lumped together with nine other countries in Section 1502 of Dodd-Frank," Imena protested.
Rwanda, as well as critics, considers the Dodd-Frank conflict minerals provision, Section 1502, as a de facto embargo, further impoverishing Africans while leaving local militias unaffected.
"Five years later, I'm very concerned that this well-intended conflict minerals rule is actually harming the very people it was intended to help," said Subcommittee Chairman Bill Huizenga.
Huizenga added that Securities and Exchange Commission Chair Mary Jo White, "has also questioned the SEC's ability to promulgate rules governing the African minerals trade and whether SEC disclosure powers are best used to meet address societal ills."
Meanwhile, an August 2015 U.S. government accountability office study found that 67% of companies were unable to determine whether the minerals used in their products came from the countries covered by Section 1502.
No company was able to determine whether its minerals benefitted armed groups in those countries.
In 2007 Rwanda launched reforms in the mining sector which has today become a major contributor to the country's export revenues.
This year Rwanda targets an estimated $ 280 million from minerals. Last year minerals fetched $ 210 million.
Minister Imena earlier told KT Press that the mining sector targets to generate $400 million from mineral exports by 2017 and creating over 600,000 jobs.