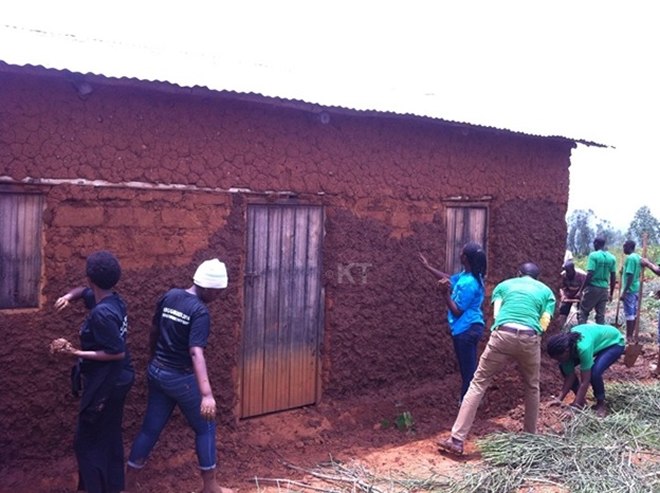 Rwandans have begun preparations for the 22nd commemoration of the genocide against Tutsi.
This Friday, members of survivors' organizations AERG and GAERG launched various activities under theAERG/GAERG Week to support vulnerable genocide survivors.
Activities started in Bugesera district, 30 minutes' drive from Rwanda's capital Kigali.
Members of AERG/GAERG kick-started support activities in Nyamata and Ntarama sectors of Bugesera including; building houses, establishing kitchen gardens and offering cattle to the needy survivors.
Other members cleaned the surrounding of the Nyamata genocide memorial site. About 5,000 Tutsi sought refuge in Ntarama Church running away from the Intarahamwe Hutu Militias.
AERG/GAERG members drove to Bugesera early morning, built a house for an elderly genocide widow in Kayumba cell, in Nyamata sector and repaired other houses.
In Ntarama sector, Cyugaro cell, they also helped repair and plaster a house and prepared a kitchen garden for another elderly survivor.
These activities will continue up to April 2.
Bugesera district is one of the places that experienced extreme atrocities before and during the genocide.
On April 15, 1994 Hutu Militias broke into Nyamata church and slaughtered every person many of whom women and children.
Agents of an extremist political party CDR-Coalition pour la Défense de la République hunted down Tutsi from their homes in Bugesera.
Charles Bandora, Pastor Jean Uwinkindi and Gervais Ngombwa are some of the notorious genociders that have been prosecuted for commanding the killings in Bugesera.
Jean Uwinkindi has been sentenced to life in prison for crimes of genocide and crimes against humanity.
Today Ntarama memorial center is a learning centre for future generations about the genocide. At this center, survivors and visitors can honour the victims of genocide against Tutsi.
Ntarama Church is now a memorial, it never returned to being a church. Inside, light filters through holes in the walls of the church made by grenades.
Bodies of victims were removed from inside the church and given a decent burial in two mass graves located behind the church.
Clothing of the victims hang from the rafters and personal belongings including, pens, pots, sleeping mats, glasses and books lay in piles in the front of the church, near the alter.
Meanwhile after reparing his house, Anastase Ngaboyamahina, 58, who lost his wife and his four children during the genocide he told KT Press that, "My house was such dilapidated that when it rained, I was afraid it would collapse on us. I thank God for sending me Good Samaritans."