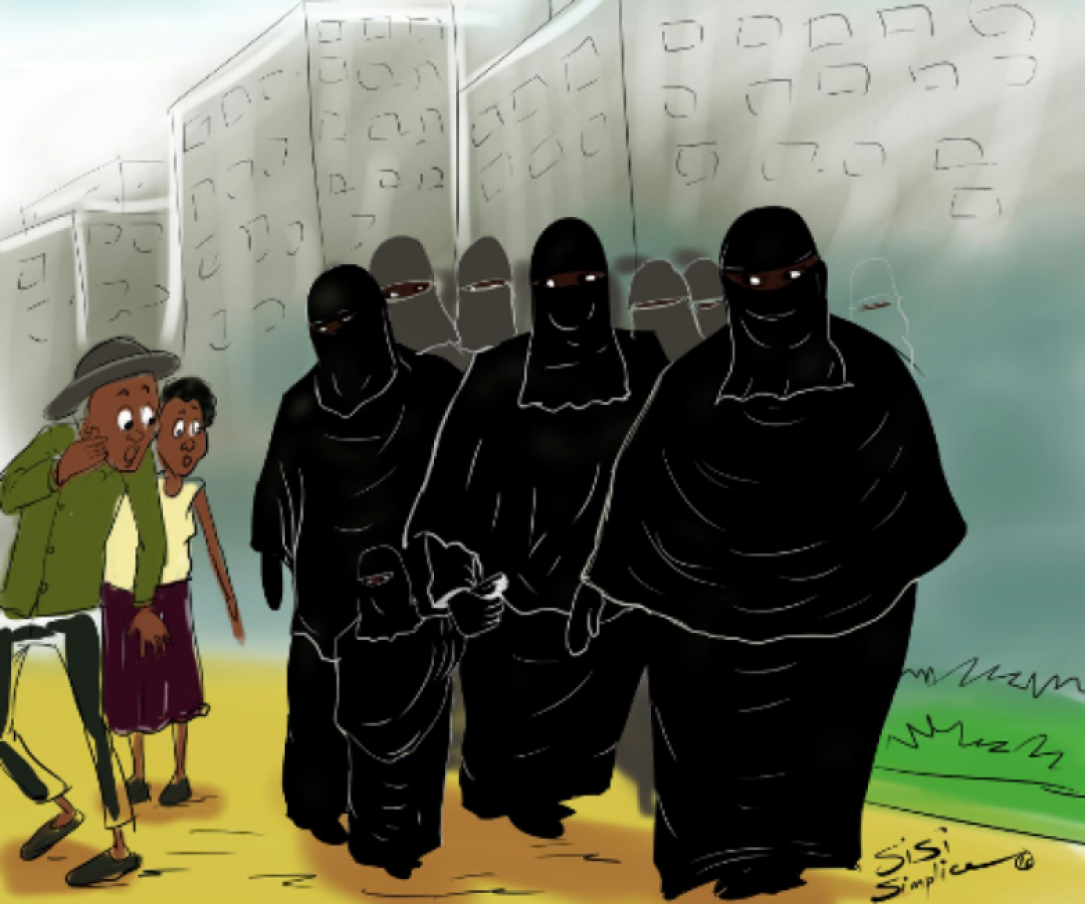 On July 17th last year, Fatima Ngoga woke up to an important day marking the end of Ramadan-the Islamic holy month of fasting- It was Eid al-Fitr. She began preparing herself to attend mass prayer.
The mother of two, dressed up in a mandatory islamic dress- hijab completely covering her body. She also wore a Niqab that covered her head and face.
By 7am, she had arrived at Nyamirambo stadium where other Muslims gathered for mass prayer known as Salat al-Eid to commemorate Eid al-Fitr.
During the sermon, the head of Muslim community in Rwanda Sheikh Salim Hitimana made a shocking announcement; "for security purposes, we have come up with a decision to ban Niqab, Burkat and Qinaatu."
However, the Sheikh said Muslim women would continue wearing; Hijaabu, Jilbaabu and Khimaar because these three styles allow the public to identify an individual and make communication easy.
"I was disappointed and couldn't figure out how my life would be without a Niqab I have been wearing since I was a teenager," said Fatima.
Despite the sudden ban of the Niqab, several Muslim women including Fatima were hesitant to adjust to the changes.
"Fellow Muslims have been looking at us as deviants after the announcement. However, leaving it was always a tough equation," she said.
Rwanda Muslim Community (RMC) intensified the campaign through social media messages and posters at various Mosques warning against any further wearing of the Niqab.
Since last year, at every Muslim gathering, the Niqab ban announcement is repeated.
It was until two weeks ago that Fatima came to terms with a decision to stop wearing a Niqab to mask her face. This was after Police and RMC leaders decided in a meeting that any Muslim woman wearing Niqab would be arrested.
In July this year, Police had told the Muslim community, "if they find and decide that some of their traditions and beliefs pose security risks it is a healthy decision to do away with them for the general good."
According to Imam Issa Hagumimana, leader of Nyarugenge district Muslim community, "The Niqab is not in the community doctrine and we have banned it because most of times people wear it with bad intention."
He said, "we recently apprehended a man wearing Niqab, while for us we were used to only ladies wearing it."
Sheikh Musa Fazil Harelimana the  Minister of Internal Security told KT Press that, "the man committed crimes in other areas and hid behind Niqab."
"We cannot ascertain that all the people wearing Niqab are Muslim therefore, we don't want to be identified with any criminal act that may be committed by anyone who hides behind Niqab to threaten country security," Imam Hagumimana told KT Press.
The Security Minister indicates that though there are no specific laws that provide for Niqab wearing, "laws related to public appearance and the traffic can be referred to."
He said that the same way it is prohibited to drive cars with tinted glasses, security institutions cannot allow people to mask themselves.
Meanwhile, some Muslim women told KTPress that Husbands impose the Niqab on their wives and it may be difficult to do away with them.
The Rwanda Muslim community represents nearly 5% of the country's population. According to 2012 population census. This makes an estimate 500,000 people.