Genocide suspect Dr. Léopold Munyakazi fumed with anger and hurled insults on his first day in court thirteen days after his deportation to Rwanda.
The pretrial held on Tuesday at Nyarugunga Primary court heard charges lodged against Munyakazi- court will decide on Thursday whether the suspect will be remanded for 30 days.
Munyakazi arrived at court in a detainee van. He wore flowered African print shirt, blue pants. He kept interrupting the pretrial from the beginning.
He referred to prosecutors as judicial liars and that he would not stand trial in courts where they are present.
The suspect who had eluded justice for 12years demanded that all his trial be recorded to ensure that what the court clerks write corresponds with exactly what he says.
"I won't stand to respond to any prosecution without voice recorders," he told court adding that whatever transpired should not be considered as his responses.
Munyakazi has two lawyers including; Rushikama Justin and Protais Mutembe whom he chose and is supposed to pay himself, appeared without any of them.
He refused to respond to whether he will continue his hearing with or without a defense team saying that he doesn't know the reason why he is in court.
"The court summoned me. I have my own mouth and I can defend myself," Munyakazi said.
However, Munyakazi would later change his mind to say he needed a free lawyer because he is not able to raise funds to pay a lawyer.
In the meantime, Rushikama, one of his attorneys who was in the court requested to leave court and wear his gown. He returned with his client saying he is even ready to continue with defense if Munyakazi honours terms of the contract.
The suspect denied his year of birth saying he was not born in 1960 but in 1950 which according to court proceedings may mean a wrong person being tried in court or intent to disrupt court proceedings.
Reading his case, the prosecution told court that Munyakazi and his already convicted accomplice Gabriel Murekezi were involved in the killing of one Gertrude Kamagaju who had sought refuge at his place during the 1994 genocide against the Tutsi.
The suspect said that he gave shelter to Kamagaju but was not involved in her death which the prosecution says was done in a brutal manner.
Using evidence from a former police officer in Kayenzi commune (now Kamonyi district) prosecution also accused the suspect of possession of armed weapons which he allegedly used to kill other victims.
The suspect confessed having possessed two guns a pistol and Karatchinikov but said he never used them at all to kill.
Prosecution presented evidence of a youtube channel that Munyakazi used to lecture students in the USA in June 2006, where he publically denied the fact that genocide happened and referred to it as ethnic clashes according to media reports in the alleged lecture.
Prosecution asked court to have the suspect sent to jail for a remand period of 30 days to allow investigations and evidence collection. Prosecution also argued the suspect may jump bail as he has done before.
In response Munyakazi said he is not mad and has no travel documents but has two houses built in the former Kiyovu slums where he preferred to be held.
Munyakazi detested return to any of the detention areas in the country saying the police cell where he has been on temporary detention- as 'toilet'.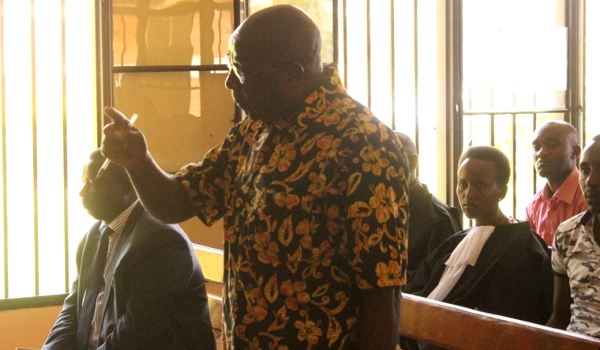 Munyakazi disagreed with court about his date of birth