The United Nations' highest environmental accolade, the Champions of the Earth award, has been given to President Paul Kagame, the agency announced on Saturday at a global conference on biological diversity in Cancún, Mexico.
Kagame was honored along with five other individuals the UN environment program (UNEP) described as 'inspirational environmental leaders' – coming from government, research and grassroots action.
President Kagame has been recognized "for outstanding leadership in fighting climate change and in national environmental action."
The Rwanda honor is due to country's efforts to protect the habitat of the endangered gorillas, said natural resources minister Dr Vincent Biruta, who attended the event.
The other of the policies is Rwanda's leadership in banning the use of plastic bags almost a decade ago. Rwanda also hosted the big Montreal Protocol climate conference that saw the adoption of historic Kigali Amendment.
"President Kagame understands that good environmental stewardship is vital for our economies and well-being," said UNEP chief Erik Solheim at the event.
Solheim added: "All around the world, we have seen significant efforts to translate last year's historic sustainable development agreements into action, from the ratification of the Paris Agreement on climate change and the New Urban Agenda to the intensifying of efforts to combat illegal wildlife trafficking."
"But governments know they cannot do it alone, and this year's Champions have demonstrated the vision and engagement needed at all levels to improve our stewardship of the planet, to develop it sustainably, and secure the prosperity of all of its people."
The 2016 winners are: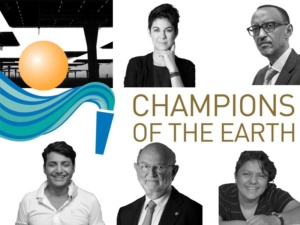 FOR POLICY LEADERSHIP: H.E. Paul Kagame, President of Rwanda, for outstanding leadership in fighting climate change and in national environmental action.
FOR SCIENCE AND INNOVATION: Leyla Acaroglu, founder of Disrupt Design, New York, Eco Innovators, Melbourne, and UnSchool, for dedication to positive change through design, innovation, communication and human connection.
FOR ENTREPRENEURIAL VISION: Masen – the Moroccan Agency for Sustainable Energy, for its commitment to advancing solar power, making solar energy affordable and innovative approaches to green financing.
FOR INSPIRATION AND ACTION: Afroz Shah, for outstanding leadership and initiative in mobilizing large-scale public support to remove 3000 tonnes of litter from Versova beach in Mumbai. Berta Cáceres, recognized posthumously for her tireless campaign for the rights of indigenous people in Honduras and the protection of their natural environment.
LIFETIME ACHIEVEMENT AWARD: José Sarukhán Kermez, for a lifetime of leadership and innovation in the conservation of biodiversity in Mexico and around the world.