For Africa to achieve significant success in tourism and trade, the continent's skyline should be free – President Paul Kagame said today.
"When our skies are closed it is harder to make air transport safer, more reliable and more affordable. The growth of business will depend on vibrant aviation," Kagame said.
Kagame was today speaking during a conference at the opening of a two-day second Aviation Africa (avaf) Summit taking place in the capital Kigali.
Rwanda is among the 13 African countries that have stepped up efforts towards the creation of a single African air transport market by fully opening up skies.
Closed air skies cost Africa more than $700 million in 2015, and more than $800 million in 2016, whereas Europe made more profits amounting to $35.6billion in 2016 according to the International air transport Association (IATA) data.
"Countries like Rwanda and Ethiopia have benefited from open skies. Rwanda has one of the youngest fleets and largest connectivity in the region. Ethiopian airlines makes millions.
Unless we open the skies and remove these barriers we shall make more losses," said Dr. Elijaha Chingosho, Secretary General of the African Airlines Association (AFRAA).
For Kagame, it is not enough to remove aviation growth barriers without building capacity at all levels which retard growth of aviation sector even when the African Union resolved 15 years ago to promote and revamp the sector.
"Removing barriers is imperative but not enough. We need to build capacity in different aspects of the aviation industry," Kagame said.
Avaf brings together 550 delegates from 58 countries including 120 airlines, delegates and 56 exhibiting companies, among others.
Rwanda is the first country in Africa to host this aviation international aviation event which only happens every two years. The first event was held in Dubai in 2015.
Alan Peaford, the Avaf chief organizer and Editor-in-Chief for Africa Aerospace and Arabian Aerospace Magazines told the President that the choice of bringing this conference to Rwanda was a result of the political commitment exhibited by Rwanda.
"All participants in Dubai recommended that Rwanda is the only destination because of its commitment to aviation – which is not protectionist but holistic representation of what Africa should do," Peaford said.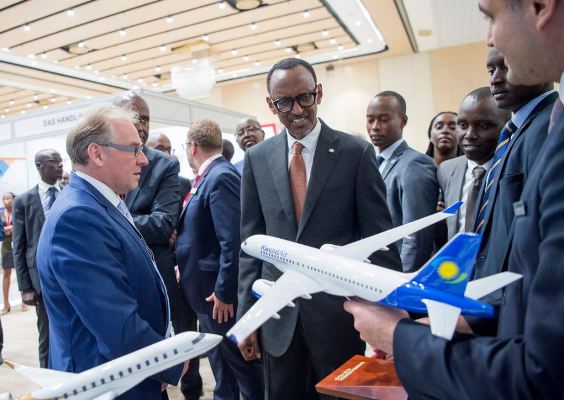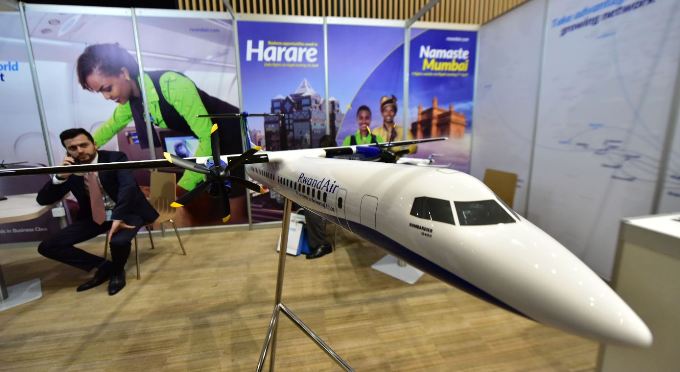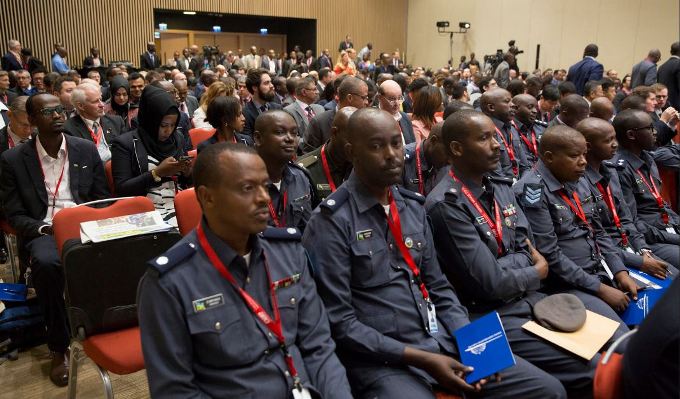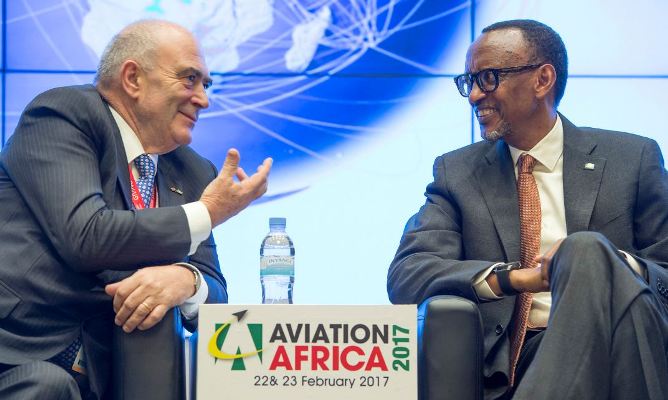 Below is a full speech by President Paul Kagame at the Aviation Africa Conference
Excellency, Paul Kaba Thieba, Prime Minister of the Republic of Burkina Faso
Honourable Ministers and Senior Officials
Air Force Chiefs
Mr Abdullah Al-Sayed, Founder and Chairman of NEXUS
Mr Alan Peaford, Editor-in-Chief of Times Aerospace
Business Leaders & Distinguished Delegates
Ladies and Gentlemen
Good morning.
Allow me to warmly welcome all of you, to Rwanda.
For those of you visiting for the first time, I hope your schedule will permit you, to get to know what our country has to offer, even beyond Kigali.
This is an exciting time for our country, and our continent, as we see new networks and capabilities beginning to take shape, which bring us closer to the prosperous future, that our people want, and deserve.
I wish to acknowledge our partners for this landmark event, Times Aerospace, Access Group, and NEXUS, along with all the sponsors and exhibitors.
This is the first Aviation Africa Conference to take place on our continent, and it comes fifteen years after44 members of the African Union, committed to deregulate air services, and promote competitive regional aviation markets.
Rwanda has stepped up efforts towards the creation of a single African air transport market, by fully opening up our skies, and working actively with partner states, to do the same.
However, the Yamoussoukro Decision still needs to be fully implemented, and Africa remains more connected with other continents, than it is internally.
When our skies are closed, it is harder to make air transport safer, more reliable, and more affordable. The growth of the mega-businesses, which depend on a vibrant aviation sector, is also considerably slowed, hurting all of us.
As we work to expand regional transportation and digital networks, we must do the same with air transport, if we want to increase tourism, trade, and investment within Africa, and with the rest of the world.
However, we remain enthusiastic about the renewed focus, on the growth of aviation in Africa.
We hope that in the near future, when a passenger in Africa transits through a city outside the continent, in order to reach another African city, it will not be out of necessity, but by choice.
Removing barriers is imperative, but not enough. We also need to build expertise and capacity, in different aspects of the aviation industry.
The brand quality of African airlines rests on excellent service and comfort, an impeccable safety record, good corporate governance, as well as integrating the latest technology.
We must consistently exceed expectations, in order to compete globally.
An additional plus, is the opportunity to leverage our favourable demographic dividend. We want to see many young Rwandans and Africans pursuing careers in aviation, as pilots, engineers, designers, or business analysts.
Finally, innovation is critical to ensure sustainability. While some legacy national carriers are no longer in business, new players continue to join the market.
We in Rwanda experimented with different business models, before creating RwandAir. Along the way, we gained a better understanding of what it takes, to succeed in this business.
For example, the aviation sector extends beyond the airlines, to include the full range of associated services, represented by many of you gathered here, such as airport management, cargo handling, catering, training, logistics, and maintenance.
RwandAir continues to expand its route network in Africa, and beyond. We are investing in infrastructure, including upgrading Kigali International Airport, and building the new Bugesera International Airport.
At the same time, we are working with others across Africa, to create a more conducive environment, for private sector investment in the industry, more generally.
This is why it is important, that the Aviation Africa Conference become a regular event in the years ahead, at which the partner ships that Africa needs, can be forged and deepened.
In Rwanda, we are very happy to work closely with you going forward, as hosts and collaborators.
The challenges facing our continent are well-known, but the enormous potential here, is just as obvious.
By working together, with a welcoming spirit, and a sense of urgency for Africa to keep getting better, we can all do our part, to keep things moving in the right direction.
I thank you, and wish you a productive conference.