Time check; 7:30 am in Kankuba village, Kankuba cell in Mageragere sector, Nyarugenge district -15kms from the capital Kigali. Despite the rainy Monday morning, people keep flocking the market at Mageragere trading centre.
In a stone-throw distance away is a small but decent house belonging to one Patricia. She detests mentioning her second name. "Call me Patricia, no need for the other name?" is how she responds when asked.
"I don't like mentioning my two names to strangers. I know I am the most hated figure in this village," she says as she ushers KT Press reporters into her house.
As we settle down on wooden seats, two grandchildren – from the eldest daughter interrupt the conversation. Grandma Patricia raises her voice at them – warning they should not open the doors. The kids vanish.
"They know me. I don't joke when it comes to disobedient children," she says with a smile.
'But these are just toddlers' – we wonder. Patricia tells us that years of social stigma have groomed her to be very strict, and turned her away from the community. When Patricia is not working in the fields, she is locked inside her house.
"People here are openly hostile to me. I feel uncomfortable everywhere," says 60-year-old Patricia.
For instance, Patricia narrates in tears, "When I enter a restaurant or bar, the mood around turns cold. There are whispers. Some will openly throw insults branding me as person that does not share anything. The experiences make me feel unwanted. But anyway, God has been and is always there for me. I have survived worse than this."
She pauses in silence, and then wonders why we are making her repeat her daily ordeal. We stayed quiet.
"Across the whole of Butamwa region, I am the only living witness of a very dark history," says Patricia. Indeed she is.
FDU Inkingi's Victoire Ingabire Umuhoza is born
In 1977, then 20 year-old Patricia arrived in the former Butamwa Commune (current Mageragere sector) with her husband. At the time they arrived in Butamwa from Southern Rwanda, Patricia was seven months pregnant.
At the time of giving birth, Patricia and her husband decided to move to what was then the national referral hospital. The 99-year-old University teaching Hospital of Kigali (CHUK) still stands out even today.
"I never trusted nurses at Butamwa Health Centre. We walked 15kms in search of a safe delivery," says Patricia.
For the second child though, Patricia admits she had developed some confidence in Butamwa Health Centre.
"Since we had become familiar with Butamwa people, I was told by friends that there was a good midwife at the health centre called Therese Dusabe, who also the head of the facility. I remember she helped me deliver my second born," says Patricia.
In early 1970's government had transferred Dusabe from Gisenyi prefecture (current Rubavu district) to Butamwa Health Centre. Dusabe became a very famous medical official in Butamwa.
As the only health facility in a vast area, Dusabe became a household name. Her status also earned her friends in the local corridors of power – including the Laurent Twagirayezu, then Bourgumestre of Butamwa Commune.
According to Butamwa residents, Dusabe came to the area with her children, but was not legally married to the man within whom she came. She arrived with two daughters – Victoire Ingabire Umuhoza and young sister Uwineza Regine, who shared the same father. The other two children – Gaby and Abdul were born to a different father.
Several decades later, Therese Dusabe who emerged as 'everybody's best friend' there could have been in Butamwa, is living a secluded lifestyle in Zevenhuizen, a town located in South of The Netherlands. One of her children Victoire Ingabire Umuhoza, is serving 15-year jail for undermining the 1994 genocide in Rwanda, and arming a militia group intent on armed rebellion.
Ingabire was not in Rwanda when the genocide began in April 1994. But towards 2010, she formed a political group of Rwanda exiles and together some returned to Rwanda. Several had been convicted in absentia by local community courts. Ingabire's assistant Joseph Ntawangundi had been convicted years earlier in connection with massacre of students under his care while serving as the headmaster of a school in the former Commune Rukira.
On January 16, 2010 is when Ingabire's flight landed at the Kigali International Airport. She went straight to the Gisozi genocide memorial site where more than 250,000 genocide victims are laid to rest where she questioned staff why there were only remains of Tutsis, yet Hutus were also killed.
Battling the prosecution for denying the genocide against Tutsis, graphic details emerged how Ingabire had actually been scheming a much bigger project.  Dismissing a lower term from the High Court, the Supreme Court in December 2013 increased her jail term to 15 years.
"The court has found Ingabire guilty of spreading rumours with an intention to incite the public to rise up against the State, endangering state security and minimising the 1994 Genocide against the Tutsi," read the verdict.
From village saint to devil
Prosecutors detailed her active participation in the leadership of the DR Congo-based Democratic Forces for the Liberation of Rwanda (FDLR) militia, whose members executed the 1994 Genocide. Fresh evidence also showed Ingabire had helped her Therese Dusabe to escape from Rwanda to her current location.
Back in Butamwa, where Ingabire's mother settled since the early 1970s, she left a trail of unimaginable horror.
As Therese Dusabe became famous in the area, men flocked her way – so did a one Florent. They moved in together, but did not go for official marriage vows.
"They are best remembered here for always kissing in public. We looked on in amazement because kissing was something we were never accustomed to," remembers Patricia, the now lonely old woman in Butamwa.
When the Rwanda Patriotic Front rebels launched armed struggle in 1990, Dusabe split from her partner – because he was "Tutsi" and accused him of being a sympathizer of the rebels. During the same period, a new official Stanislas Ruberangondo became bourgomester of Butamwa commune.
Therese Dusabe was in complete company. Pinpoint details in the gacaca trial of Dusabe along with 16 other former members of the interahamwe genocide militia revealed meetings held at the bourgomesters home in preparation of the mass extermination of Tutsis in Butamwa more than five years before.
"Therese constantly taunted Tutsi women who gave birth to baby boys at Butamwa health center that their babies were new recruits to increase strength of Inyenzi," witnesses told gacaca court. Inyenzi means cockroaches and the term was derogatory reference to Tutsis and RPF rebels.
Around mid-1993, as the central government was slowly eliminating suspected political opponents and rebel sympathizers, in Butamwa people were disappearing without trace. Patricia witnessed the death of one Gerald Gateneri who was head of Butamwa Primary School.
Ingabire's mother attended all the meetings planning attacks on Tutsis. The gacaca court sitting in early 2009 convicted her to life in prison. Local community and judges heard that Therese tortured Tutsi women during the genocide by disemboweling them at Butamwa health centre.
During the genocide, Tutsi women and their babies disappeared from the health center. There has never been trace of them. A count of victims found more than 8,000 Tutsis systematically killed in Butamwa commune alone. During the meetings to plan attacks on Tutsis, the chorus that the Hutu had to protect themselves since their lead protector president Juvenal Habyarimana had been killed.
Apart from Patricia, the reclusive old woman and her immediate family, there is only one other family that survived. They relocated to southern Rwanda – as they could not stay in an area where they were nearly exterminated. Nearly all the people in Mageragere sector are recent settlers.
Son-in-law with a helicopter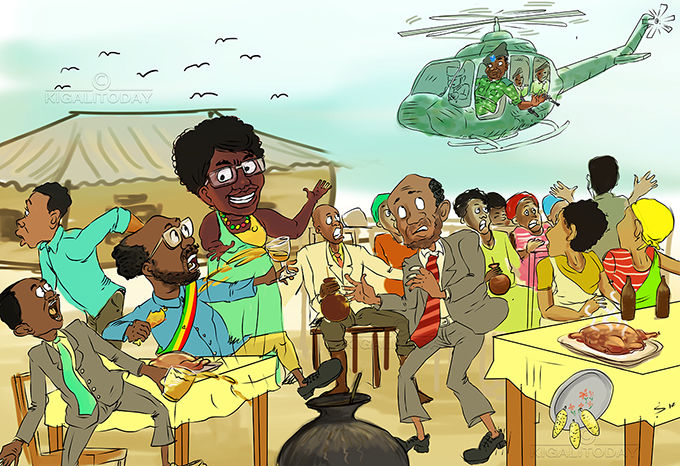 From the comfort of Dutch home, Therese left a mark on Butamwa. Around 1985, witnesses recall that Dusabe bought 3 hectares of land – located 500m from the main road connecting the village to other places. She built a relatively large house by local standards. A big party followed!
Locals including Patricia and another native Ladislas who is now 51-year-old spent two weeks camped at Therese's house drinking local brew and lots of food.
In another display of the power behind her name, one of Therese's daughters had married an army captain. And whenever he came to visit, he travelled by helicopter. Up to this day, local natives vividly remember the rumbling arrival of the military chopper.
When we visited the village last month, the historic house had completely crumbled. It takes a while to reach the next neighbouring home. The spot was abandoned, and nobody seems interested to live there, or even close by.
From her home in Zevenhuizen, Therese has hired people who have not been seen by locals. On a regular basis, the piece of land appears tilled. Nobody knows the person that keeps the plot worked.
For Therese, it seems she is not ready to let go of Butamwa. Very recently, Therese made a surprise phone call to Patricia asking to find her custodian for her land.
"The last time I saw Therese was on 12th April 1994 when the militias went on rampage searching for Tutsis," Patricia told KT Press.
Today, as Patricia testifies, people in Butamwa regard her as the only whistle blower to all genocide cases in the area. No wonder, Patricia is the only living testimony.
When Gacaca courts started trying genocide perpetrators in former Butamwa Commune, the local court could not find witnesses. Everyone remained tight-lipped.
"When Gacaca courts opened, I was the only one who stood out to speak the truth. Since all Tutsi had been killed, there was no single mercy from the rest of residents to stand against the perpetrators. The other only family was that of one Murangwa and his brother Ilidephonse…but they were young to have thoroughly followed up these perpetrators from the roots," Patricia, who was rescued by RPF fighters, told KT Press.
She testified against all the 17 masterminds of the genocide in Butamwa. In one particular case of Stanislas Ruberangondo – former bourgmestre of Butamwa commune has remained ingrained on her mind. Ruberangondo would die later in Butamwa prison.
The Spanish Connection  
For the past eight years since Ingabire's mother – Therese Dusabe was sentenced in absentia to life imprisonment, she a free woman.
Ever since Ingabire was convicted, a section of members of the European Union Parliament have been drawing a clean board for the mother and daughter.
KT Press has established that the campaign for Ingabire and her family was initiated by a Spanish MEP close to Ingabire Victoire Umuhoza's family.
Rosa Estaràs Ferragut from Majorca region of Spain meets regularly with some members of Ingabire's family who are her neighbours in the Mediterranean island.
In September last year, she was part of a delegation of MEPs who visited Rwanda as part of EU Parliament Women's Rights and Gender Equality Committee.
While in Kigali, she and some members of the delegations surfaced at the Kigali maximum security prison "1930" asking to see Ingabire. Prison guards declined as there had been no official clearance.
Away from Kigali and back to Europe, they issued a declaration condemning Ingabire's imprisonment.
In Butamwa, where Ingabire's mother will never be forgotten, they have no idea the MEPs were in Rwanda.
From the phone conversation Patricia had with Therese, she tells us the once powerful woman of Butamwa was clearly identifiable from her "loud laugh".
"I asked her why she has not returned home to which she responded that someday she would," Patricia said.
The table below lists 17 other Genocide perpetrators, among them Therese Dusabe, who were sentenced by a Gacaca court in Butamwa                      
| | | | | | |
| --- | --- | --- | --- | --- | --- |
| Number | Names | Father | Mother | Italiki | Sentence range |
| 1. | Rufifi Jean | Nzariturande | Ntanshuti | 22/1/2009 | Life imprisonment with special provisions |
| 2 | Gahamanyi Gregor | | Nyirahabimana | 29/1/2009 | Life imprisonment with special provisions |
| 3 | Saliba Joseph | Zibanyinshi | Nyirandambiwe | 22/1/2009 | Life imprisonment with special provisions |
| 4 | Sekamana Emmanuel | | Mukangango | 22/1/2009 | Life imprisonment with special provisions |
| 5 | Nsanzabarasa Thomas | Rukaburambuga | Nyirampunyu | 22/1/2009 | Set free |
| 6 | Gasana Stanislas | Rwemera | Nyirabahusi | 29/1/2009 | Life imprisonment with special provisions |
| 7 | Bazimaziki Saidi | Gatwa | Kakuze | 29/1/2009 | Life imprisonment with special provisions |
| 8 | Mbonyi Pacific | Kanimba | Nyirabahashyi | 10/2/2009 | Life imprisonment with special provisions |
| 9 | Gasasira Jean Claude | Rwabuzisoni | Mukarutamu | 10/2/2009 | Life imprisonment with special provisions |
| 10 | Rutaganda | Rukinisha | Mwitirehe | 10/2/2009 | Life imprisonment with special provisions |
| 11 | Nzigiyimana | Ngirukwayo | Mukagapiteni | 17/2/2009 | Life imprisonment with special provisions |
| 12 | Mulindahabi | Kavakure | Musabyirema | 19/2/2009 | Life imprisonment with special provisions |
| 13 | Kangavera | Kanyaruhato | Mukakarisa | 19/2/2009 | Life imprisonment with special provisions |
| 14 | Dusabe Therese | Kaje | | 19/2/2009 | Life imprisonment with special provisions |
| 15 | Birahira | Djuma | | 19/2/2009 | Sentence category shifted |
| 16 | Bitabi | Gacyeri | | 19/2/2009 | Sentence category shifted |
| 17 | Kabutura | Kanyemera | | 19/2/2009 | Sentence category shifted |