President Paul Kagame has told the newly decorated cadet officers that it's not only for military protection they have been commissioned for but for a holistic involvement into community development activities.
Kagame made the statement during commissioning ceremony of cadet officers at Gako Military Academy in Bugesera district, Eastern Province.
The 478 commissioned officers with Second-Lieutenant rank include 68 ladies all trained for one year, except 24 candidates who received 7 month special courses abroad.
In a ceremony that was attended by top military officials and parents, the president told cadet officers, that Rwanda Defense Force is a custody of values guiding every member of the forces in building the country.
According to those values, he said they are not meant to relax after achieving military protection, rather, more awaits them.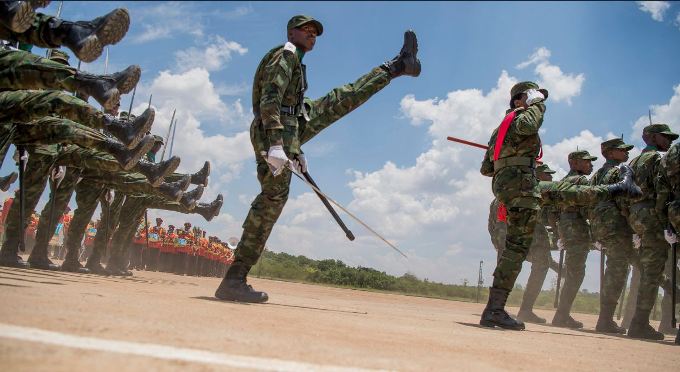 "RDF is not just about military protection. We have a role in transforming this nation, working with and for the people," he said.
"RDF members are citizens of this country. We must take part in finding solutions to challenges citizens face."
New officers have reference in socio development activities their institution has achieved in partnership of the citizens at large.
For the last 23 years, RDF has been contributing to several development activities since it's a pro community institution.
Among others, RDF manages a well performing bank – Zigama CSS worth Rwf100 billion ($150 million) in 2016, the only local bank that can exonerate relatives from servicing bank loan from a deceased client.
RDF is credited for contributing to building model villages that has helped to relocate thousands of families from high risk zones and vulnerable communities.
Through its engineering brigade and the RDF Reserve Forces also contribute to real estate, to alleviate the residential housing burden.
In all these projects, RDF is known for quick execution.
They are also known for good medical services, not only from Kanombe military hospital, but also through the 'Army Week' initiative when military medical teams treat a specific disease across the country.
In other instances, they build health posts to make health services accessible to all.
In community activities, they mix with civilians to build schools, hospitals, roads and celebrate achievements together afterwards.
Building from this, the president reminded the cadet officers, "It is your responsibility to protect the country's sovereignty but most importantly, the citizens."
The president said this contribution should be understood in a much wider context.
"True sovereignty means the wellbeing and dignity of our citizens. Protecting our sovereignty means working for the development of every Rwandan and ensuring that no one is left behind."
The president lauds RDF for trainings without which efforts to ensure sovereignty would be in vain however much the country invests in military equipment.
"Beyond the equipment you have and the skills you have acquired, you need information to contribute effectively to RDF success."
The training included; shooting on target, military parades, and physical exercises, all in consideration of ethics, professionalism and general knowledge.
They were also trained in commanding army in either peace or war period, protecting the nation, leadership, basic healthcare, human resources to mention but a few.
Three best cadets including; Alexandre Kayitare, Gilbert Nshimiyimana and Jean de Dieu Rwibutso were rewarded.