Christians will, in near future see pioneers of the Roman Catholic Church in Rwanda only in archive pictures.
The Congregation of Missionaries of Africa, popularly known as White Fathers who spearheaded both evangelization and colonization in 1900s are closing their doors in Rwanda, following shortage of members.
Since March 13, the number of congregation's members declined to 8 people in Kigali after the closure of their home in Huye district, southern province that counted only two elderly members.
"The mission we started in Huye 117 years ago ends here because we are of a small number not only here, but across the world," said Father Pam Denis, the congregation superior – Rwanda Chapter.
"We had four members in this house (Huye) but two of them died last year. We tried to bring in more in vain."
Fr. Denis said, they are taking the elderly missionaries including Father Billaud Joseph from France and Father Kees Maas from The Netherlands into retirement houses back home and, "when community widens again, we shall consider coming back."
White Fathers, a name that refers to their white Cassock (Dress) distinctive to their fellow Europeans who wear black arrived in Rwanda towards 1900.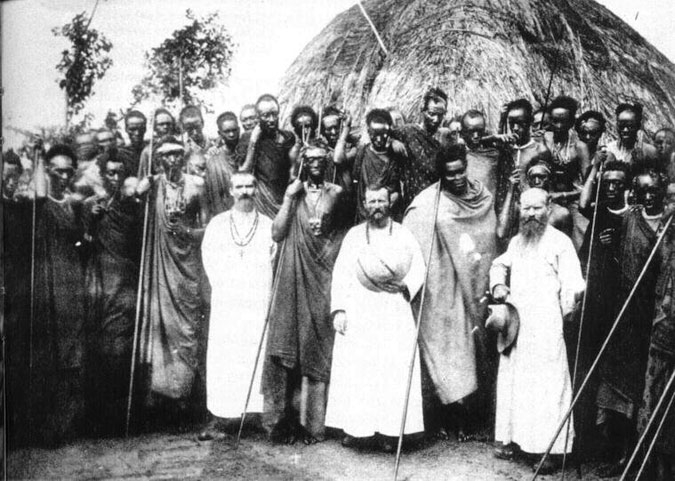 King Yuhi V Musinga gave them a plot of land to settle in Save – currently Gisagara Gistrict where they built the first church in Rwanda in 1900.
Later on, they acquired more land across the country as they preached the local community whom they used to pejoratively call indigenous.
White Fathers will be remembered for a knowhow in attracting followers to a church that has grown to include more than 2 million Christians currently.
Despite the growth however, their church in Rwanda wrote a chapter that won't ever be forgotten in Rwanda; the Catholic Church played role in Genocide that killed over a million Tutsi in 1994.
Léon-Paul Classe (28 June 1874 – 31 January 1945), a Catholic priest who was Vicar Apostolic of the Apostolic Vicariate of Ruanda, from 1922 until his death in 1945 was member of White Fathers.
He is known for promoting ethnic ideology through his teachings and his influence of colonial master. He indirectly nurtured Genocide planners and, in 1994, some clerics helped Government implement the Genocide.
The Roman Catholic Church has never apologized for this role. An apology statement Bishops of the Catholic Church in Rwanda released earlier this year only triggered disapprovals with government and the public saying "it only intends to protect clerics who killed innocent Tutsi."
Meanwhile, thousands of hectares the White Fathers acquired through decades in Rwanda will never come back to the government to be shared among the landless communities.
"We acquired properties in the country but we always handed them to the church as the evangelization mission widened bringing in more players," said Fr. Denis.
"We are leaving here (Huye) just a small house that automatically becomes a property of Butare Diocese."
Some of the missionaries' land was used to build church infrastructures like schools, churches and hospitals, but others are still underutilized or used for farming to feed clerics.
News has it, that some public infrastructure was also financed by the White Fathers.
Phillippe Rukamba, the Bishop of Butare says; the Commune Urbaine de Ngoma that would change to Huye District office was built by White Fathers, and so was the first Ngoma market in Huye town.
Venant Ntabomvura 91, a retired medical doctor told KT Press, "White Fathers have a credit of having taught us construction of modern buildings. They introduced the brick laying and tree planting technology. Most of the house they built since they arrived in Rwanda still stand."
Meanwhile, the number of White Fathers who currently include black members keeps declining worldwide.
Their number declined to 1263 members last year, from 2098 members in 1998 worldwide.
Rukamba justifies the decline while saying, "Worldwide, the burden of charity, helping the vulnerable is fading, not only in this community but also in all works of life."
However, other critics suggest that, "Some missionaries are no longer creative enough to justify their reason of existence; they are stuck and their mission is no longer clear – the cause they used to defend is no longer."
Critics also suggest that this make some congregations' members idle.
Father Denis has not lost hope though. He said there is another bunch of aspirants including 38 Rwandans to be ordained soon.