President Paul Kagame is meeting the private sector delegation from Rwanda and members of the Rwandan Community in China as he concludes his two day official visit to China this Saturday.
A big delegation of the Private sector has been discussing areas of investments and business opportunities with Chinese investors in Beijing through a platform of Rwanda China Investment Forum.
Under one roof, the delegation has joined a diversified Rwandan community in China. It includes professionals who studied in China and the country offered them jobs so that they can keep spearheading its development.
The community also includes business people and students who got scholarship to study in the best schools of China.
There are 500 Rwandan university students in China, studying mainly science, medicine and technology. They include 50 PhD students.
Participants are getting first-hand information on outcomes of the discussions between president Kagame and his host, President Xi Jinping.
Yesterday, the two heads of State met and made commitments that will advance Rwanda – China trade and diplomatic relationship.
The Rwandan community in China needs to take note, because they will play a role in implementation of projects that were discussed.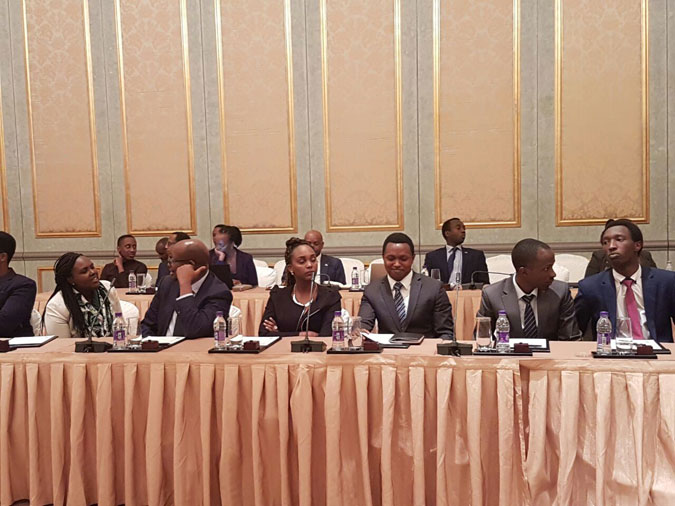 For example, in this meeting is Samuel Abikunda, Representative of Chinese based Poly Solar Technologies in charge of Africa.
The company engaged in: application, research and development, integration, sales, engineering, construction and renewable energy services and has so far hit important deals with 23 African countries.
Meanwhile, Chinese President pledged to support Rwanda in building its Economic Zone, to convince more Chinese companies to tap into business opportunities available in Rwanda.
In the same room, the president has, in the morning met ambassadors representing African countries in China.
It was a good opportunity for the ambassadors to have an insight on how the continent's union will look like in the near future.
President Kagame has recently filed report on African Union reform, a task he was given during the 27th general Assembly of the union that took place in Kigali in July 2016.