The President is in Guinea's capital Conakry, for a meeting with Presidents Alpha Condé of Guinea, Tchad's Idriss Deby and African Union Commission Chairperson Moussa Faki to review implementation of AU reforms he put forward.
Last year during the 27th African Union summit in Kigali, Kagame was assigned by his counterparts to come up with reform proposals for the AU as part of transforming it into a self-reliant continental body by 2018.
The President assembled a nine member committee with expertise in several fields. In January this year, Kagame presented his findings to Heads of State at the African Union Summit in Ethiopia's capital Addis Ababa.
The AU leaders gave a seal of approval to the proposals and asked for immediate implementation of the reforms.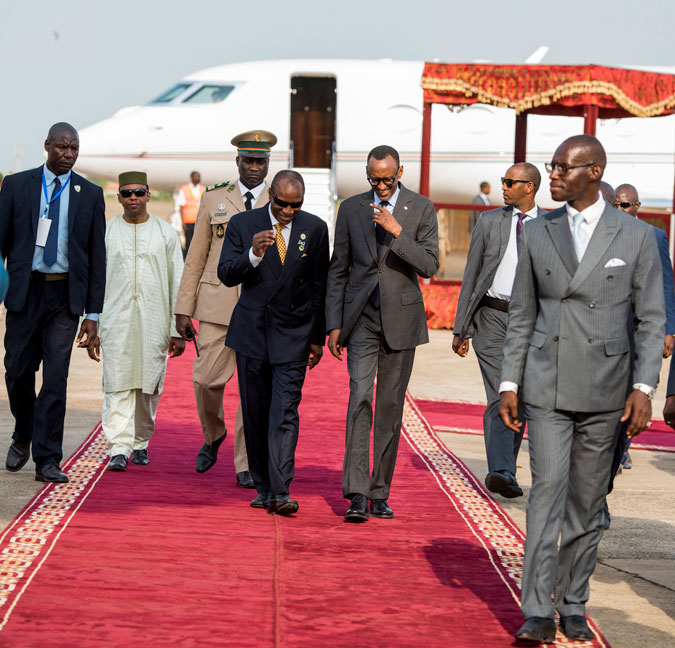 In this report, President Kagame said that chronic failure of African Union decisions had resulted in a crisis of implementation and a perception that the AU was not relevant to Africans.
Kagame's report proposed a 2% levy on imports – funds that would go directly to the AU. Rwanda alone would raise about $10m annually from this mechanism.
"We need to accelerate the decision to finance AU, with a levy on eligible imports," Kagame said today at the Guinea meeting.
"We cannot afford to get bogged down," he added.
President Kagame called for implementation of a binding mechanism to ensure member states are held accountable for not respecting key AU decisions.
Kagame also said some reforms can be implemented "right away" such as speaking with one voice when Africa as a whole, engages with external partners.
"Nobody benefits from the confusion inherent in the current method of doing business," he noted.