Rwandan Military and Police peacekeepers in the United Nations Mission in South Sudan (UNMISS), Abyei (UNSFA) and Haiti (MINUSTAH), joined other Rwandans and friends of Rwanda across the world on Friday to venerate over one million Tutsi lives killed in the 1994 Genocide against Tutsi.
Meanwhile, the Inspector General of Rwanda National Police (IGP) Emanuel Gasana told hundreds of Police Officers in a conference on Monday Afternoon that "Although Genocide ideology cases are few, we can't afford to have even a single one" read a national police tweet.
In South Sudan, the police and military peacekeepers were joined in Malakal by the Rwandan community, government officials and UN officials to pay tribute to men, women and children brutally killed during the tragic period 23 years ago.
Religious clergy conducted prayers, while senior officials both government and peacekeepers delivered speeches focusing on how the Genocide was planned, executed, stopped, and Rwanda's transformation process.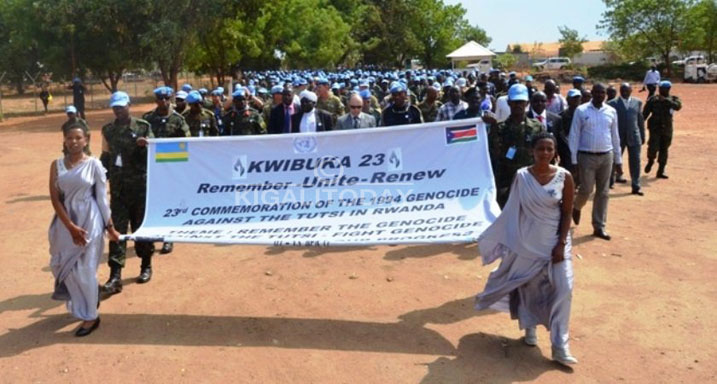 Government officials and other peacekeepers from various countries joined the event with representatives of several religious organizations mainly comprised of Islam and Christian religions.
The head of UN field office in Malakal, Hazel Dewet, said, Rwanda's recovery is a "good example to people of South Sudan where people are engaged in tribal wars.
He said that Sudanese particularly Southerners should learn how Rwanda overcame this situation and is now among the countries contributing to peacekeeping operations elsewhere.
The Sector Commander, Sector-North, Brig Gen Xie Zhijun, talked about Rwanda's history of peacekeeping.
"Rwanda started peacekeeping operations in African Mission in Sudan (AMIS) in 2004. Now its troops are deployed in many different countries and is ranked fifth troop contributing country in UN peacekeeping operations. This indicates how Rwanda is devoted to fight against genocide all over the world," said Gen Xie.
Eric Mutsinzi, the Rwanda police Contingent Commander, talked about the historical background of the Genocide against Tutsi in Rwanda.
"We have the responsibility to teach and pass on the memory to the young generation so that they too can pass it on to successive generations. We must build a new society, new country, a dignified nation free of discrimination, segregation, and hatred, and free of genocide," Mutsinzi said.
The 23rd commemoration event involved a walk to remember that called attendees to walk against genocide against Tutsi and any other human beings.