It was in 2011 when health officials in rural Kibeho Sector, Nyaruguru district met for an extraordinary meeting. They urgently wanted to find solutions to escalating levels of stunting among children aged between 0-5 years.
Kibeho sector rose to fame in 1983 when school girls said the holy virgin Mary had appeared to them. This has since attracted pilgrims from across the world to his holy place.
Despite the holiness of this sector, cases of malnourished children were prevalent in 2011 and health officials urgently wanted to fix this problem.
Each local leader looked up to a solution that could reduce the issue in the area.
Beatrice Mukabutera, a single mother of two mobilized other women to form 'Turwanye Imiriremibi'an anti-stunting cooperative.
"My children were victims of severe malnutrition. My husband had just left me and I remained with nothing but to come up with a strong decision to rescue my family," Mukabutera said.
Mukabutera's cooperative has made impressive progress in the fight against malnutrition and are supported by health officials at Kibeho health centre.
"We make and sell sweaters at Rwf5000. In a month, we can make up to 600 sweaters," she told KT Press.   The cooperative can earn about Rwf3 million from 600 sweaters in a month.
"Currently, we supply sweaters to 5 schools across Nyaruguru district and one in the capital Kigali – Ecole Primaire de Gikondo. But this market is still limited compared to the quantity we make," said Mukabutera adding, "We need more markets since these ones are temporally."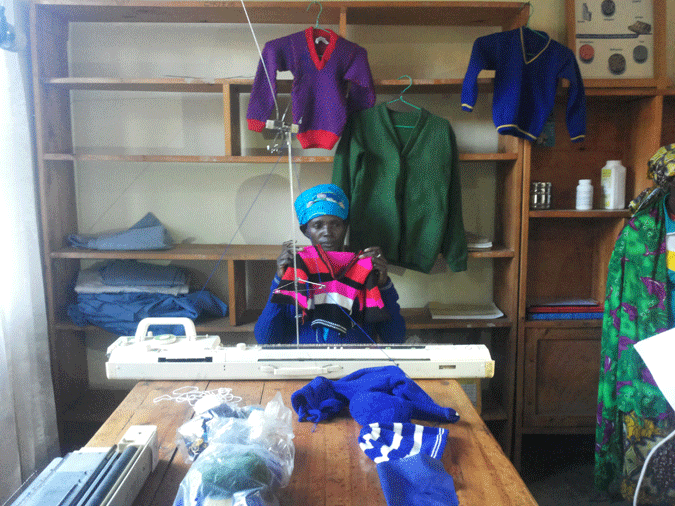 Members of Turwanye Imirire Mibi Cooperative benefit from its activities in several ways.
Eighty per cent of revenue from the sweaters is shared to members of the cooperative based on the quantity each of them contributed while 10 per cent goes to cooperative account and another 10%, to an investment fund.
This allows members to provide a balanced diet to their families, and among others to pay their health insurance, mutuelle de santé.
"Our dream is expedite our philosophy of fighting stunting to all sectors of the district," said Mukabutera.
Mukabutera  says that the cooperative will start giving cows to its members and this will help end of poverty among members.
Turwanye Imirire Mibi is wining stunting battle amid an alarming issue of stunting cases in Nyaruguru.
According to the Integrated Household Living Conditions Survey (EICV4-2015), In Nyaruguru district alone, 41.5% of children under age five were stunted by 2015, which is beyond 38% of national average.
"We have launched massive campaign against stunting in the district. We conduct field visits to every home and teach families how to prepare balanced diet and feed their children," Athanase Karemera – district health officer said.
"We are determined to ensure the level of stunting in the district drops to 20 per cent in the next 3 years."
Back in Kibeho sector, parents believe that stunting cases are not due to lack of food, but how to maintain a balanced diet.
For Mukabutera, "We have realized that if we carefully balance diets, the issue of stunting will be no more in Nyaruguru district."
She said they used to grow vegetables, rear chicken and just sell eggs, but, "this has changed; we first feed our children and sell the surplus."