President Paul Kagame on Sunday told African Foreign Ministers and other delegates to help change global perception that Africans are 'Self-defeating'.
The President was addressing a consultative meeting on African Union Reform process, a task he was given to spearhead by fellow heads of state.
To change this global perception on Africa, Kagame told 54 Foreign Ministers and participants, "Our gathering today is just about looking at each other in the eyes and saying, you know what, who  have we been waiting for?"
"Who have we been waiting for, in the end we have only been waiting for ourselves."
His reform team proposed a 0.2% levy on eligible imports by each country to fully fund African Union activities. Many member states have been at a slow pace on the move to contribute to financing activities.
For President Kagame, "It is painful to keep talking about the Africa we have today, when we are aware of where we could be."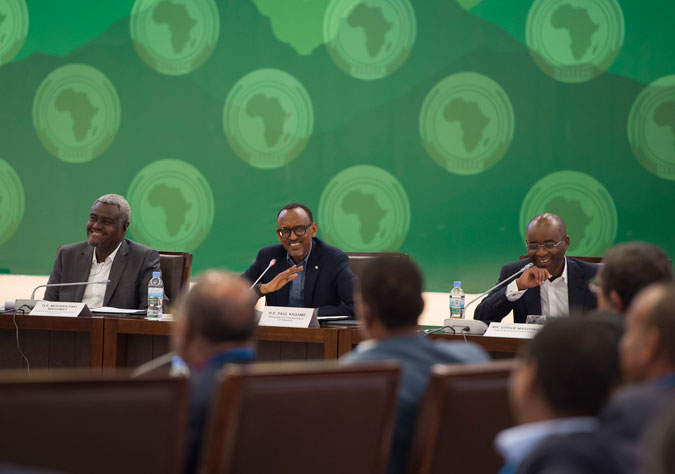 African Union chairperson, Musa Faki Mahamat said this year should be the transition year while 2018 should start with implementation of new reforms.
He said this should be done immediately because foreign donors have started questioning their contribution to AU.
"Even those financing 80% of our budget have started recalling their decision," Musa Mahamat said.
With new reforms, he added that about 900 projects will be running at the commission.
He requested President Kagame to think about the best professionals in all fields who will ensure supervision of implementation of decisions.
On financing, a committee of ten finance Ministers should assume responsibility for oversight of the African Union budget and reserve fund and develop a set of golden rules establishing clear financial management and accountability principles.
Another financial decision taken at the meeting was that after the AU and peace fund budgets, the balance of proceeds of approved 0.2% AU levy on eligible imports, the selected committee of finance Ministers should look into placing in a reserve fund for continental priorities as decided by the assembly.
The current scale of contributions should be revised based on principles of ability to pay, solidarity and equitable burden-sharing to avoid risk concentration, the meeting agreed.
Donald Kaberuka, former President of African Development Bank and reform team member said that the world has already started giving feedback on the AU levy.
Kaberuka said United States of America warned them on two clauses of the World Trade Organization (WTO) including the MFN (Most-favoured-nation) clause which prohibits discrimination and the boundaries.
"We have been aware of this issue and as I said to you, there are ways to respond to this. Other countries, notably the European Union has been extremely supportive; in fact has offered to provide  support to AU commission in the implementation," said Kaberuka adding that EU used to fund itself through a levy in past years and "has long experience in doing so."
Kaberuka indicated that levies are normal practice in several organizations like Economic Community of West African States (ECOWAS) and ECAS – System for Fund Management in the European Union.
However, he said that organizations apply levies if only they are a free trade zone which is still an impediment for Africa.
"Africa as a whole is not a free trade zone and therefore a levy imposed on outside import would be seen as discrimination under WTO. That is an essential issue," Kaberuka said.
However, a solution was already found, according to Kaberuka.
"The summit has decided that Africa should become a free trade zone, a decision was taken and deadline given. So this is no longer an issue. The point is what we can do in the meantime."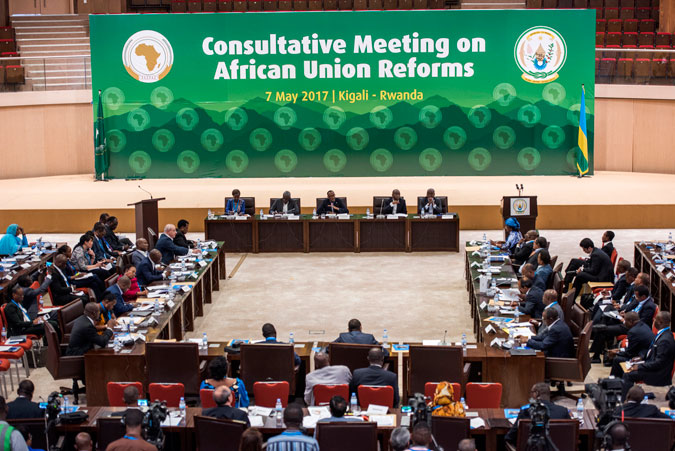 Rwanda was singled out as one of the African countries that have moved out of the dark and expressed tangible development results.
Kagame reminded participants, "We cannot be given peace, prosperity, independence, and dignity by anyone else."
Strive Masiyiwa – a tech investor and member of Kagame AU reform team said Africa's GDP is $3.2 trillion dollars, and 60% of Africa's population is below the age of 30 with an average age of 19 years, but cited lack of job creation.
"We are a young population, but we're not creating jobs. This should change."
As a solution, Masiyiwa proposed that AU member states should consider a need for trade within the continent.
"We need Africa to trade with Africa," he said.
Another proposal was also that there should be sanctions in place for member states that will not raise the 0.2% contribution to AU activities.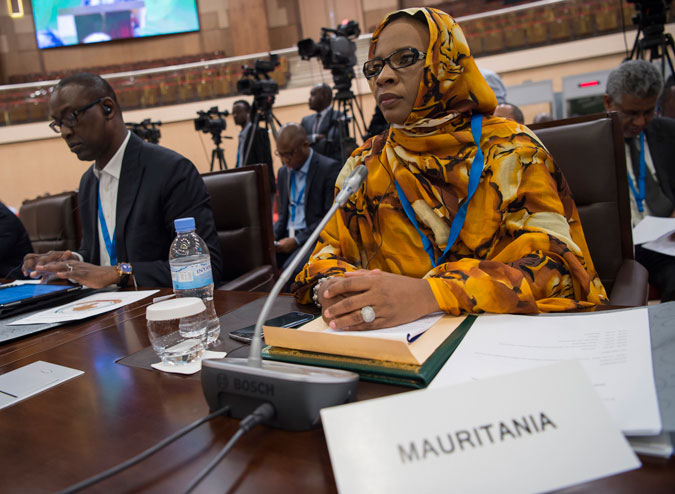 Rwanda was singled out as one of the African countries that have moved out of the dark and expressed tangible development results.
Kagame reminded participants, "We cannot be given peace, prosperity, independence, and dignity by anyone else."