Some 4,000 delegates are flying into Rwanda for Transform Africa Summit 2017 opening on Wednesday through to Friday. Executives from biggest corporations will be on hand to showcase their latest tech.
Demand for local services will skyrocket. Some, who have got used to enjoying in the comfort of their house, will want to get services from their hotel rooms. Well, bother not, there is plenty on offer on your phone. With it, you will get many local services and goods by simply clicking.
We have previewed for you locally developed Apps you may need to make your stay as enjoyable as possible. Here is quite as list:
SafeMotos
Kigali city and across many towns in Rwanda, Motor taxis are the widely accessible form of quick transport. Peter Kariuki and Barrett Nash saw this as a huge opportunity.
The duo have since designed an App that links passengers to motor taxis. Customers can download it on their phones or computers.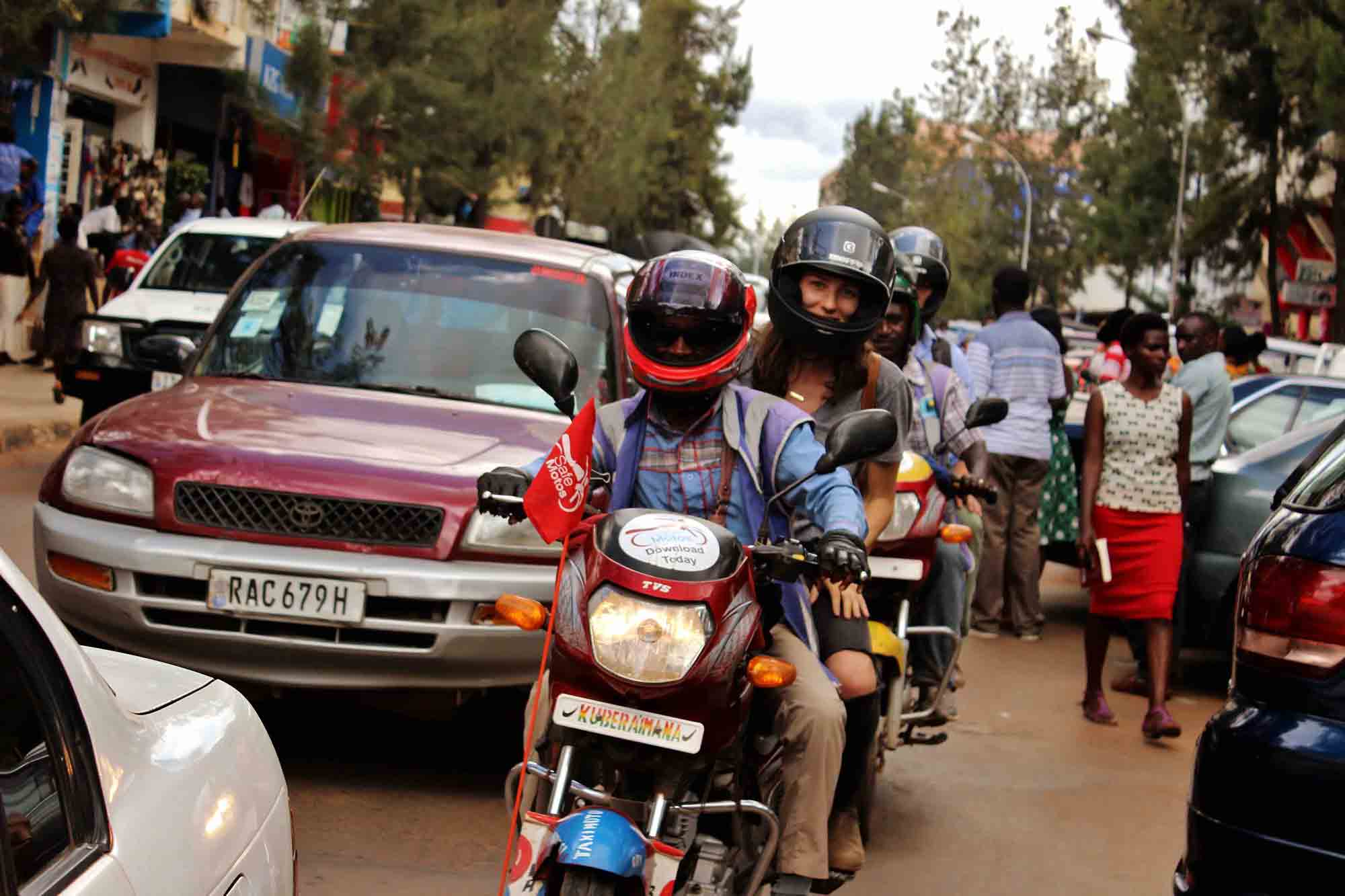 Customers simply make a request and give directions of where the motorist is supposed to pick you up. It only takes not more than 5 minutes for a motorist to reach you.
More than 40 motorists are connected to the App and they are able to pick up the passengers in every corner of the city.
GroceWheels
With just Rwf 1,000 you can be able to receive fresh and high quality products on the market, delivered right to your doorstep. Some groceries are delivered for free!
GroceWheels delivers vegetables, fruits and other products ordered from its affiliated partners.
YEYOTE
Rwanda's entertainment industry is also growing fast as more music audio and videos are released often. Whenever new music is produced,  Rwandan Diaspora just don't want to miss out.
Two US based Rwandans Anselme Mucunguzi and Theophile Nsengimana created a YEYOTE App to access Rwandan music and help others in Diaspora to keep updated by listening to their favourite local music.
You simply download the app and search for any song from Rwandan artists.
This helps Rwandans living in the diaspora to be easily connected and be able to enjoy their home music. Sometimes, local artists fly to perform in foreign cities on invitation by Rwandan Diaspora.
PIKIWASH
At only 2,000rwf you get a motorcycle wash plus wax getting you back on the road in less than 20min, saving you time and money.
Founded by Junior Kanamugire, Pikiwash gives proper wash with a reliable washing system. It will be present at the forthcoming Transform Africa Summit.
EASY ACCESS
Focusing on adding more value to Rwanda's healthcare system Dr. Horatius Munyampundu – a Rwandan medical doctor crafted an "Easy Access"App.
He wanted cut down time patients spend in queues waiting to meet with a doctor. But with Easy Access, a patient sends SMS to doctors and gets a feedback within five minutes.
Patients are required to subscribe and download the application on their phones. To begin using the application only available to MTN subscribers, one has to dial *722# and press 'yes' button and follow instructions.
AUTOMATED IRRIGATION SYSTEM
Last year, Rosine Mwiseneza 21, a second year student of Business Management at Kepler University who was crowned Ms Geek 2016 created an App that was seen as a solution to irrigation challenges among farmers.
Her  automated system consists of censors that first detect dryness or wetness of the ground.
For example if the ground is dry, censors send a signal to the system which automatically switches on the irrigation facility. Once there is enough water in the ground, the censors will trigger the irrigation to switch off.
The project won Rwf2million prize in a tight competition involving five girls who had highly innovative projects.
TANTINE
Rwanda is generally conservative on sex education. Few parents could speak to their children about sexual matters.
However, twins Sylve Muzungu Hirwa and his sister Sylvie Uhirwa both medical students at University of Rwanda came up with an idea that could fix this gap.
They designed an interactive web based platform 'Tantine' where adolescents, young adults and public can ask any questions related to sexual health and get an answer.
This application surpasses the cultural tradition in Rwanda that siblings cannot talk about sexual matters.
Their innovation was rewarded with $ 10,000 in iAccelerator challenge program, a mentorship – driven acceleration program by Imbuto Foundation in partnership with UNFPA.
TAP&GO
Although Rwanda is transiting into a cashless economy, it's also considered sleek and smart to swipe your credit card while paying for any services.
Patrick Buchana founder of AC Group designed the as 'Tap&Go card'. This card saved passengers from carrying coins and cash in their wallets. Today for any public transport, passengers just tap cards at the bus entrance and board.
Holders of 'Tap&Go cards can top up by approaching agents stationed at all bus terminals with as low as Frw500 or more.
MOTORATE
Road accidents in Rwanda have been mostly caused by over speeding, reckless behaviour of drivers and passengers fear to speak out about such traffic indiscipline.
Rubenga Freddy a Rwandan graduate from Ohio University in USA developed "MotoRate"  App that makes it easy for traffic police to monitor drivers across all road networks.
With "MotoRate" passengers rate the service delivery of the car hence ensuring the safety of people.
ONLINE VOTING SYSTEM
Life in Rwanda is almost getting high-tech. In case there is an election whether at school or village or national level, it is possible that voting can be conducted online.
Yves Niyonshuti, a 4th year student in Computer Sciences at the Institute of Applied Sciences (INES) Ruhengeri designed an 'Online Voting System'.
This App is already active and Niyonshuti said it is available for public use since it is his contribution to nation building.
KASHA
For women and girls that may want to hold onto their privacy, 'Kasha' can directly deliver pads, condoms, pant liners, Morning after pills among other products.
However, 'Kasha' provides direct access to products and information to women first, but everyone is welcome.
With their mobile platform they can both be available online and offline, using either a smartphone or a basic mobile phone, in both urban and rural areas by dialing *911#
LIBRARY FOR ALL
The Bloomberg Philanthropies and Imbuto Foundation, charity for Rwanda's First Lady, Jeanette Kagame, in 2015 launched a mobile application for Rwandans to access free books.
The 'Library For All' App for all android devices enables Rwandans access over 500 books from 200 authors and improve Rwanda's library services and literacy through technology.
Rwanda is budding with Apps innovations and many have attracted investors and customers and it is a matter of time they roll out to other countries.
According to the latest figures from kLab, a government funded open space incubation center for IT entrepreneurs, more than 250 projects are produced annually. In 2016, however, only 65 apps were established.
Pacifique Hallelua, the Community and Business Development Manager at kLab told KT press that for the past two years, there has been a slight increase of Apps and software developers. Although, startups still fail to secure funding because investors don't trust them with their money.
"Everything is still easy in Rwanda. More opportunities are available and there is less competition that barely forces people to work hard", he said, however "Developing an App or software sounds so easy but practically it is very hard," he added.
For Hallelua, there is much needed beyond commitment, free internet, space and networking. "There is need of financial support which is rarely seen." He stressed.
More Apps are expected to be launched during the Transform Africa Summit that will be hosted in Kigali from 10-12 May 2017.
Vuga Pay
In October, 2015, investors at the Transform Africa summit in Kigali too, two Rwandan college students; Patrick Umuhire and Umuhoza Cedrick exhibited Vuga Pay, an application that facilitates cross border and cross network electronic money transfer. The two innovators were seeking $20,000.
They got offers from two investors including Tigo telecom which offered to play an advisory role. Tigo representative at the summit told the innovators that, "you managed to bypass our system."
Today, many more other apps have been developed to make life easier for people in Kigali city.
MERGIMS
Using this App, one pay utility bills and tuition fees through MERGIMS – an online platform that is also spreading across African markets.
According to Muhire Louis Antoine the founder of MERGIMS, by the end of this year, there are plans to have its operations entering the East African region.
"By mid-2017 we will be in Uganda and Kenya. We have a clear vision on this than ever and we are definitely taking over to high level of achievements," He said.
It now attracts more than 2500 active users on a monthly basis.