Protective economies overseas that prevent Africa from accessing their markets may place the continent at the losing end.
Claver Gatete Rwanda's Finance and Economic Planning Minister says Africa may lose millions as a result of growing protectionism policies in major global markets.
According to Gatete the United States and Europe have been operating as free markets but have recently began revising their policies and this is a threat to Africa.
"Protectionism is the rise in countries that previously advocated for free movement of capital, goods and labour," Minister Gatete told participants at the ongoing Annual General meeting of African Export-Import Bank (Afreximbank) taking place in Kigali.
World Bank projections indicate that Africa's economy is growing steadily. Growth in Sub-Saharan Africa slowed markedly in 2016 to 1.5%, and is projected to recover moderately this year 2017 to 2.6%, with a projected continued growth next year due to improvements in commodity prices and domestic conditions.
However, World Bank warns the recovery remains fragile with most of the uplift coming from Africa's three largest economies – Angola, Nigeria and South Africa – as they rebound from a sharp slowdown in 2016.
The Rwandan economy has registered a steady growth of 8% in the past 10 years. The country has initiated made-in-Rwanda campaign – a policy that aims to reduce trade imbalance currently at 75%.
According to 2016 monetary policy and financial stability statement released by Central Bank last month, the country's trade deficit dropped by 5.9% in 2016 (representing $1649.7m) from $1752.5m in 2015.
Speaking today on 'expanding African Trade in a world of rising protectionism' Gatete said; "Participants should review potential implications of rising protectionism for African economies and options for sustaining ongoing efforts to achieve structural transformation of African economies and enhance their integration into the global economy."
Speakers at today's 24th annual General Assembly pushed for Intra-African trade as the main competitive tool to stabilize African economy.
Former Nigerian President Olusegun Obasanjo who attended the 4-day meeting told participants, "We are not as weak as we think. We must know how the international arrangements work, but beware that they are not meant for us, we need to copy smartly."
According to Obasanjo, what makes African trade and economy weak "is our mentality."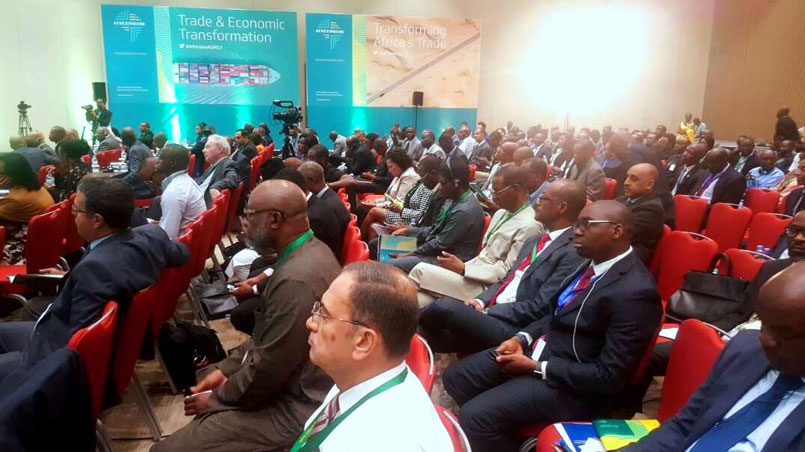 Nigerian billionaire Aliko Dangote – owner of the Dangote group with interest in commodities said the intra-African trade is the only opportunity for leading industrialists on the continent.
"Our economies have been controlled by foreigners for a long time. Free movement of trade ratio is low compared to Europe which is 60%," said Dangote on the intra-African trade challenges.
Dr. Benedict Oramah – President of the African Export-Import Bank (Afreximbank) said, "If trade is conducive, civilisation will be automatic, we will be able to add value to our citizens and enhance our commodities."
But by doing so, he added, "We need to harmonise fiscal policies, regulations and reforms so that doing business in Africa can be simplified."
According to Dr. Oramah, there is between $ 40 to 60 billion from intra-Africa trade conducted informally.
The African Export-Import Bank has become Rwanda's biggest credit partner. On the second day of its annual meetings, the bank signed multiple trade deals with Rwanda worth $500 million. The bank was Rwanda's lender during the construction of Kigali Convention Centre (KCC).