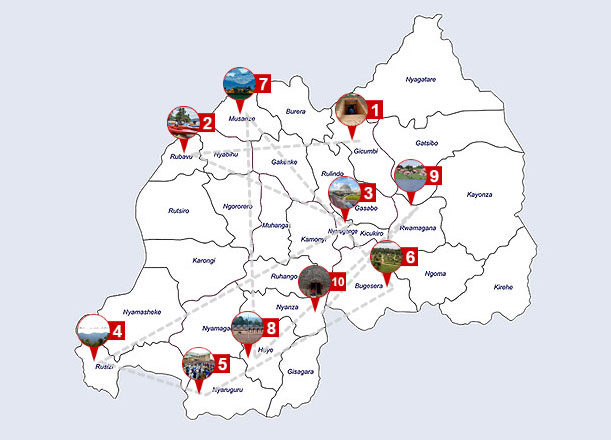 There was the Fodors' 2013 'twelve' reasons to travel to Rwanda. The country maintained year to year win at the world's largest tourism expo the ITB Berlin. On CNN's top luxury destinations of 2017 released in January also featured Rwanda. And when global luxury travel management firm Condé named its 'Africa's Most Luxurious Safari', again the land of 1000 hills was there.
The international traveller has plenty of choice to inform their choices on where to visit when in Rwanda. Years have gone by and the country has emerged from the abyss.
Rwandans are becoming more affluent, and constantly searching for places to visit, relocate, live and spend their retirement. For the traveller out there and the ordinary Rwandan, here is a carefully selected list of locations and regions around Rwanda that will leave a mark on you. The list takes care of your spiritual, entertainment and quiet hideaway needs.  Walk with KT Press to explore the 10 most attractive places in Rwanda
Mulindi and the Bunker Where Rwanda Was Redesigned
The day was April 12, 1994. Gen. Paul Kagame declared Arusha accords irrelevant, ordered Rwanda Patriotic Army (RPA/F) troops to stop the genocide against Tutsi. Major battle decisions that enabled the RPF overthrow the genocide regime in Kigali were always made in a bunker more than 10ft underground.
Located in Mulindi sector, Gicumbi district, this bunker dugout in 1992 two years into the liberation war, it is where the rebel leader met his battle commanders for strategic war planning. In the bunker there is only a small wooden table and chair. Rwanda's current level of progress is owed to this humble bunker. In 2012, the bunker was gazzetted into a museum that is of great significance to the country.
For this bunker, chilly weather, hilly terrain, and quality of tea plantations, Gicumbi district makes it to the list of Rwanda's most interesting places worth visiting.
[masterslider id="21″]
Lake Kivu and Border Cities With a Long Beach
A melting pot of fan, business and nature, Rubavu city on the shores of lake Kivu is about 4 hours drive away from the capital Kigali. Hundreds of Rwandans and Congolese crisscross the border every minute. This was not possible a few years ago. Now the beaches on lake Kivu stretching from Rwanda into DRC are ever busy with merry makers. On Rwanda side, Lake Kivu also stretches up to Karongi and Rusizi districts and Swahili is a common language in these districts.
Lots of activities are done on Lake Kivu including; Kayaking, boat riding, fishing, camping and you can book-in at one of the hotels; Bethanie, Rwiza Village – a traditional guest house, Comoran lodge, Amahoro Island among other beautiful places.
[masterslider id="12″]
Worth seeing is a massive methane gas extraction rig floating on Lake Kivu. It's a big wonder for those interested in global technology. Scientists warned Rwanda against using this technology but Rwanda proved them wrong – now it generates 26 MW electricity currently connected to national grid.
While in this part of Rwanda, it's recommended to taste small fish known as Indagara. Interestingly the tilapia in this lake which is small but delicious when roasted and accompanied by French fries. Investors are already farming the fish in floating cages. From far, you may think a floating city.
Kigali City: Where Clean and Green Mix
Add a word to describe Kigali; beautiful, small, quality, clean, green and efficient digital city. Its a100-year old city founded by a German colonial Master Richard Kandt. The house in which Kandt lived in current Nyarugenge district still stands and has been turned into a museum specifically dedicated to natural sciences.
Kigali has grown from a humble a village to become an attractive vibrant city with world class infrastructure, global brands and regularly hosts international events. World Travel Guide – an international travel guide for adventurous travelers named Kigali 3rd greenest destination in the world in 2015. The city is currently establishing eco parks. Kigali night life is worth experiencing, all road reflectors and traffic lights work.  it's very secure and you can try jogging on clean pedestrian walkways.
[masterslider id="11″]
All roads have area codes and street numbers – KN, KG,KK – the first K (kigali) and the second letter G, N and K represent the city district Nyarugenge, Gasabo and Kicukiro. The car free zone in city downtown helps city dwellers get rid of the jam and take a walk in the middle of the very busy commercial district. Affordable and ever awake suburbs of the city include Nyamirambo and Remera. high-end zones include ; Nyarutarama, Kiyovu. The city also hosts brands like Marriot, Serena, Radisson Blue and Park Inn.
For fashion collection walk into House of Tayo, Inzuki, Haute Bauso, Uzi, Kaplaki all display Made in Rwanda products. While in Kigali, you can also spare time to visit the presidential palace museum, 2km from Kigali International Airport.
Kigali public transport is cashless and passengers use 'Tap & Go' electronic cards to swipe before boarding the buses all fitted with high speed internet. Even public and open spaces have internet – 4G.
Nyungwe – Take a Walk on Top of a Forest
[masterslider id="14″]
Get swallowed in pristine nature by adding Nyungwe forest on a list of places to visit in Rwanda. Nyungwe Forest National Park in Rusizi district is a vast area of mountain rainforest and home to many species of plants and animals. There is a high suspension bridge that gives views over the valley and surrounding forests.
Even with a little budget as a travelling tourist – you cannot afford to miss the beautiful scenery of Nyungwe and its rich biodiversity. For exceptional Luxury there is a 5 Star hotel and a forest lodge. The beautiful natural flowers with exceptional aroma attract bees and for this, Nyungwe has become the country stock of honey. Bee farmers get training to harvest honey without harming the forest. Wildfire, poaching is a crime in Rwanda.
Once in Nyungwe, you can explore; Chimpanzee trekking, monkey trekking, forest walks which further lead you to Kamiranzovu path believed to mythically swallow elephants, camping and canopy walk. On your way back to Kigali, you just need to deviate to the Kibeho road to see a site where God and the evil once settled. The evil has lost the battle and relocated though.
Kibeho – Once Devil Land, Now Holy Land
Rwanda is a land of many surprises. The Holy Mary in1983 appeared to three young college students in Kibeho village, Nyaruguru district. Hundreds of thousands of pilgrims every year flock to Rwanda to get a special blessing from "Kibeho"- over 500,000 pilgrims annually come to this place. Pope John Paul II declared Kibeho as a 'holy land' in 2001 after three young ladies had said that Virgin Mary appeared to them.
In addition, there is also a unique Blessed Virgin Mary Fountain of water at Kibeho, to believers regarded as 'holy' water that to whoever drinks it with faith different miracles happen in the lives. Religious tourism is arguably the oldest form of human travel where thousands of people visit holy sites for spiritual fulfillment, but it's rapidly picking up in Rwanda.
Currently, the Catholic Church in Kibeho remains a religious destination in Rwanda. Despite being a holy land, Kibeho located in the Southern region experienced wild events that thrusts deep in heart during the 1994 Tutsi genocide. But 23 years later, Kibeho has now turned into a beacon of hope and a site of quick development.
[masterslider id="10″]
Bugesera – It Was a Place of NO Return
Not very long ago, Bugesera was classified as one of the poorest parts of Rwanda. From a dark and bitter history experienced – Bugesera was the first place where the 1994 genocide against the Tutsi was exercised from, but today it is called a shining city and this is just the beginning. With an excellent view of nice landscapes, mountains and lakes – it would take you only 45 minutes drive from Kigali city to reach the memorable Bugesera.
[masterslider id="8″]
Due to its scenery and hilly location, Bugesera is a spot for sports competition –Tour du Rwanda- a cycling competition, Rwanda Mountain Gorilla Rally, and motorcycle racing. The district and its residents are counting down the days with excitement to host an International airport that is scheduled for completion in 2018. This is one of the foremost motives that are boosting the businesses in Bugesera and attracting more investors as well.
Musanze – Become a Friend To a Gorilla
[masterslider id="7″]
Even Bill Gates flew to this part of the world just to give a name to a baby mountain gorilla. Every year, Rwanda hosts an international gorilla naming ceremony. You cannot afford to miss a chance of visiting volcano national park – home to worlds endangered mountain gorillas.
Located in the North of the country, Musanze district is 3hours drive from the capital Kigali. While in Musanze, three gigantic volcanic mountains rise next to each other towering into the clouds. The volcanoes are iconic and are worth an experience. This region also hosts Lakes Burera and Ruhondo  but also you should not miss descending into caves that are tens of thousands of years old including a 1.25 mile long cave. Musanze stands out among all the 30 districts of Rwanda. It's the main production region of Irish potatoes which at least every Rwandan home serves.
And if your pocket is heavy enough, you can explore Sabyinyo Silverback lodge, a five star luxury hotel that offers emotional experience of viewing mountains. Just two hours drive away from Musanze, there is another attractive region – the Southern province that hosts the seat of the throne of former Rwandan Monarch in Nyanza district.
Huye – The City of Romance
[masterslider id="9″]
Are you dating someone or want to reaffirm love to a partner? There is Huye- a city of romance. Most Rwandan couples travel to Gihindamuyaga, a small neighborhood in Huye to purchase golden rings before they make vows. The rings are made at a monastery on a hill along the highway to Rusizi. Gihindamuyaga fathers settled on this hill and built a monastery and its where holy Eucharist is produced.
This area is perfect for honeymoon, there is a serene guest house with a constant cool breeze from the surrounding vast nature. Apart from that romantic spot, this is where the country's first and largest University of Rwanda  was established in 1960s. First student –medical student of the campus has retired, he lives in Huye.
The university has a famous arboretum it's not a natural forest – it was created and hosts   a large number of monkeys that regularly come to pay a visit to students and sit beside them as they review courses on the desk established across the forest.
Huye is also the biggest religious spot where many congregations of the catholic church dwell. Before leaving Huye, please make a stopover at Huye Ethnographic Museum- it is the custody of Rwandan history – it brings every detail in Rwandan ancestors' ways of doing things, their culture, triumph, to mention but a few.
Muhazi – A Place For Retirement
This will probably become Rwanda's super place in the next two decades- you need to visit and live to tell. One hour drive from Kigali eastwards, Lake Muhazi is special and wonders at the foothills in districts of Rwamagana, Gatsibo, Kayonza and Gicumbi.
Communities Around this lake rare the traditional long horned cattle. However, its unique identity is in offering serene mood for conference and other individuals who want to spend a day/night at a quite venue with beautiful water and nice hotels.
[masterslider id="13″]
Nyanza – Rwanda's First Capital
The end of Rwanda monarch is sealed in this place. It was once the seat of the monarch and Rwanda's last king Kigeli V Ndahindurwa was buried besides his ancestors in January this year. Drive to Nyanza and document life of Rwanda's kings. The Mwami or King of Rwanda was progressive; he moved from traditional house and built modern house and all the facilities still stand. In the kings palace of Rukari you can experience the transition of Rwanda from tradition to modern era.
[masterslider id="26″]
In one of the traditional houses. There is a pole beyond which no strangers were allowed. You were required to keep confidential whatever you heard from the other side of the room beyond that pole– the king's bedroom. King Mutara III Rudahigwa built big stores to keep cereals in Nyanza. They are still there on the roadside.
Special long horned Inyambo royal cattle are paraded during royal events. They are still available. The last monarch was ousted in 1950s after a Hutu insurgency. A republic regime officially replaced the monarch in 1962.
In the past, Nyanza was abandoned, but today, it is shining with state of the art infrastructure, and a business boom. Nyanza is among the top three places with large Islamic communities since 1930s when the Arabs businessmen invaded the country.