The Social Democratic Party (PSD) headed by natural resources minister Dr Vincent Biruta has endorsed imminent RPF Inkotanyi candidate Paul Kagame for the August Presidential elections.
At the party's General Assembly convened on Saturday in Kigali, Biruta said that the party, after consulting all its members, has decided to ally with RFP.
PSD's Sen. Augustin Iyamuremye told journalists that his party also considered a request by millions of Rwandans for President Kagame to be their next leader.
He added that PSD further considers the solid working relations with RPF – another factor that pushed them to back its candidate.
"PSD members willingly endorsed a decision to support His Excellency Paul Kagame as their candidate," he said.
At the assembly which coincided with the Party's silver jubilee, PSD members unanimously voted for the decision.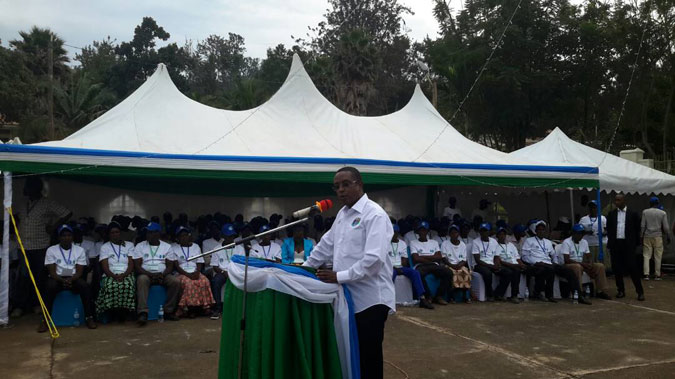 Dr  Biruta said his party supports RPF's power-sharing policy which he said appointed Anastase Murekezi- a PSD member as the Prime Minister.
During the 2010 presidential elections, PSD had chosen Senator Jean Damascene Ntawukuriryayo as flag-bearer. He lost to RPF's Paul Kagame.
While PSD was endorsing Kagame, RPF members were also conducting primaries to choose a flag-bearer.
During the general assembly, women, youth, private sector among others and individual party members were given the floor to propose a candidate whom they believe, will be a strong flag-bearer.
In Gasabo district, 833 RPF committee members gathered at Sport View Hotel, all in the party colors – white, blue, red and black.
They said, Kagame's leadership is unprecedented and his support to country development is unrivaled.
Josephine Umurungi, a widow who hails from Rusororo sector in Gasabo district said the leadership of Kagame gave every Rwandan right to education and also taught Rwandans how to work hard and prosper.
As a matter of example, said Umurungi, my five children are graduating in United States of America's schools. Recently one of them returned from United States with a PhD.
Other women said Kagame gave them confidence which allows them to contribute to family and country development.
When time to vote came, Kagame got 100 per cent.
"This activity comes to confirm why, you pushed for the constitution amendment," said Steven Rwamurangwa, mayor of Gasabo district who doubles as RPF chairman for Gasabo district.
Elsewhere in Rusizi, Kirehe, Kicukiro, Rulindo and Kayonza districts, Kagame was unanimously endorsed.
Primaries will continue across the 30 districts of the country.