The African Institute for Mathematical Sciences (AIMS) has held its maiden graduation, one year after relocating headquarters to Rwanda from South Africa.
AIMS conferred a Master's degree in Mathematical Sciences to 44 students – including 15 female who completed a 10-month intensive program at Kigali Campus.
The graduates hail from 10 African countries, Rwanda inclusive.
"I am not looking for a job; instead I would like to pursue further studies in bio-statistics so as to do profound research that will inform policy in Rwanda," said Vestine Mukandayisenga, one of 18 Rwandan graduates.
Mukandayisenga obtained distinction among 9 top students of the pioneer class. She was a college teacher before enrolling at AIMS.
Nanna Adam Salamutu, another female graduate from Ghana, who emerged the overall best student, was awarded with a scholarship under the Thierry Zomahoun Scholarship program.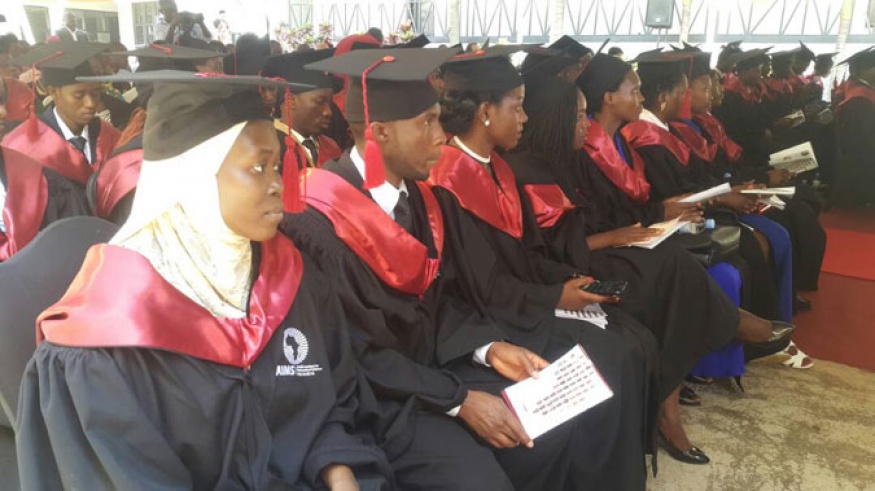 AIMS institute and its headquarters were launched in Kigali, Rwanda in April this year.
It is the 5th Centre of Excellence in Africa after Senegal, Ghana, Cameroon and Tanzania.
At the graduation, Professor Barry Green, the AIMS President and Chief Academic and research officer said Rwanda deserves more.
He said that next year, AIMS will start a continental climate science institute in Rwanda, the first of its kind under the AIMS program.
"We will be taking up PhD students interacting regionally and globally on key problems in the climate science area which is important in Rwanda and in the world," said Professor Green.
The research center will require about $1million to run its operations annually and Rwanda will be contributing 50 percent of the budget. The government already provided land for this development, according to Prof. Green.
"We (Rwanda) have placed a lot of importance to the AIMS program and we have already agreed to contribute to this budget," said Samuel Mulindwa, Permanent Secretary in the ministry of education.
While the first intake at the Kigali's Centre of Excellency enrolled in Pure Mathematics, the 2018 intake will focus on co-operative mathematics – where students will do field research and practical mathematics.