Anthere Hakizimana 61, a resident of Rusizi district in Western Rwanda, could have quit tea faming – a profession he has practiced for 20 years had it not been for the intervention of an experienced investor in the tea trade.
For all this period, his decision to quit the profession was triggered by one factor; continuous losses incurred every season.
"There is a period I sat down with my family and decided to quit tea growing business and do other things. We were putting much of our energy into it with little production," Hakizimana a father of 7 told KT Press this morning.
At the time, he told KT Press, "I was harvesting nearly 20kgs of tea a day but still incur losses due to poor management and bad buyers."
Such was the misery for Ndayisabye Thomas – another tea farmer and a neighbor of Hakizimana.
"It got worse in dry seasons. During this time I could not even harvest 10kgs a day. This made my efforts to do this farming to diminish," he told KT Press.
Seven years ago, however, both Hakizimana and Ndayisabye go the news that a big investor was heading to their area with one mission; to improve tea farming and help farmers transform their lives.
Sir Ian Wood, a Scottish businessman and billionaire with a net worth $1.46 billion had set foot in Rwanda – with multiple ventures in tea production.
Wood who is also the chairman of The Wood Foundation (TWF) acquired 55% shares in Mulindi (Gicumbi) and 60% shares in Shagasha (Rusizi district) tea factories.
The two factories combined produce about 23% of Rwanda's total tea output.
Shagasha Tea Company engages in tea processing – with daily capacity to process between 70 tons and 100 tons.
According to the factory manager, Eleana Mwai, "One of the priorities was to put in place a school near the factory to train local farmers on better and modern tea farming practices. The results have significantly paid off," he said.
Currently, Shagasha tea factory works with 5,500 local farmers including Hakizimana and Thomas Ndayisabye.
According to Ndayisabye, in a good season especially when it's raining he harvests 300kgs a day.
With a kilogram sold to the factory at Rwf149 ($0.174), this means Ndayisabye can make Rwf44, 700 a day or Rwf1.3 million a month if the daily harvested quantity remains constant.
"This is way better the money I was making from this profession before," Ndayisabye told KT Press.
On Thursday – November 9th, Sir Ian Wood and his staff travelled to Rusizi district in Giheke sector to meat farmers.
It was a memorable day to celebrate working relationship between the company and farmers and a time to reward farmers who have easily adopted the modern tea farming practices.
The awards included; cows, gas cylinders and gas cookers, and mattresses.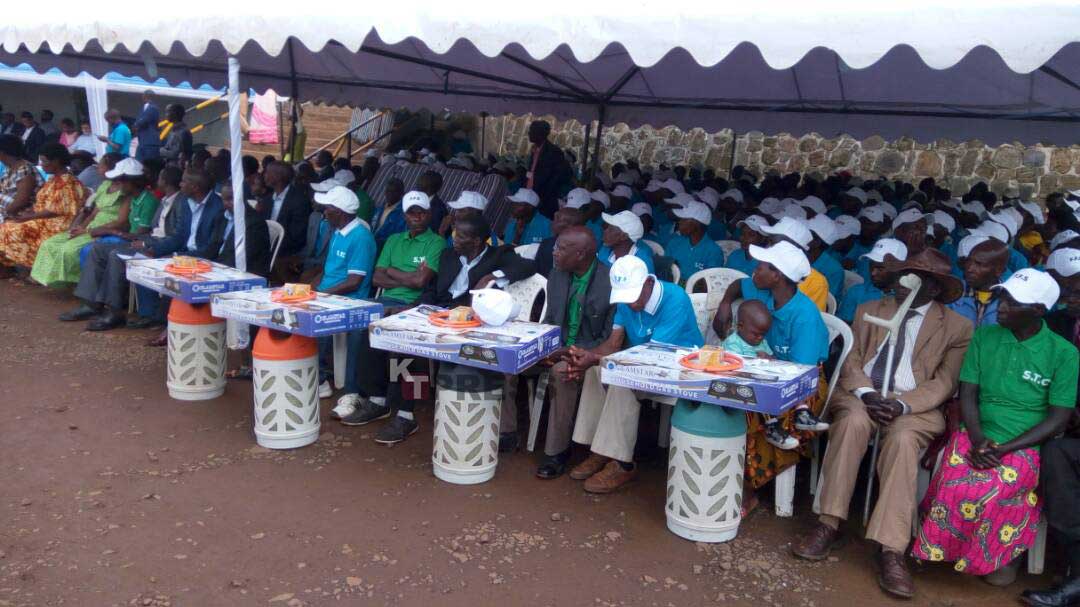 Since Ndayisabye started working with Shagasha Tea Company, he has managed to construct Rwf7 million house, and paid health insurance to his 7 family members.
Sir Ian Wood has also expressed interest in investing in planting 8000 hectares of tea in Munini-Nyaruguru district and Rugabano-Karongi district of Southern and Western provinces respectively.
Currently, Shagasha tea factory employs 400 workers. In the next 2 years, 90% of the factory will be handed over to tea farmers while government will own 10%.
Rwanda earned $8.6 million from tea exports as of June this year, according to National Agricultural Export Board (NAEB).
This represented a 39.4 per cent increase in export revenue compared to $6.1 million that was recorded during the same period in 2016.
The increase, according to NAEB, was largely attributed to the good price on the international market averaging $3.38 (Rwf2, 873) per kilogram compared to $2.43 a kilogram in the same period last year.