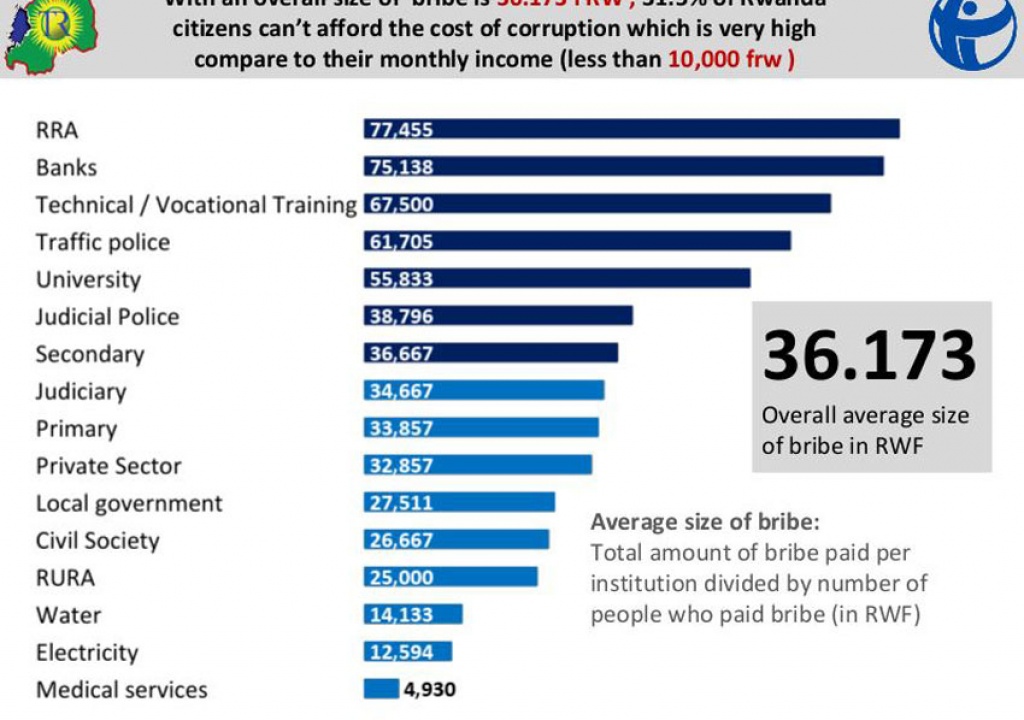 The Rwanda National Police has said that reinforced punitive measures against police officers who take bribes has yielded good results in Traffic Police department.
The prevalence of bribery cases in this department has declined compared to last year, according to Rwanda Bribery Index, a report by Transparency International- Rwanda which establishes experiences and perceptions of bribery in Rwanda.
The Traffic Police has remained the 'most corrupt department' despite a slight decrease in prevalence of bribes compared to last year.
According to the report, bribery prevalence in traffic police declined to 11.6 % in 2017 compared to 20% in 2016.
The bribery prevalence is equivalent to the number of transactions that involved bribe in a given institution per cent.
Other departments of police also have worked more on measures to fight bribe.
In judiciary police, bribery prevalence slightly declined to 6.20% this year from 7.30% in 2016.
Assistant Commissioner of Police (ACP) Theos Badege, the Police Spokesperson told KT Press that fighting bribe is a difficult task "because it involves direct interaction between the giver and the receiver."
Despite having many cases of bribery however, he said several measures have contributed to the decline.
"We first increased e-policing; for example, people registering to sit driving permit exams only meet with a police officer at the examination site while the rest is carried online," he said.
"We also reduced the power of an individual police officer-for example, the officer who registers a traffic offender is different from the person who sanctions."
Giving an example, ACP Badege said, that a traffic police officer who register an offence on the road will send the information to a committee in charge of providing sanctions. The committee will first study the case.
Another measure that believes ACP Badege, will lead to more decline is what he calls 'tough punitive measures' whereby "on top of a litigation ruling, the police code of conducts comes in to punish any police officer who was caught in misconduct."
In other institutions also, bribery prevalence was reviewed downward. In Rwanda Revenue Authority (RRA), bribery prevalence declined to 6.30% in 2017 from 8.80% in 2016.
In judiciary, the slight decline was registered, with 4.70% compared to 5.10% last year.
Bribery has worsened in electricity services this year while doubling to 8.60% in 2017 compared to 3.60% in 2016.
The report indicates that high level of bribery was registered in banks, technical and vocational training, while medical services have low levels of services.
While the average size of bribe is Rwf36, 173, the report indicates that 31.5% of Rwanda citizens cannot afford the cost of corruption since their average monthly income is less than Rwf10, 000.
For raising the number of Rwandans reporting bribe cases, Transparency Rwanda recommends the "capacity building in the investigative journalism on corruption among media practitioners to amplify citizen's voice and expose corruption cases in public institutions."