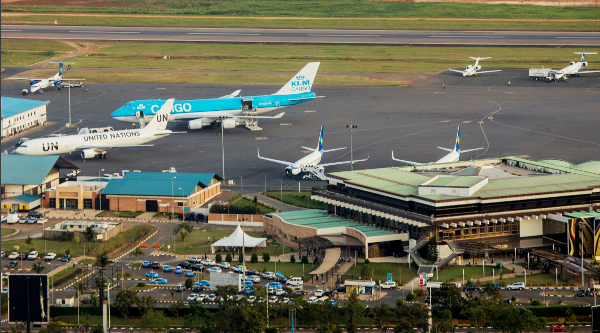 View of Kigali International airport
Rwanda has, effective January 1st 2018, launched a policy in which citizens of all countries travelling to Rwanda for short trips will no longer need to apply for a visa.
In its first tweet of the year 2018, the Directorate of Immigration announced on January 1st, that "Rwanda will issue a 30-day visa upon arrival to citizens of all countries, without prior application, a privilege that was previously a preserve for nationals of African countries and few others."
Recently, the Directorate General of Immigration and Emigration also indicated that it has entered into 'Visa Waiver Agreement' for holders of diplomatic and service passports with the countries of Djibouti, Ethiopia, Gabon, Guinea, India, Israel, Morocco and Turkey was effected on November 16th, 2017.
In the same day, it was also brought to public attention that based on reciprocal basis, citizens of 18 countries wishing to visit Rwanda will no longer need to apply or pay for a visa.
This means that for those countries, a multi-entry waiver will be issued free of charge at the port of entry, upon presentation of valid travel documents, ranging from nation ID for some of them to a valid passport for others.
Countries whose citizens are concerned are those with passports issued by Benin, Central African Republic, Chad, Ghana, Guinea, Indonesia, Haiti, Senegal, Seychelles and Sao Tome and Principe, Democratic Republic of Congo, Mauritius, Philippines, and Singapore.
Presenting an ID upon arrival will be for all the East African Community member states– Burundi, Kenya, Uganda, Tanzania and South Sudan.
COMESA member states nationals will also not have to apply for a Rwandan visa under a 90-day visa application exemption announced on Thursday November 16th, 2017.
They will get visa on arrival but on payment of the prescribed fee, as provided by the COMESA Protocol on Free Movement of Persons, Labor, Services, Right of Establishment and Residence. Currently, citizens of COMESA member states were getting 30 days on arrival as other holders of African Passports.