A thief has told the Police that it is out of the question to ask him the number of houses he has broken into so far, because he has a very busy schedule, stealing every day of the calendar.
"I can't recall how many times I have stolen, I break into houses either during the day or night. But in most cases I have been arrested in the act," Joseph Ndagijimana a notorious thief told Rwanda police after he was arrested for stealing – on Thursday.
Ndagijimana was arrested by night patrol with 6 other thieves after stealing a television set.
"I steal at large. For example, during the night of 25th February this year around 3am together with my group, we drilled a hole in the house and stole a flat screen when the occupants were in the deep sleep,"Ndagijimana said.
Many times Ndagijimana is arrested, gets prosecuted and serves a sentence which he finishes to only resume his odd 'business.'
For example, On Christmas eve of 2015, he was arrested at Gisozi sector, Gasabo district after being caught red handed trafficking 6000 rolls of cannabis.
Ndagijimana and the gangsters not only steal from individual homes and do fraud, but also are behind the theft of equipment of public installations like water manhole covers.
The metal which weighs 30kilograms, Ndagijimana removes it and sells it as scraps.
"This is how we came up with the idea of looking for heavily weighing metals," intimated Gerald Niyitegeka, another suspect at Kigali Metropolitan Police office in Remera. He is part of Ndagijimana's mob.According to Niyitegeka, they had already stolen eight covers by the time of their last arrest.
They said that a motorcyclist is always at hand to strike a deal in transporting the stolen stuff.
Meanwhile, Jean Musabyeyezu, WASAC Kacyiru branch manager, says that manhole covers and water pipes are some of the infrastructures that are mainly vandalized by thieves, leading the government into losses and affecting water distribution.
"These manholes are like water control centers when these covers are stolen, any person can tamper with water distribution," Musabyeyezu said.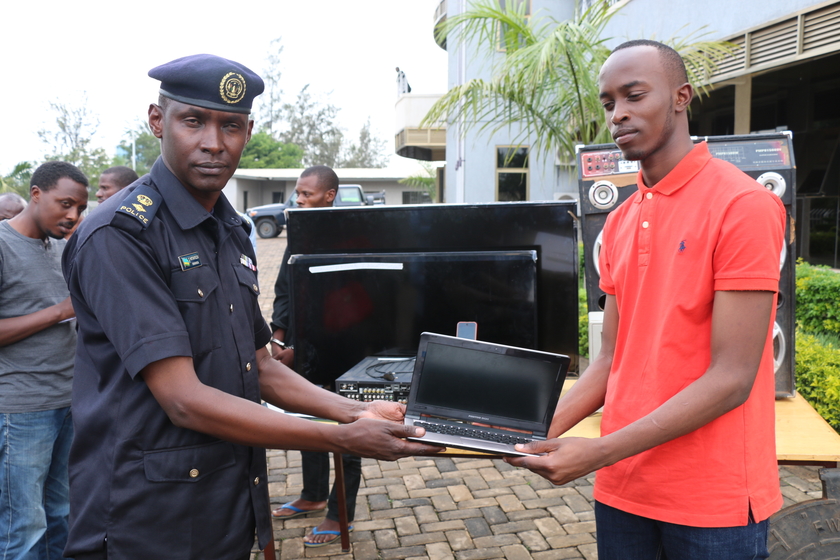 Meanwhile, on Friday, Rwanda police handed over several equipment and gadgets that were recovered from the gangsters to the owners.
"This is very impressive. In my country, it's unusual that a phone is stolen and recovered…I find this unusual but it makes me feel good and safe in Rwanda," said one Joseph from Spain, whose phone was recovered.
"I was left heartbroken when thieves broke into my salon at night and stole my radio and speakers. Clients had left me, making my life hard but thanks to National police, they will come back," said Protegene Habimana, another person who got his equipment back.
"We have many electronics in our stores here, and we appeal to victims to always come here and check of theirs is among those recovered," said Senior Superintendent Emmanuel Hitayezu, the Police Spokerperson in City of Kigali.
He, however, said that the challenge police face is that some people can't produce any evidence that a certain recovered gadget/equipment belongs to them.
"People should buy from recognized stores, keep receipts or at least mark their items, which also helps smooth investigation of the police," Hitayezu said.