The Executive Council of the African Union has approved the candidacy of Rwanda's Foreign Affairs Minister Louise Mushikiwabo to the post of Secretary General of the Organisation of French Speaking countries (OIF).
The Executive Council of the African Union is made up of ministers designated by the governments of member countries.
OIF elections are scheduled to take place on October 11-12 in Everan, the capital city of Romania.
During a state visit to France in May this year, President Paul Kagame confirmed that Minister Louise Mushikiwabo was competing on the position of the "Francophonie" organization's Secretary General.
At a joint press conference, French President Emmanuel Macron pledged his support to Mushikiwabo.
"If there is an African candidacy on the post of Secretary General of Francophonie, it would make much sense. And if it is about a female African candidate, this would make even much more sense. Thus, I believe, Rwanda's Minister of Foreign Affairs, Louise Mushikiwabo has all competencies required for this post. I think having an African female candidate on this post is very good news-thus, I will support her," President Macron said.
The Executive Council of AU approved Mushikiwabo's candidacy yesterday during an ongoing 13th Ordinary Session of the African Union in Mauritania.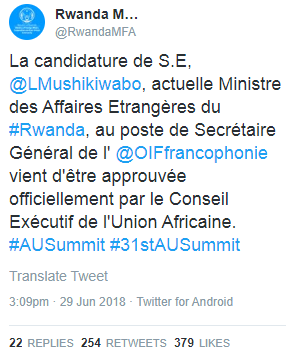 The International Organisation of 'La Francophonie' was created in 1970, with a mission to embody the active solidarity between its 84 member states and governments (58 members and 26 observers), which together represent over one-third of the United Nations' member states and account for a population of over 900 million people, including 274 million French speakers.