From air transport, new roads to the Belt and Road Initiative – Rwanda's President Paul Kagame and visiting Chinese counterpart Xi Jinping witnessed Monday the signing of 15 agreements covering a range of sectors.
In one of the agreements, China will finance construction of the 66 kilometre Huye-Kibeho road. Kibeho is a touristic destination where dozen thousands of tourists from across the world conduct pilgrimage in a place where Pope John Paul II confirmed, the Virgin Mary Mother of Jesus appeared to three schoolgirls between 1980 and 1983.
Also in infrastructure, China will build the 55 kilometre new Kigali – Bugesera highway to the International airport under construction.
Bugesera airport will be launched in 2019 to become the second airport at international level after Kigali which is receiving huge traffic on daily basis.
The Chinese People's Republic will also fund the extension of Masaka hospital in Kicukiro district. This referral hospital was actually funded by China. It has been up and running for sometime.
Rwanda and China also signed another agreement related to the Belt and Road "B&R" Initiative which has been championed by Chinese President Xi Jinping since September 2013.
B&R consists of an economic network formed by several road networks and belts across Africa and linking up other continents.
Under this initiative, China designed several infrastructure projects for Africa, keeping in mind the principle of win-win partnership.
Construction of industrial zones, road networks among other infrastructure are under B&R initiative.
Today, the two sides also signed a civil air transport agreement. Already, RwandAir, the Rwanda's National carrier is preparing the maiden flight to Guangzou-the economic capital of China in February 2019.
Both countries signed a MoU related to Human Resources, law enforcement cooperation, an agreement on strengthening commerce between both countries, and an agreement on boosting e-commerce.
Also two agreements related to diplomatic cooperation were signed whereby both countries agreed to wave visa fee for diplomats and cultural and scientific cooperation.
After the 15 agreements had been penned by the respective ministers, the Xi and Kagame made statements.
"The signing of bilateral agreements speaks for itself for what is possible between our two countries and between China and the continent of Africa," President Kagame said.
Kagame further said that China is traditionally a friend of Rwanda and Africa at large.
"We appreciate the contribution of China historically to the development of Rwanda and Africa in many areas that are very important to our citizens. We look forward to building more partnerships and gaining from China's experience and capacity in many fields," Kagame said.
President Xi Jinping who is accompanied in his visit to Rwanda with First Lady Pen Liyuan was very appreciative of his welcome to Rwanda and how Rwanda is striving to develop economically and socially.
"I have seen firsthand a vibrant and well organized country. The country enjoys social harmony," Xi said.
"This is my first overseas trip since my election and Rwanda is an important stop. I have seen a country that is enjoying stability. I extend to President Kagame and people of Rwanda our heartfelt congratulations."
President Xi said his country believes in a system of bilateral cooperation where both players benefit.
"We shall continue to strengthen sincere mutual support, in infrastructure, trade and many areas," he said.
"We both believe that we need to expand cultural, trade, e-commerce cooperation and increase mutual understanding between our two peoples."
Xi said that more cooperation trends between China-Africa will be discussed in September during the Beijing summit, a platform that brings together Chinese leaders and African leaders to discuss cooperation in several areas.
Kagame is expected to participate, not only as President of Rwanda, but also in capacity of current chairperson of the African Union.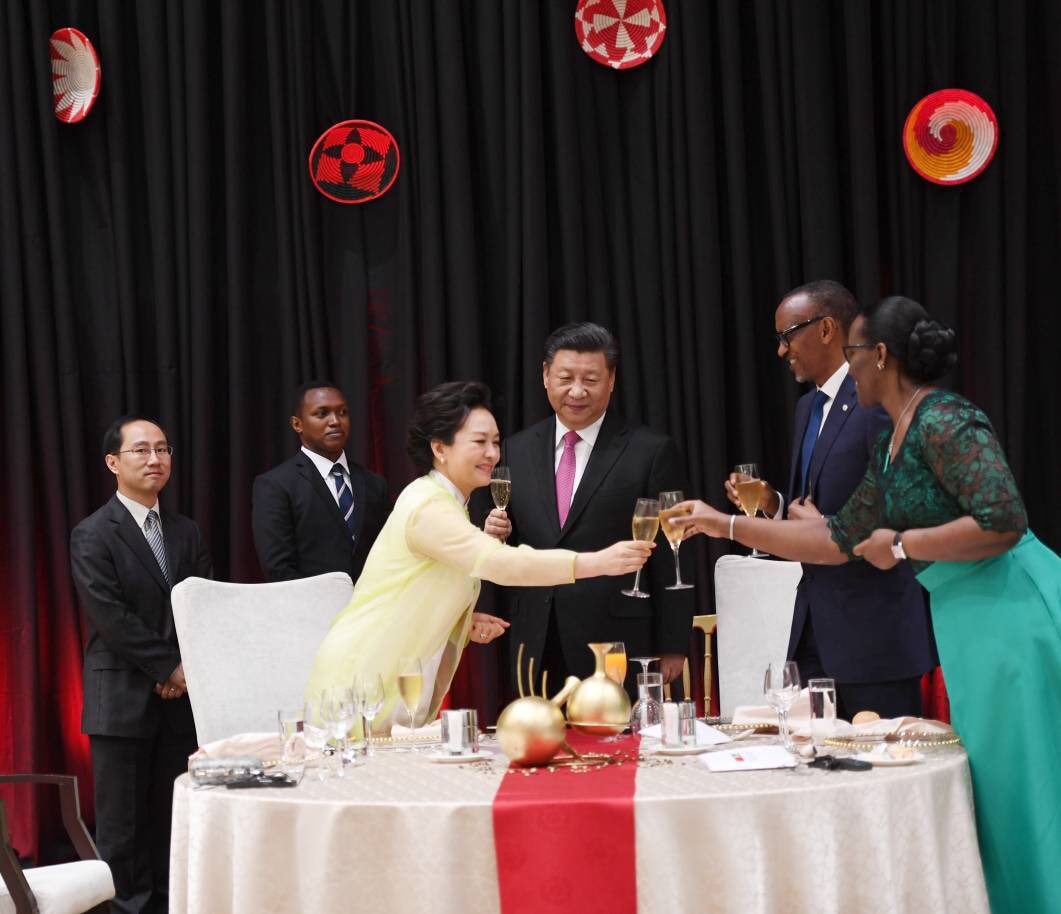 At noon, President Kagame and First Lady Jeannette Kagame hosted Chinese President Xi Jinping and First Lady Peng Liyuan to a State Luncheon.
"I was struck by the parallel you drew between the historical suffering our countries have endured and how those experiences have shaped our respective national characters and our determination to protect and extend the gains we have made," Kagame said at the luncheon.
"If we are able to recognise ourselves in each other even in our most tragic chapters, it means that we will be firm friends and partners in the best of times as well."