The Police have described as "empty rumours" recent claims alleging a rise in insecurity around the areas bordering Nyungwe forest.
The reports, mainly carried by some online publications linked to Rwandan fugitives claimed that a group of armed elements had infiltrated the country through Nyungwe forest to undertake subversive activities.
Speaking to residents of Nyaruguru district in Southern Province, the Inspector General of Police (IGP) Emmanuel Gasana said that though a few bandits recently crossed into Rwanda and robbed people in one sector of Nyaruguru district, the incident had been dealt with effectively by security organs and the bandits ran back to where they had come from.
The IGP cautioned people to be more vigilant and share any information on individuals or suspicious incidents to local leaders and security organs
"A few hungry bandits recently crossed into Rwanda and stole property from these areas. This is something security organs cannot tolerate. What we need from you is continued close collaboration with security organs—timely reporting and sharing of any information on suspicious individuals or incidents," Gasana told residents.
In the same meeting, the Minister of Local Government tasked local leaders to be close to the people and strengthen the existing security measures largely through empowering the population to take lead.
"Our biggest asset as a nation is the security we enjoy today," said Minister Kaboneka.
"We cannot tolerate anything or anyone that would be bent on destabilizing the peace and tranquility we enjoy. This is the base for our socio-economic transformation and you, the population, must be at the forefront of safeguarding this treasure."
The officials that visited different sectors of Nyaruguru district called upon the population to ignore rumors of insecurity that have been making rounds in the district and instead concentrate on their normal work, as the country is 100% secured.
Asked by Reporters about an alleged rebel group under the command of one, Maj Callixte Sankara that claims to be operating in the Nyungwe forest, the police spokeperson Theos Badege who also attended the meeting dismissed the allegations as "empty rumours" and said that there is no insurgent group present on Rwandan soil.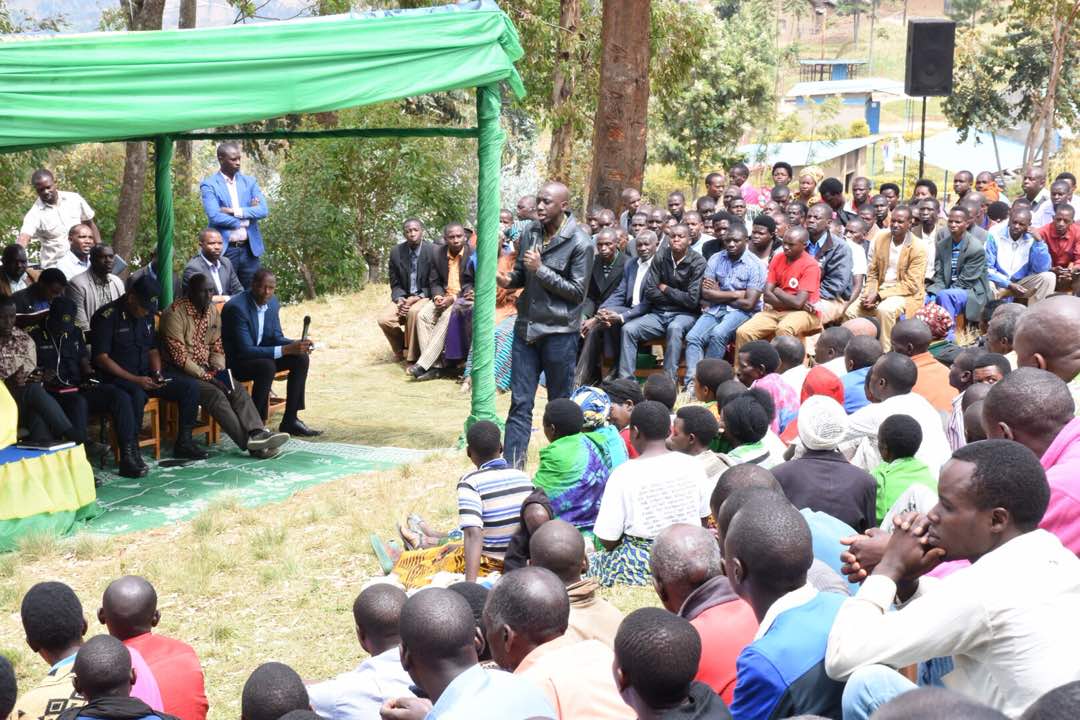 He, however, said that Sankara is a known fugitive that the prosecution is tracking down in collaboration with counterparts in the countries where he is hiding and will face justice.