The second edition of Cimerwa golf tournament ended Saturday evening with General Caesar Kayizari and Ambassador William Kayonga awarded among the best 25 amateur players of the one tourney.
Over 100 players took part on the Rwf53million tourney dubbed 'CimeGolf2018 which kicked off early morning in Kigali city, and ended at 6pm.
Despite having a hard start in the first tee off round Gen. Kayizari managed to come around in the second round recovering points to scoop the third place with 71 points in the senior's category after Frank Mustaff (70pts) and Kayinamura (70pts).
In the ladies category, despite having few women players at the game, Susan Ngure scooped the first place followed by Vernoon Keelin, and Jenny Linda.
Isaiah Byaruhanga led in the grip 3 category handicap (HC) 18-28, and Sidney Mbua in HC 10-18, while in hottest HC 0-9, where every stroke counts, Charles Ntare scooped 73pts becoming the best player of the day followed by Ambassador William Kayonga.
Caddie Foundation Funding
Besides awarding players Cimerwa CEO Bheki Mthembu also announced intentions of supporting the newly founded Kigali Golf Club Caddies Foundation.
The foundation received a funding of 110,000 in the bet and Cimerwa CEO doubled the amount to Rwf222, 000 which was handed over to the foundation.
The two winners of this money instead received each five bags of cement for this money to support the foundation.
"These caddies are the future of golf in Rwanda and are part of us because they know us better and work along us on a personal level, which is not the case elsewhere. We are committed to supporting this foundation as much as we can," Mthembu said.
Meanwhile, three Rwanda national golf team players were also awarded, after having a separate game in the professional category earlier this Monday, in which Celestin Nsanzuwera emerged top followed by Emmanuel Nkurunziza and Emmanuel Rutayisire respectively.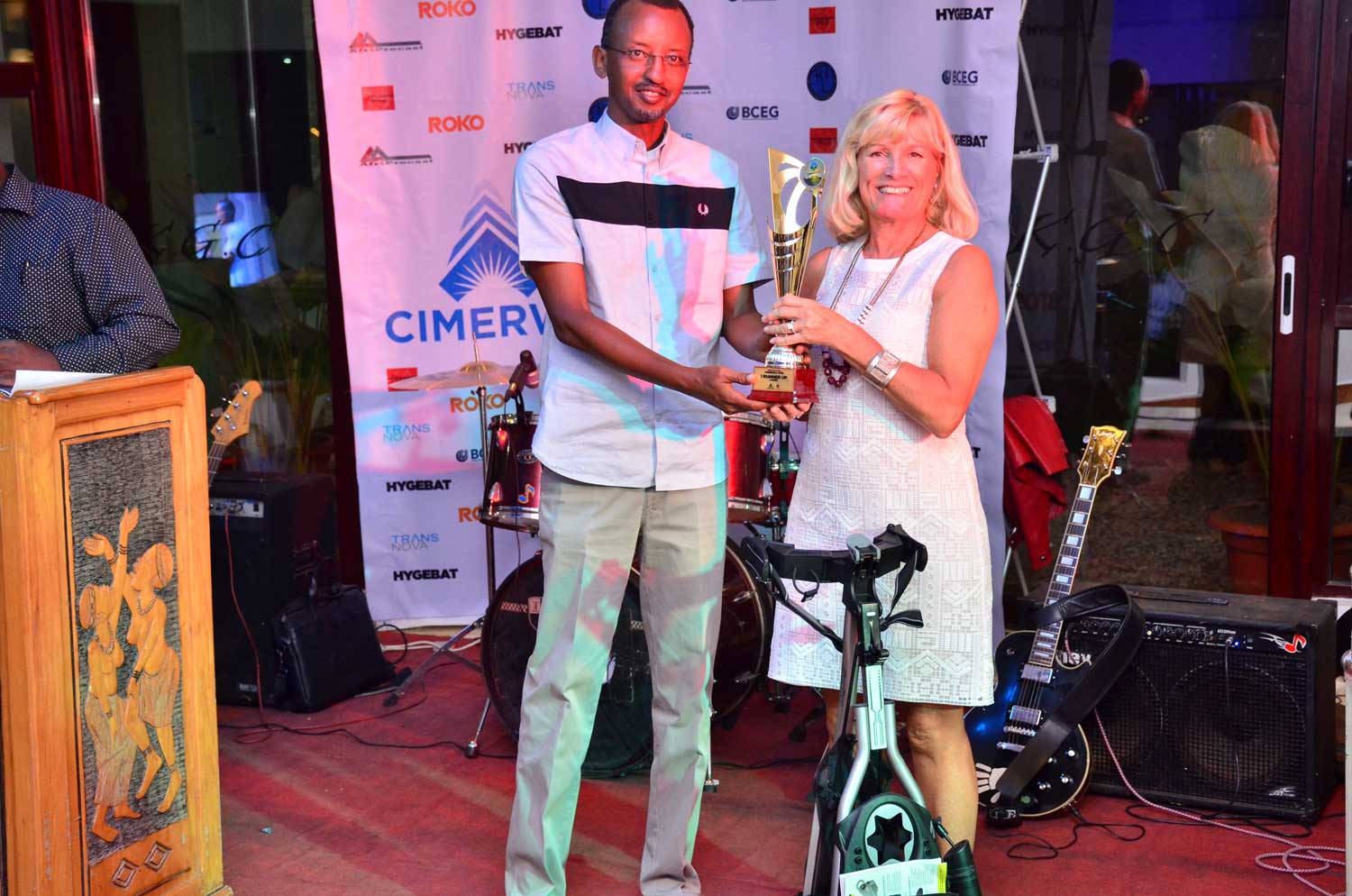 Also among special awards of the day included: the nearest to the pen (men)- won by Innocent Rutamu and Susan Ngure (for ladies), longest men drive was pinned by Ross Matkovicn, and Phindo among ladies, while Lars Lindgren made the longest drive among seniors.
The tourney ended with five baddies, and concluded with a  gala dinner night entertainment by Charlie n' Nina who played live band music to entertain golfers after a long day of ditching balls in bankers, water ponds and some miscalculated drive on the tee off.