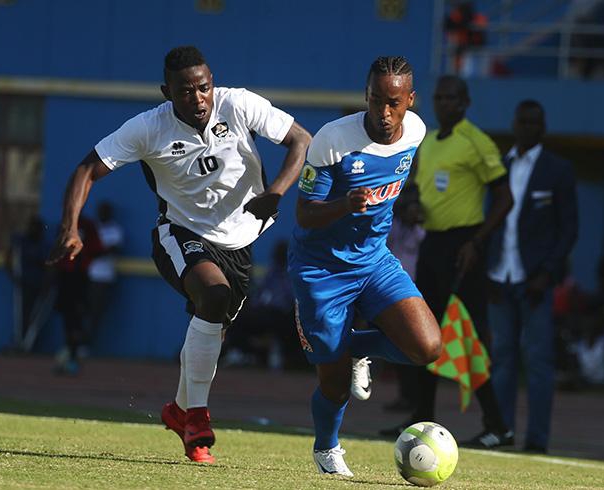 Traditional rivals APR FC and Rayon Sports Fc will clash in an entertaining derby final of the 2018 Agaciro Football Championship on Sunday at Amahoro Stadium.
The two archrivals won their knock-out matches played on Friday evening at Amahoro Stadium.
The military side defeated Etincelles 3-0 courtesy of a double from youngster Byiringiro Lague in the 11th and 53rdminute before substitute Nsengiyumva Mustafa who was signed from Police Fc snatched a debutant goal in injury time.
Etincelles Fc were reduced to ten in the second half after midfielder Tuyisenge Hamisi was sent off following a second yellow card following a stupid foul on Savio Nshuti Dominique.
In the second game, Rayon Sports were returning to local action for the first time after being dumped from the CAF Confederation Cup quarter final round where they were thrashed 5-1 by Nigerian side Enyimba.
The Blues came from behind to defeat AS Kigali 3-1 on a rainy Friday night at Amahoro Stadium. AS Kigali were ahead in the 15th minute courtesy of a goal from Burundian import Ndarusanze Jean Claude.
With four minutes to half time, Burundian import Bimenyimana Bon Fils Caleb equalized with a superb strike to go into recess tied on a one-goal each.
In the second half, Bimenyimana doubled the lead in the 78th minute with another neat strike before substitute Nova Bayama scored from a free kick with a technical strike beating AS Kigali goalie Nizeyimana Alphonse the wrong way.
On Sunday, AS Kigali will take on Etincelles Fc in the first game of the losers' spot at 13:00 before APR Fc and Rayon Sports face-off in an entertaining clash at 15:30, all matches will be staged at Amahoro Stadium.
Last year, Rayon Sports under former Amavubi skipper Olivier Karekezi defeated APR FC 1-0 to win the 2017 Agaciro Cup title.
The winner will pocket Rwf.1.5m, while the runner-ups will each pocket Rwf.1m, Rwf. 0.5m respectively.
The Top Scorer and Best Player will each be given a chance to travel to any of the destinations of RwandAir.
The Agaciro Development Fund football championship is staged annually as part of raising funds towards the Agaciro Development Fund, the country's Rwanda's sovereign wealth fund.
The Fund was set up to build up public savings to achieve self-reliance, maintain stability in times of shocks to the national economy and accelerate Rwanda's socio-economic development goals. The Fund is unique as its capital comes from voluntary contributions by Rwandans at home and abroad as well as friends of Rwanda.
2018 Agaciro Cup Fixtures
September 28
APR Fc 3-0 Etincelles FC
AS Kigali 1-3 Rayon Sports FC
September 30
Third Place Play-off
Etincelles FC vs AS Kigali (Stade Amahoro, 13:00)
Final
APR FC vs Rayon Sports FC (Stade Amahoro, 15:30)