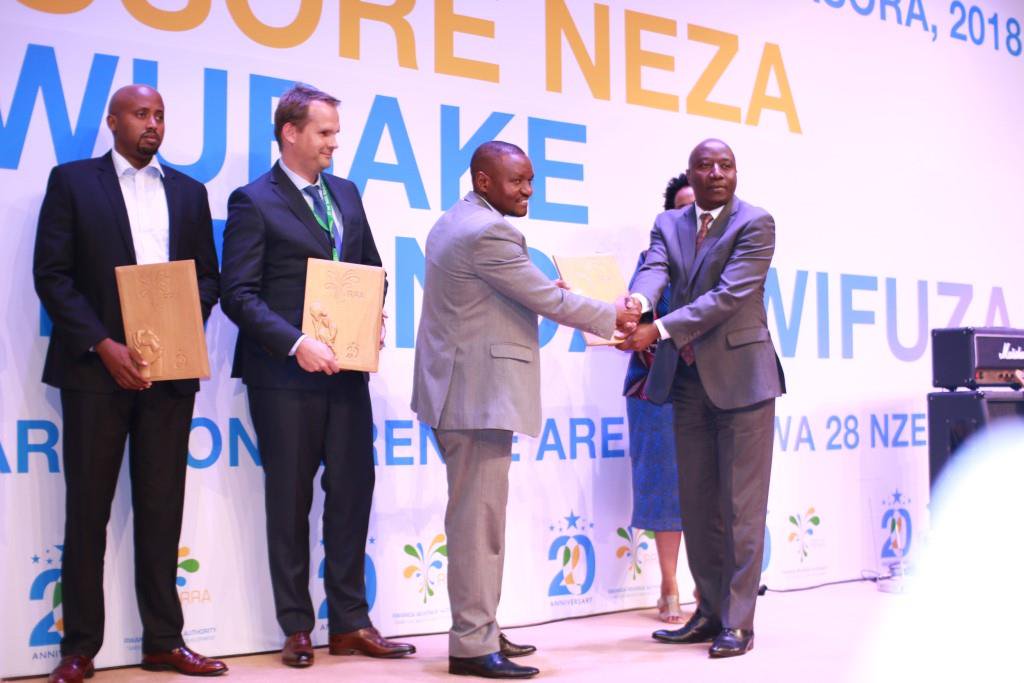 Rwanda Revenue Authority (RRA) has announced an increase of taxes by 22% since Rwanda's transformation from a failed state after the 1994 Genocide against Tutsi to a competitive and sustainable tax based economy.
According to RRA, lowest taxes ever collected stood at Rwf62.8 billion in 1998 while last years' taxes and highest were at Rwf1, 234.2 billion.
In 1998 Rwanda's budget was Rwf173.2 about 36.3 % while last year Rwf1, 234.2 billion was collected – representing about 58.3% of the budget.
The tax trends were revealed by RRA officials during cerebrations to mark 20 years in service at Intare Conference Arena in Rusororo sector – Gasabo district in the capital Kigali on Friday, September 28.
Rwanda's Prime Minister, Dr. Edourd Ngirente who officiated at the celebrations said that, "RRA has worked hard which has led to the tremendous increase in revenue collections."
"Rwanda's vision to be self-reliant largely depends on tax collections and all this can be achieved by working hard and paying required taxes, it's very bad to see citizens evading taxes because its where all government services," Ngirente said.
Speaking during the event, Ngirente assured RRA needed help by the government including setting taxation laws.
Among other features of the event was awarding tax payers and RRA's best partners of the year 2017/2018.
Awarded tax payers include; small and medium enterprises, electronic billing machines (EBM) users, large enterprises, Made in Rwanda companies, house rent, importers, and best partners, among others.
The awarded Companies include; Bralirwa, a local brewery company, Thousand Hills Africa Ltd – a Tour Company, Leadcom Integrated Solutions Ltd, research and information company, Cimerwa, a local cement factory and Hollanda Fair foods Ltd – a food processing company.
Meanwhile, Rwanda defence Force (RDF), Rwanda National Police (RNP) and Rwanda Broadcasting agency (RBA) were appreciated and awarded for best partners of the year.
Richard Tusabe, RRA Commissioner General said that "last year RRA collected Rwf1, 252.6Billion out of the targeted Rwf1, 215.2.
"I appreciate tax payers for this great job you have done, taxes have been improving right from the time RRA started in 1998, hence I also encourage others who have been lazy to come up and build the country by paying taxes as expected" Tusabe said.
Despite a tremendous progress, however, Tusabe said that there are other several challenges including failure to obey Electronic Billing Machines (EBM), smuggling, faking tax stamps and giving low taxes compared to the exact amount.
Tusabe said that, Taxes have increased due to improving technology like using EMB, sensitizing tax payers on benefits of paying taxes, fighting hard to stop smuggling, among others.
Rwanda's proposed total budgeted resources for fiscal year 2018/19 amount to Rwf2, 443.5 billion, which is Rwf328.2 billion higher compared to Rwf2, 115.3 in the 2017/18 revised budget.
Internally generated revenues will finance the budget at a rate of 84% compared to 83% for the last financial year, an increase of 1%.
External Grants are estimated at Rwf396.3 billion equivalent to 16% of total budget while external loans are projected at Rwf400.9 billion representing 16% of total budget.
Domestic loans are projected at Rwf137.7 billion representing 6% of total budget.