Rwanda's outgoing Minister of Defence (MoD), General James Kabarebe has handed over to the newly appointed, Major General Albert Murasira at the Ministry in Kimihurura on Monday. The ceremony was witnessed by MoD and Rwanda Defence Force (RDF) top leadership including Gen Fred Ibingira, the Reserve Force Chief of Staff and Lt Gen Jacques Musemakweli, the RDF Army Chief of Staff.
Shortly after the handover and takeover ceremony, Maj Gen Murasira stressed his commitment to follow his predecessors' footsteps.
"We enjoy security because there has been partnership between the military and other security organs, but most especially with Rwandans. We also work with others that include foreigners in different peacekeeping missions in the region, on the African continent or elsewhere around the World," said Maj Gen Murasira.
The new Defence Minister also pointed out that Rwanda alone cannot enjoy security whereas its neighbouring countries face insecurity, adding that in his tenure he will ensure the sustainability of what has been achieved.
Maj Gen Albert Murasira is the tenth Minister for Defence since Rwanda became independent in 1962. The Minister for Defence is responsible with all matters concerning the Defence policy, the conduct of Defence and implementation of Defence programmes.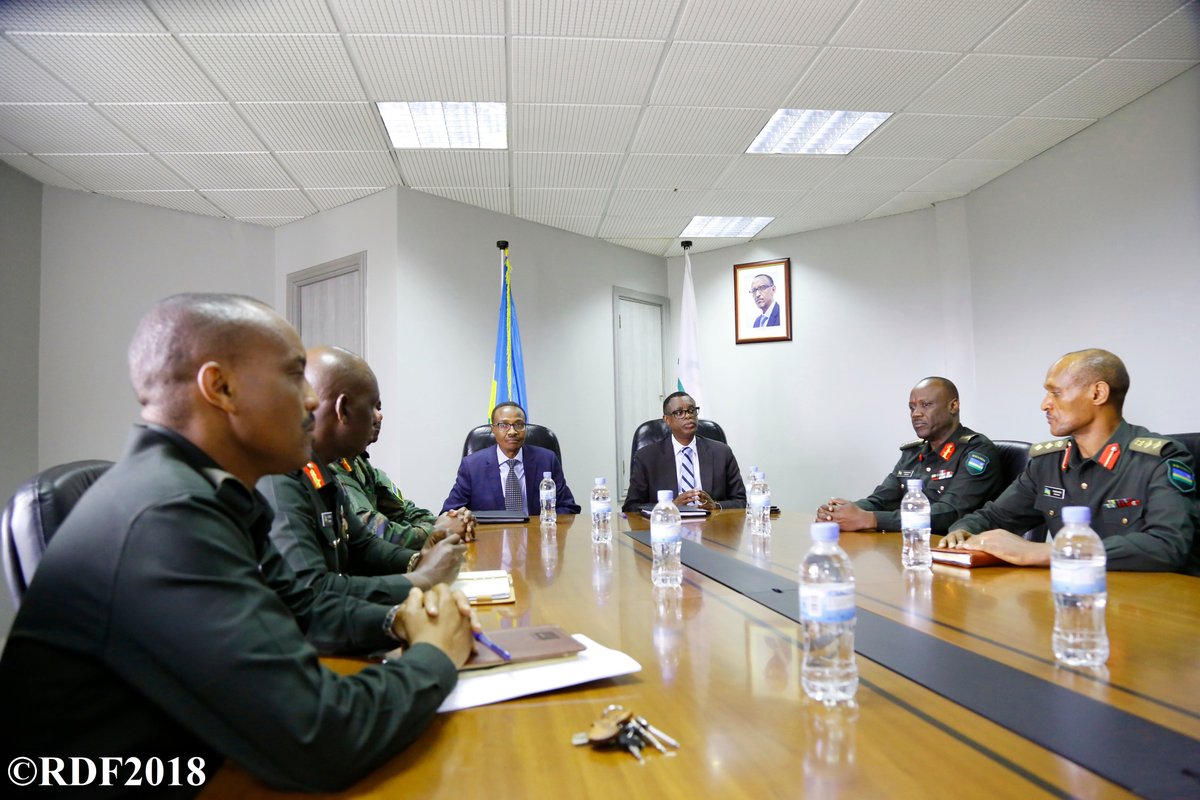 Major General Albert Murasira holds a Master's of Science in project management with merit from the University of Liverpool in the United Kingdom (2016).
He also attended the former National University of Rwanda from 1983 to 1988 where he received a Bachelor of Sciences in Mathematics (1986) and Licence in Mathematics (1988).
General James Kabarebe promised to support his successor at any moment that he needs help.
Gen Kabarebe was on October 18 appointed as Senior Security Adviser at President's Office.
Meanwhile, Major Gen Emmanuel Bayingana takes over as Chief Executive Officer of Zigama CSS replacing Maj Gen Murasira, an event that was attended by bank's senior officials.
It's 'Handover' Monday in Kigali
Monday – October 22 was dedicated to handover in several offices where the president appointed new Ministers and other senior officials on October 18, 2018.
While handing over to Esperance Nyirasafari, the new Minister of Sports and Culture, the outgoing Minister Julienne Uwacu requested his successor to achieve what she had started.
Those includes implementing construction of regional stadiums in Bugesera, Ngoma and Nyagatare and construction of an indoor stadium with 10,000 sitting capacity at Amahoro stadium.
"I will keep serving my country at any capacity. You do not need to be a Minister to serve the country," she said while thanking President Kagame for having given her opportunity to serve as cabinet member for three years.
On her side, Nyirasafari is interested in improving sports starting with kids, "to make a foundation of sports for future generations."
Meanwhile, Jeanne d' Arc De Bonnheur former Minister of Disaster Management and Refugee Affairs which changed to Ministry of Emergency Management could not hold tears while handing over to Germaine Kamayirese from Ministry of Infrastructure.
"It is always sad to separate with people you have worked together," De Bonnheur said.
"I thank the president for trusting me and giving an opportunity to serve in the cabinet. I know he still has trust in me; but when you are a coach, you know how to handle a team, alternating players strategically."
Kamayirese thanked De Bonnheur for a job well done.