President Paul Kagame has recognised the hard working and good service of Louise Mushikiwabo and wished her the best in her new position as Secretary General of International Organization of Francophonie (OIF).
Former Minister of Foreign Affairs and International Cooperation, Mushikiwabo was last week elected unanimously by OIF General Assembly.
This meant that the appointing authority had to replace her as Minister of Foreign Affairs where she has served for years now.
On Friday, Mushikiwabo was present in parliament as six new Ministers were swearing in, including his successor Richard Sezibera who was appointed yesterday – October 18.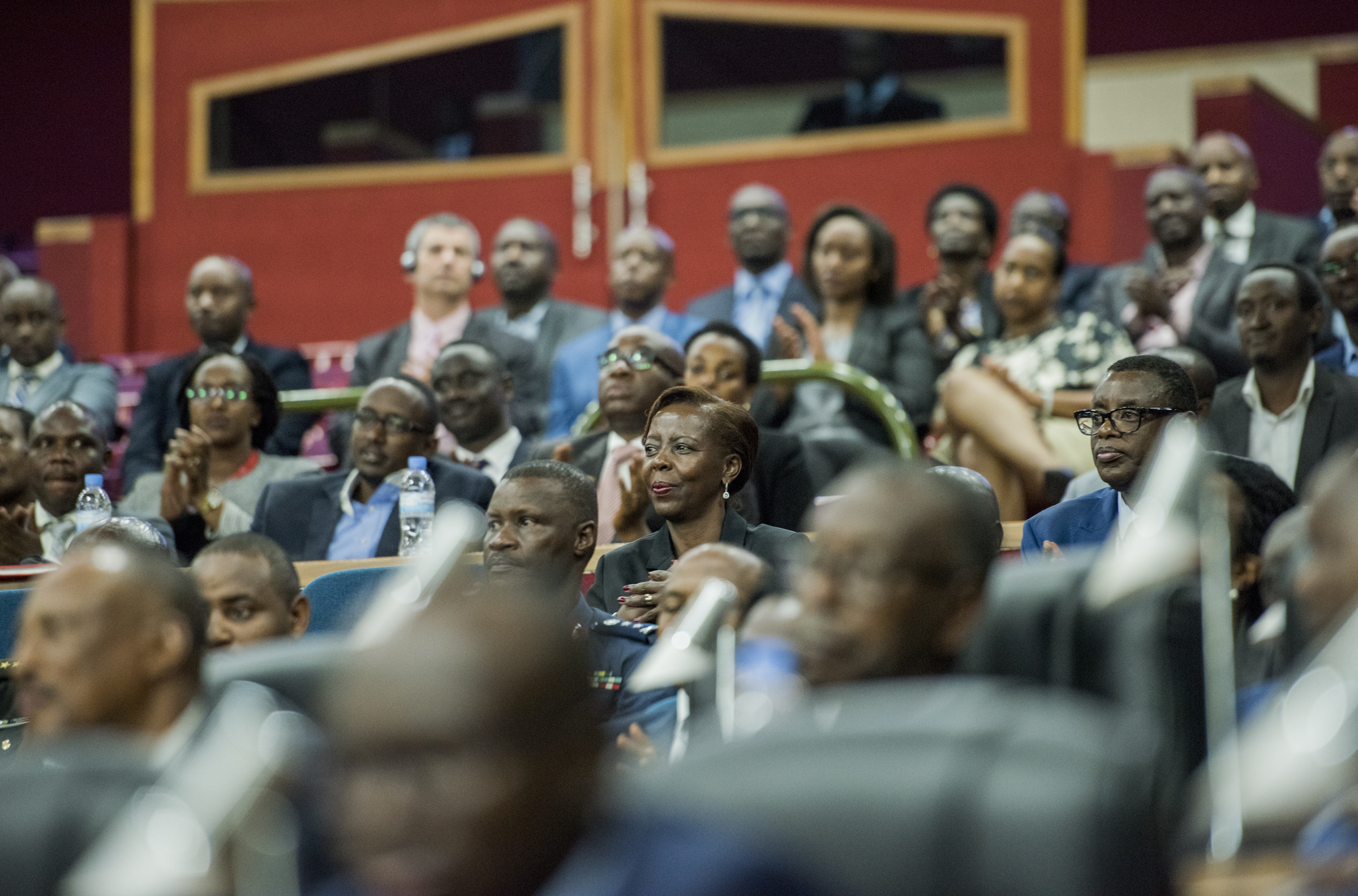 In his speech, Kagame who presided over the ceremony started by congratulating Mushikiwabo for a job well done.
"In the name of Government, I thank Madam Louise Mushikiwabo for the good work she did for the country and we congratulate her for her election at OIF. We wish you success," Kagame said adding that Mushikiwabo is still serving the country though, "because Rwanda is member of Francophonie."
Mushikiwabo stood up in respect to the president's recognition.
In total, six new ministers, the Inspector General of Police and his deputy took oath on Friday at the Parliamentary building.
Soraya Hakuziyaremye was sworn in as new Minister of Trade replacing Vincent Munyeshyaka.
As earlier said, Richard Sezibera replaces Louise Mushikiwabo as Minister of Foreign Affairs and International Cooperation.
Solina Nyirahabimana also was sworn in to be new Minister of Gender and Family Promotion who replaces Esperance Nyirasafari.
The later was re-appointed as Minister of Sports and Culture.
Major Gen Albert Murasira was also sworn in as Minister of Defence who has replaced General James Kabarebe now re-appointed at Office of the President as Senior Security Adviser.
Meanwhile, Anastase Shyaka also took oath as new Minister of Local Government while Ingabire Paula became new Minister of ICT and Innovation.
Deputy Commissioner General Dan Munyuza was sworn in as new Inspector General of Police and so was his deputy Commissioner of Police Felix Namuhoranye.
The President congratulated the new leaders, and commended the commitment of those that they are replacing because they were either re-appointed or do not have a new appointment so far.
To those who were not re-appointed, the president said they should be patient because the future holds good things for them.
However, the head of State gave the new leaders mission to first serve the interest of the community before thinking about their own.
"Transforming our country and the lives of our citizens is work that must be carried out every day. We have to keep in mind that we are working to better the lives of citizens, not our own," Kagame said.
He made a call to all the leaders to serve diligently the community to develop the country.
The event was attended by cabinet members, diplomats, other officials and relatives of the new leaders.
All photos by Plaisir Muzogeye