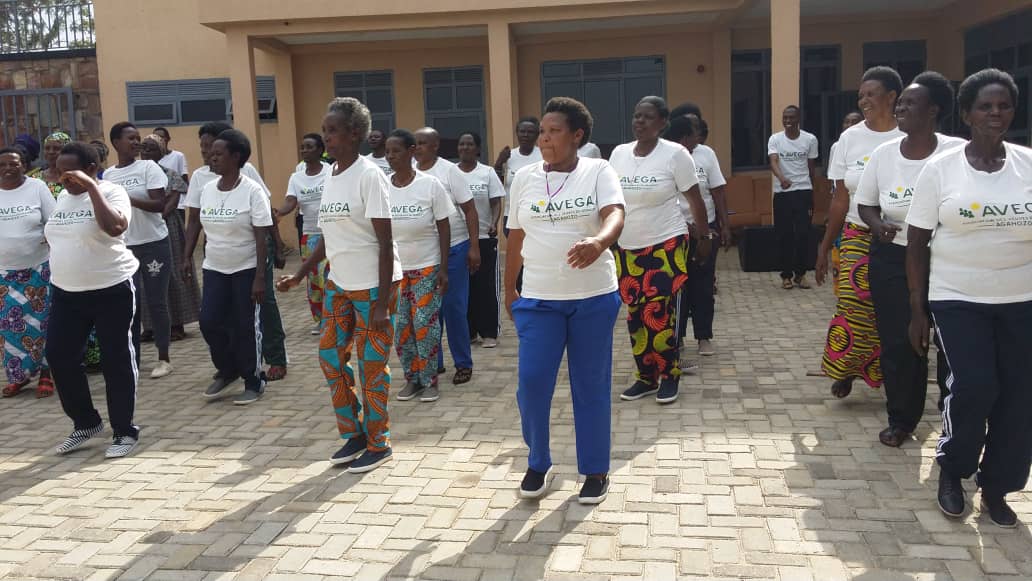 On a cold Friday morning, the gently rising sun shines at a decently paved compound in one of the villages in Nyamata sector, Bugesera District in Eastern Province.
At the compound, however, an interesting scene attracts everyone's attention.
A full squad of elderly mothers in sports jerseys fill the compund. It's a special Sports Friday .
At around 8am, a fitness trainer from a local club grabs a whistle as onlookers watch in disbelief.
60 years and above elderly mothers kick off jogging – a session that lasts for about 30 minutes.
However, in the middle of the session, some elders who seem tired and weak stop participating.
The trainer – Innocent Rwabuhihi, blows a whistle and the elders make a circle for another exercise – a moderate aerobic activity this time.
Aerobic activities include bending, stretching necks and shoulders, bending all body joints, among others.
After this exercise, another session steals the moment; elderly mothers start doing abdomen exercises.
However not all the elderly have the capacity to complete all sessions. Only 30 manage to complete all sessions.
The final whistle rolls – signaling elders to gather for the last program of their morning sports sessions that include; discussions on importance of sports, forgetting their past misery, creating friendship among themselves, among others.
Among these, a key program matters most; 'forgetting the past misery'.
When Rwanda befell into a horrific 1994 genocide against the Tutsi in 1994 – claiming over one million lives, these elderly mothers were left with nothing.
With no single relative left including their spouses and Children, the elderly widows were also left homeless.
But hope was regained – thanks to Rwanda government through Unity Club – an organisation of spouses of former and current leaders.
The organisation is championed by Rwanda's First Lady Jeannette Kagame.
KT Press traveled to their newly built homes with AVEGA- a philanthropy organization that helps reintegrate genocide widows back into the Rwandan society.
The elderly widows of the genocide live in a settlement village named 'Impinga nzima'. They are looked after on a daily basis – including monitoring their daily life activities.
Rwabuhihi told KT Press that "going for sport and fitness activities on a weekly basis is important for everybody, no matter how old or young you are. Of course, it becomes increasingly important to remain active especially at an advances age in order to remain fit and healthy".
According to Rwabuhihi, "Adults of over 65 years old spend around 10 hours a day either sitting or laying down, and this lack of activity is causing serious health problems for them. We do it purposely to avoid boredom while there are in their shelters" Rwabuhihi told KT Press.
Rwabuhihi says that it is most important for these elders to be catered for after going through miserable history.
Flavia Mukakalinda, 85, told KT Press that sports sessions have relieved her of various pains.
"I had knee and back pain. But since I started doing sports, i am not feeling the pain any more. I come here to have sports and have fan as well," she said.
"Before coming to this home, I thought I would die in the house and be eaten up by rats because I stayed alone in the house in Muhanga district where all of my relatives including four children were butchered during the Genocide against the Tutsi" Mukakalinda told KT Press.