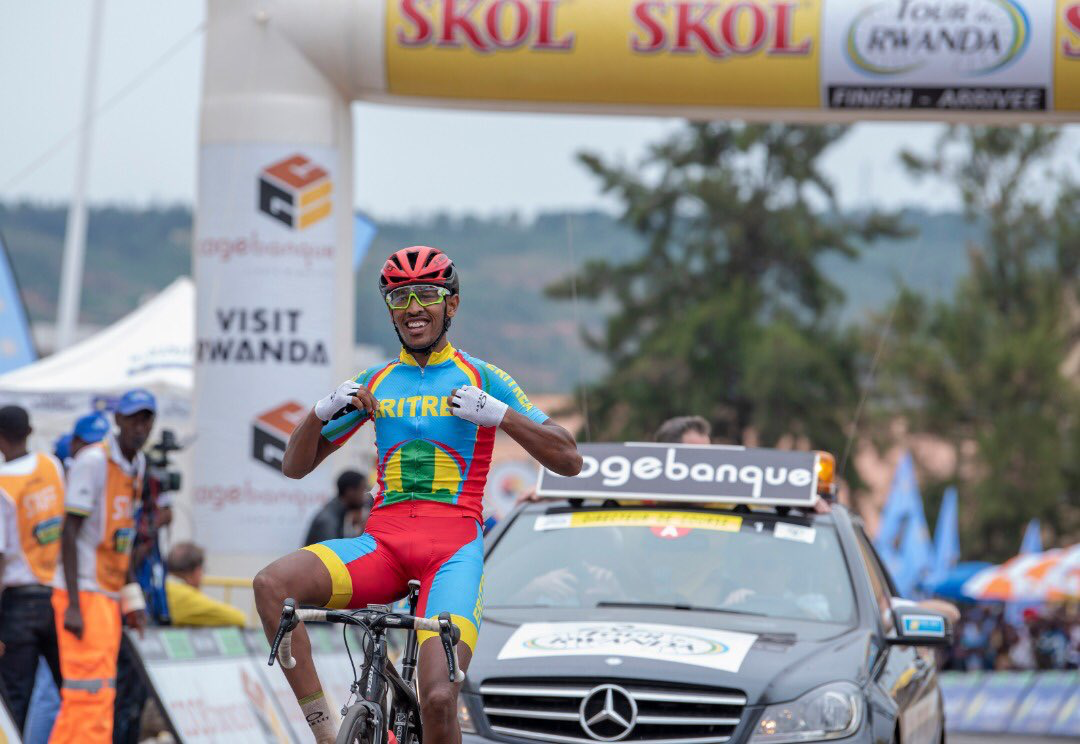 Eritrean Yakob Debesay Abreham won the penultimate stage of 2019 Tour du Rwanda on Saturday, attacking with 20km and holding off the peloton to take an impressive solo victory in 2h12'35.
Alessandro Fedelli (Delko Marseille Provence) and Adrien Guillonnet (Interpro Cycling Academy) completed the podium in 02H12'56.
On Saturday, Debesay who finished second in the opening stage of Tour du Rwanda from Kigali to Rwamagana and back, attacked from the front of the peloton with 32km to end of the stage and hold onto until he crossed the finish line.
With 20km to the finish line, Debesay had put a 45-second gap between him and the chasing group. And with 4km to the finish, it was clear that no one would beat him to the stage victory as he extended his lead to 58 seconds, all alone in the front. He then soloed to victory with a 21-second lead gap.
Besides the stage victory, Debesay was also awarded with the best young classification and most combative player jerseys respectively.
Rwandan Moise Mugisha was the best ranked Rwandan as he finished ninth in 02h13'13 and even claimed the King of the Mountain jersey with 59 points.
The 2017 Tour du Rwanda Mugisha Samuel and reining African Cyclists of the year Areruya Joseph settled in 16th and 17th positions respectively.
Astana Pro's Merhawi Kudus crashed on the descent before the final climb, but quickly got up and managed to retain the yellow jersey before settling for a 13thplace finish, coming 53 seconds behind his country mate.
After stage seven, Kudus of Astana Pro team retains the yellow jersey heading into the final stage having so far clocked 22h38'21", 7 seconds ahead of Direct Energie's Taaramae Rein who has posted 22h38'28″with Badilatti Matteo from Israel Cycling Academy retaining the third place having used 22h38'39", 18 seconds behind.
Munyaneza Didier of Benediction Excel Energy and Areruya are the only two ranked Rwandans in the top ten of the General Classification, sitting 9th and 10th with a total time of 22h45'08" and 22h45'1. MUnyaneza also retained the best Rwandan jersey.
Meanwhile for the ultimate (eighth) stage, riders will set off from Mulindi in Nyarugunga and finish in Nyamirambo, Kigali City, in a 61.7km circuit race.
Tour du Rwanda
Saturday, Stage Classification
Stage 7 (Nyamata-Kigalii, 84.1km)
1. Yakob Debesay Abreham (Eritrea) -02h12'35
2. Alessandro Fedelli (Delko Marseille Provence) -02h12'56"
3. Adrien Guillonnet (Interpro Cycling Academy) -02h12'56"
4. Sirak Tesfom (Eritrea) -02h12'57"
5. Hernan Ricardo Aguiree Caipa (Interpro Cycling Academy) -02h12'59"
6. Mulu Hailemichael (Dimension Data for Qhubeka) -02h13'01"
7. Matteo Badilatti (Israel Cycling Academy) -02h13'01"
8. David Lozano Riba (Team Novo Nordisk) -02h13'01"
9. Moise Mugisha (Rwanda) -02h13'13"
10. Aurélien Doleatto (Equipe De France Espoirs) -02h13'18"
General Classification after stage 7
1. Merhawi Kudus (Astana Pro Team) -22h38'21"
2. Rein Taaramae (Direct Energie) -22h38'28"
3. Matteo Badilatti (Israel Cycling Academy) -22h38'39"
4. Hernan Ricardo Aguiree Caipa (Interpro Cycling Academy) -22h38'52"
5. Sirak Tesfom (Eritrea) -22h42'03"
6. David Lozano Riba (Team Novo Nordisk) -22h42'34"
7. Yakob Debesay Abreham (Eritrea) -22h44'11"
8. Suleiman Kangangi (Kenya) -22h45'02"
9. Didier Munyaneza (Benediction Excel Energy) -22h45'08"
10. Joseph Areruya (Delko Marseille Provence) -22h45'1